Our goal within each cath lab is to make procedures both effective and efficient, ensuring the best patient outcome possible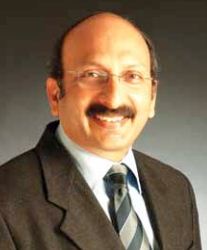 Dr Praveen Chandra, Chairman of Interventional Cardiology at Medanta – The Medicity, Gurgaon
The catheterisation laboratory (cath lab) is an essential cornerstone of every modern hospital performing cardiac procedures. In Medanta, more than 12000 procedures take place each year in our five labs.
A number of diagnostic and therapeutic catheterisation procedures can be performed in our labs including: percutaneous coronary interventions (PCI) procedures to implant stents, fractional flow reserve (FFR) measurement procedures to measure levels of aortic stenosis, closure of congenital heart defects, and repair and replacement of heart valves that are not functioning properly. We also have a hybrid lab, where can also conduct electrophysiological (EP) studies to diagnose and treat arrhythmias.
Our goal within each cath lab is to make procedures both effective and efficient, ensuring the best patient outcome possible. To do that, conducting ongoing research to discover best practices and utilising modern, best-in-class technology is paramount.
Research
To optimise treatment, both conducting research and understanding the implications of the latest research from around the world is critical.
Results from landmark clinical studies have influenced the way medicine is practiced. For example, recent clinical research about the impact of FFR measurement from the FAME (Fractional Flow Reserve vs. Angiography in Multivessel uation) studies have clearly showed that angiography guided PCI may help optimally treat ischemic lesions. Thus, we have adopted the learning and now practice PCI using a more scientific approach to treat ischemic lesions by using FFR.
Further, Medicity is involved in multiple research projects involving cutting-edge new medical devices. This includes the latest stent technologies, drug eluting balloons, and biovascular scaffolds, among other technologies.
Innovation
One innovation that we will acquire soon is the Optical Coherence Tomography (OCT) Intravascular Imaging System with the C7 Dragonfly Imaging Catheter. OCT is a next-generation coronary imaging technology platform that helps our physicians to visualise and measure important vessel characteristics that are may not otherwise be visible. This information helps assist with stent selection using near-infrared light to create images that provide more detail than angiograms alone " thus helping create an even more effective cath lab.
In terms of current industry innovation, various companies are helping take technologies used in the cath lab forward by conducting large-scale studies like FAME and FAME II. They are constantly upgrading the technology platform to make it more accessible and user friendly. For example, the Pressure Wire Aeris adds wireless ability for FFR measurements and ILUMIEN integrates OCT and FFR together in one platform.
Technology Revolutions
There are a lot of forthcoming revolutions that will change the way that we utilise our time in the cath lab. For example, renal denervation is going to be a revolutionary technology to treat hypertension that is resistant to drug therapy, and has shown extremely promising results in reducing systolic blood pressure. Hypertension is epidemic in India and this is a very simple procedure in which benefits can be extended to the patients. Other revolutions are looking forward to in the cath lab in the near term are biovascular scaffolds, TAVI, and PMVR.


Follow and connect with us on Facebook, Twitter, LinkedIn, Elets video