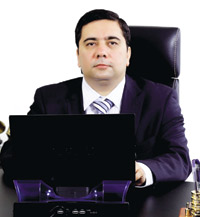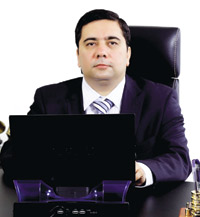 Medfort Hospitals is providing superior healthcare services by offering compassionate patient care and clinical excellence in Diabetes and ophthalmology. In conversation with eHealth, Gaurav Malhotra, CEO, Medfort Hospital talks about Medfort's journey and how it is working to position itself as a preferred healthcare provider.
What was your objective behind starting the healthcare facility like Medfort Hospital?

The diabetes mellitus management market in India is large and rapidly growing. India is estimated to have 50 million diabetics today, a number expected to touch 90 million by 2030. We estimate the market in the top 35 cities alone to be worth ` 3,000�5,000 cr. On the other side around 10 percent of Indian population suffers from some form of visual impairment which means more than 12 crore Indians need attention by ophthalmologists. 85 percent of this population is predominantly driven by cataract and refractive errors, thus eye care services present a significant business opportunity.

In a market with growing opportunities in both these segments, there are very few organized players. There is a Pan-India market leadership position that is yet unoccupied in both the Diabetes Care and Eye Care segments. Lack of any organised Pan-India player provides an opportunity for rapid scale-up. We believe that these market segments, with the inherent mis-match between burgeoning demand and largely unorganised supply, are at an inflexion point in their maturity graph.
As of now, what are the different technologies installed at this hospital?

Leadership in technological advancement is our sustainable competitive edge. One of the major constituents of our investment is in acquiring latest cutting edge technologies and providing it first time to Indian patients. Clinical excellence is complemented by the breakthrough technologies at Medfort`s centers of excellence.
We have some innovative and path breaking technologies in Eye-care like "Customlens", a new femtosecond laser procedure for performing the key steps in the cataract surgery procedure like anterior capsulotomy , lens fragmentation and corneal incisions.
The future of refractive surgery, beyond the development of new systems and algorithms, lies in the combined correction of presbyopia, myopia, astigmatism and hyperopia.
CRYSTALENS is another technological breakthrough for treatment of cataracts. It is the first presbyopia correcting IOL introduced into the market and is currently the only FDA-approved accommodating IOL. We have specialised technologies like Dexa for measuring Bone mineral density and advanced equipment for foot care.
Is the public-private partnership model workable in the health sector? What do you think are the limitations?

Yes the PPP model in Healthcare can be successful in India and it is important for improving the current healthcare scenario. We need to understand that all the stakeholder's have divergent views on the strategic intent of the PPP model. While private players are driven mainly by profit motive, govt. aim is to provide healthcare for "common man". Public private partnership model is workable in the health sector provided the project objectives and risks associated are established clearly by both. Developing performance measurement metrics coupled with growth and expansion strategy, establishing clear and frequent communication with stakeholders to ensure transparency would be other critical factors for success. The PPP should essentially focus on ensuring that it is not loss making.
Private partners can widen the whole aspect of healthcare in the nation by not only widening the coverage of foreign assistance programs but also help in achieving government`s developmental goals along with the formulation of sound and viable projects across the disease states.
---
In India, healthcare sector has emerged as one of the most progressive service industries. The Indian healthcare industry is expected to register earnings of ` 12, 60,000 crore by 2020
---
What do you think ails public hospitals in India?

The pertinent question is how many of us have access to these "centers of excellence" more so when there is a wide chasm between clinical excellence and the patient care experience.
Moreover much has to improve in government hospitals right from the basic relationship management with the patients to the optimum utilisation of the available technology. Government must focus on 360 degree up gradation of Hospitals from Para-medical Staff`s skills up gradation, infrastructure facelift, Superior patient experience across stages of treatment, optimum utilisation of the resources, proper utilisation and not exploitation of the doctors to a healthy awareness and education about the services and comfort for general public .
Most importantly there is absence of financial discipline with large funds available but not being utilised effectively and efficiently. Lack of accountability across services for both support and medical along with no clear ownership for quality control and accreditation makes the situation worse.
What is your assessment of the health sector in the country today? What steps are being taken to ensure medical facilities are made available to all?

In India, healthcare sector has emerged as one of the most progressive service industries. The Indian healthcare industry is expected to register earnings of ` 12, 60,000 crore by 2020. The growth is at a much rapid pace than it was anticipated according to the Investment Commission of India (ICI). The sector has experienced phenomenal growth of more than 12 per cent per annum in the last four years. The growth is expected to be driven by a number of factors which cover rising life expectancy, increasing income levels of Indian households, higher penetration of health insurance and growing incidence of lifestyle-related diseases in the country which has led to more spending on healthcare delivery, stated the recently published ICI report.
Which in your opinion are the most significant developments in medical research in the country today?

Clinical research organizations are planning to scale up their operations in the Asian region, especially in India, to tap the emerging opportunities of contract research from the US and European countries. There is a slow geographical shift from the Western part of the world to Eastern regions in the clinical trial space due to the cost arbitrage, talent pool and huge patient population.
The government is examining a proposal to set up a venture capital fund for promoting drug discovery in the country. Earlier, the government had announced to set up an US$ 2.14 billion venture capital (VC) fund to finance drug discovery projects in India. The proposed funding of US$ 2.14 billion which includes substantial contribution from the private pharmaceutical industry under the public private partnership (PPP) model is expected to provide favorable environment for drug innovation in the country and to make India a hub for new drug discoveries.
India is among the top five governments in the world funding research and development in neglected diseases, with particular focus on diseases like leprosy and dengue fever. India's total pharmaceutical industry market is expected to touch US$ 20.9 billion in 2014. R&D spending at India's top 25 drug companies soared 17 percent in 2008-2009.
Some progressive state Governments have also launched health insurance schemes targeted at specific sections of the population and these have also improved access to healthcare. Social and community insurance schemes have also taken off in India. The total population with some form of insurance cover however continues to be low � more aggressive efforts are needed by both the Government and the private players to enhance the penetration of health insurance.
Regulatory reform including enhancing the limit of Foreign Direct Investment (currently capped at 26 percent) may also be necessary to stimulate private sector efforts in improving financial access to healthcare.
Use of Information Technology can help hospitals improve access, reduce costs and improve quality. Government should provide incentives to hospitals to seek NABH accreditation and IT enablement by allowing 100 percent tax exemption for expenditures related to accreditation and IT enablement.

Follow and connect with us on Facebook, Twitter, LinkedIn, Elets video