---
Dr Harsh Mahajan is one of the most respected radiologists and a pioneer in the field of Magnetic Resonance Imaging in India. Felicitated with the Padma Shri for his exceptional work in the field of radiology, Dr Mahajan is also the Honorary Radiologist to the President of India.
In an interaction with Shally Makin and Dhirendra Pratap Singh, he shared his perspective on emerging trends in radiology and threw light upon the challenges in the health sector in India. Excerpts:
---

Since 1991, the Mahajan imaging centre has never looked back, and has achieved great heights over the years. Please, tell us about your journey so far.

I did my MBBS from Maulana Azad Medical College and secured first position in Radiology. After passing out from PGIMER, Chandigarh, I worked as a senior resident in AIIMS. That was the time when old scenarios were changing, and radiology techniques such as ultrasound and CT were emerging. In 1987, I was awarded a Rotary Foundation International Scholarship and went to M.D Anderson Cancer Hospital at Houston, Texas, USA for a super specialist fellowship in Magnetic Resonance Imaging. MRI was at that time very new, even for the US. I did original research in cancer imaging using MRI and joined as a faculty of this hospital. After one year, despite a lot of allurements to stay back, we decided to come back to India with a dream of bringing the latest technology in India.

Gradually in partnership we opened a centre at Green Park with first ever 1.5 Tesla MRI machine by GE. Unfortunately, our partner expired in 1998 and then standing alone in the market, we worked harder and opened around seven new centers. We also started nuclear medicine and Bone Densitometry Centre at Sir Ganga Ram Hospital, New Delhi.

In July 2001, we started another MRI centre in Dehradun. In keeping with the same vision we got into a public private partnership with the Uttarakhand Government to run the MRI centre at Doon Hospital, Dehradun which is the largest government hospital in Uttarakhand. The latest is a PPP based centre with Safdarjung hospital for sports injury.

Do you think that public private partnership model is workable in India in the health sector?

It is workable. A PPP project is a very tough project to pursue. We have seen the passion in the government towards health projects but their expectations are very high. They need the access of extraordinary machines at very minuscule rates. We need the PPP project to be financially viable as there is some resistance from medical side and no resistance from the administration side.

Through such projects, a huge range of people can benefit by receiving service from very high level machines at low rates. Although we too have taken up projects with government, which need a lot of investment, but will recover in 7 to 8 years. It is not a lucrative deal to be taken rather a corporate social responsibility. Being a radiologist myself, my corporate identity takes up viable models. PPP deals have to be sweetened only when they succeed for future investment.
Which are the various services offered at Mahajan Imaging Centre?

We were the first to start MR spectroscopy. The latest machines in the center are MR tractography, MR mammography, CT coronary angiography, 4D ultrasound with tomography, PET-CT, CT-guided robotic biopsy, digital mammography and DEXA bone densitometry, Open Standing MRI, Cone Beam CT, Pet CT, MRI, 32/64 Slice CT, CT-Angiography, 3D/4D Ultrasound, Colour Doppler, Mammography, Bone Densitometry, Guided – Biopsy, X – RAY and Nuclear Medicine.

Our latest acquisition is India's first Cone Beam CT (CBCT) scanner, which has redefined dental and maxillofacial surgery planning and diagnostics.

All our centers have PACS, which allows us to enter any case at any center in the country. Although it needs lot of investment as for radiology we need to keep the film for ten years as a record. We need to quickly penetrate technology in treatment of patients. The cost of PACS is coming down as the paperless system is feasible in larger systems.

With the industry witnessing a constant change in terms of advancements, how do you upgrade your technology?

Upgradation of technology has been the foremost thing of the centre. GE and Philips have been really helpful in contributing their bit of innovation and constant evolution over the years with great intensity. We also look forward to teleradiology in the near future.

What has been your role in promoting interventional radiology?

The field of interventional radiology is still growing in India. However there are very few centres which train people. Government needs to put a lot of efforts in engaging private enterprise since it's an expensive affair. Such a sector needs proper training, small centers and good amount of technology. With regard to interventional radiology, our centers have robotic CT guided machines and precise biopsies.


---
State governments are realising that healthcare is an important political tool for the elections. Recent elections have shown it. It will be worthwhile to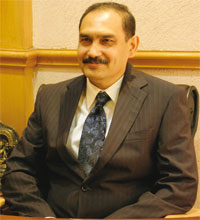 make universal health insurance for the population at large in India
---
How do you see the radiology market in India?
Radiology market is growing. If we really look at radiology and imaging sector, it is like the cottage industry. It is highly unorganised in India as compared to pathology. Radiology is very capital intensive. I believe with time players will get larger. I think overtime there will be shortage of radiologists and the government should think seriously in this direction. Radiology is the backbone of healthcare industry. Education, teaching and training is very important for not only for radiologists and technicians, but also for the population at large for the harmful effects of radiation.
What do you predict will happen within radiology in the next 5-10 years in India?
Radiology in India is evolving. But the challenge is to take radiology to the masses, districts and villages. PPP is the way forward. Because the government has infrastructure, there are district hospitals, equipped with manpower but are not delivering. With the partnership of private players, it would be possible to go to these places. We have our own satellite. With telemedicine and teleradiology, we can benefit huge masses. We have local manufacturers and manufacturers like GE, Siemens, Philips, who are willing to invest in India in creating new technologies. All can be brought together. I believe that healthcare must reach to the masses and grass root level.
India is one of the fastest growing economies in the world, still 30 percent Indian population lives below poverty line. These people have no basic healthcare facilities. Do you think that Government is serious for health access to all?
I would say that the government is serious about making health accessible to all. Second, health is a state subject, even though the central government formulates policy, but ultimately the onus of healthcare delivery system is on the states. Different state governments have different agendas and different ways of implementing it. State governments are realising that healthcare is an important political tool for the elections. Recent elections have shown it. We have to bring mandatory health insurance in India. It will be worthwhile to make universal health insurance for the population at large in India. Goa, being a small state, has already done that. We need to create universal GDP with viable infrastructure.
Who is your role model?
For me, my father has been really my role model. He believes in transparency blended with great humanity. In medical field, Dr Prathap C Reddy and Dr Naresh Trehan, who took risk in the beginning to open up private healthcare in this country. Dr Devi Shetty is also my role model, whose human approach is very similar to my thought process.

Follow and connect with us on Facebook, Twitter, LinkedIn, Elets video