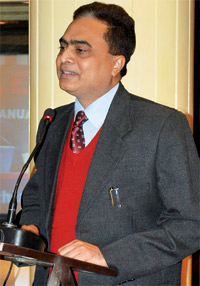 Dr Ajay Singla, Additional Secretary, Health & Family Welfare, Government of NCT of Delhi and CEO, Aapka Swasthya Bima Yojana is one of the most dynamic healthcare leaders and visionaries in the country.
In conversation with eHEALTH, Dr Ajay Singla, shared his views on the key bottlenecks that are hampering healthcare delivery in India

What is your assessment of the health sector in the last years?
In the last fifty years, we have seen a paradigm shift from public to private sector medical institutions. The other shift is the decay in the standards of medical education. Funding in the private sector is no less than the public sector. However, we all know about the capitations and corruption that is prent these days. If we leaders do not accept this reality and capture the regulator, the decay in medical education probably cannot be corrected.
We need to accept the sickness, let the diagnosis come and then there will be treatment. We need to strengthen the regulator. The medical profession is inherently self regulatory. There are three self regulatory sectors�medicine, chartered accountancy and law. Medicine is the most self regulatory profession in the world. It's up to the leaders in the healthcare sector, the doctors, who need to look within.
In medical education there has been decay but there is a rise in healthcare delivery due to efforts by private sector. To the extent of that people are coming from various countries to India for treatment. Twenty years ago somebody would have gone out for transplant or bypass. But, people now are coming from outside. Kudos! On the other hand, for medical tourism, there might be equity issues that we are not able to treat our population but people are coming from outside. That speaks of quality. This is the paradigm shift, the change.
Still India has not achieved the goal of 'Health for All', especially for rural and poor population. What should be the roadmap to achieve this goal?
Equity issues are taken care of by the public sector for those who can't afford. Private sector is more or less a differentiator. Sixty to seventy percent of work is left on the public sector. We need to increase the healthcare spending from present 4 percent to at least double of that. We need to cover the population by health insurance, surely. But in the private sector, there are few examples where there were low cost leaders like Narayana Hrudayalaya. These institutions provide reasonable quality health in profit oriented domain at very low cost. I would expect in the coming decade, rise of such leaders. The country probably needs such low cost leaders and differentiators in another 30 -40 years. Then probably we can address the equity in a much better way.
We need to look at ethics which dominate the profession.
What are the challenges faced by public sector in healthcare?
Public sector institutions continue to slog or rather decay on account of lack of monitoring mechanisms, lack of management controls systems and lack of accountability. In India, public health sector sees highest absentees. Still their incentives are very high. We need to have very strong management controls and IT enabled mechanisms to monitor the output. Just deploying thousands of doctors in the rural areas such as Gujarat is not enough.
What do you think ails public hospitals in India?
The reality is that there are only, 5-10 percent medical professionals, who do not accept kickbacks. Few months ago, my friend's mother was diagnosed with carcinoma and her expected life was six months. The prescribed drug cost Rs 3300 per tablet. On the other, I could get the same drug for Rs 210 from a reputed pharmaceutical company. People have told me that prescribing a drug to a patient makes a trip to America for a doctor.
We need to pace up to the ethics and equity. While the healthcare costs in India are lower as compared to the world. Still our own population cannot afford it.
In your opinion where do we need to focus more and what directions would you like the health sector to take?

The cost of catheter is known to be Rs 80,000 per cardiac stent, which otherwise is for `8000. We need to think and intervene in some way by providing jan aushdhi but even that is not enough. We need to give the power to the people and that is where IT can help. Let people know. Say a patient prescribed with amoxicillin must have details of the products of different companies so that he can make an informed decision. Let the people decide according to their affordability.

Follow and connect with us on Facebook, Twitter, LinkedIn, Elets video