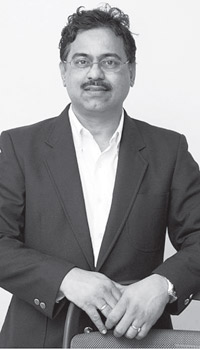 As the CFO of Columbia Asia Hospitals, Jagannath MS, delivers healthcare through the best model of hospitals and medical excellence.
In conversation with Shally Makin, he discusses the innovative design of Columbia Asia hospitals and its aim to become the future hub of healthcare

As the CFO of Columbia Asia Hospitals, Jagannath MS, delivers healthcare through the best model of hospitals and medical excellence.
In conversation with Shally Makin, he discusses the innovative design of Columbia Asia hospitals and its aim to become the future hub of healthcare
What is your perspective on the healthcare providers' industry in India vis-a-vis the world?

'Ageing population' and the challenge to meet their healthcare needs is perhaps the greatest challenge being posed to Government and healthcare providers worldwide. The 'older population' is the fastest growing segment in developed countries like USA and the most populous country like China. The population in the developed countries have good access and availability of healthcare.
Post the recession recovery and the corresponding market changes the biggest challenge, the industry is facing is of keeping medical costs under control. The healthcare industry is therefore on the throes of innovation, with the advent of low cost equipment, effective and cheaper drugs (due to innovative clinical research), better medical methods and practices, effective systems including information technology enabled systems, etc. Most industry analysts estimate the growth of the sector to average 13-15 percent over the next few years. This has kindled the private sector and the government to invest in hospitals, laboratories, pharmacies, equipment manufacture, distribution and retail.
Health insurance penetration and the growth of the middle class have significantly improved and this will aid in bringing more hospitals into the business. The healthcare providers see this as a growth opportunity in India, given the global nature of this industry and the availability of high degree of medical expertise and lower costs in India; the west is increasingly seeing India as a quality medical destination.
Please give us an overview of Columbia Asia Hospitals and its presence in the Indian private healthcare sector?
Columbia Asia is an international healthcare provider operating a chain of modern hospitals across Asia. Columbia Asia hospitals are clean, efficient, affordable and accessible. The innovative design of Columbia Asia hospitals, from their manageable size to their advanced technology, is focused on creating the most positive experience for patients. Patient service, efficiency and medical excellence are all part of Columbia Asia's model to deliver the best medicine. Columbia Asia has a total of 19 facilities across Malaysia, India, Vietnam and Indonesia, and there are plans for 15 new hospitals by the end of 2013. The company's first hospital in India commenced operations in 2005 in Hebbal in Bangalore. Currently the company operates 7 hospitals and a clinic with presence in Bangalore, Mysore, Kolkata, Gurgaon, Ghaziabad and Patiala.
How is Columbia Asia Hospital model unique as compared to other corporate hospitals?
Columbia Asia offers high-quality & affordable health services to the middle class population of the country. An average hospital is about 100-beds and offers multi-speciality care to its customers. The optimum size of the hospital, well-defined medical program coupled with quality customer service and at an optimal price makes its model quite unique to be the preferred choice of businesses and families.
Our average length of stay of our patients is approximately 2-2.5 days. This significantly helps to contain the cost of medical care for the patient and in turn the insurance companies and third party payers. We ensure that the communities around could enjoy the affordable medical care with uncompromising excellent medical care and services.
What are the various technologies installed at Columbia Asia Hospitals?
Columbia Asia has adopted a decentralised client server architecture platform enabled through Microsoft Technologies. Citrix is used as a platform to present our applications for remote usage inside intranet, LAN – Gigabit LAN with both Wired and Wifi, WAN – MPLS Mesh network subscribed from a single ISP; Security Layers are implemented via RSA (SSL VPN) for remote connectivity and usage from internet.
Columbia Asia has developed its own Hospital Management System named 'Care 21'. Care 21 is a Hospital Information Management Systems Software developed in-house by the Columbia Asia Hospitals. Columbia Asia Hospitals (CAH) utilises proprietary operating software and service protocols in the management of its facilities. The Hospital management and Electronic Medical Record System of Columbia Asia is a comprehensive, Integrated and an advanced ERP (Enterprise Resource Program). The Software was developed using Microsoft's Dot NET (.NET) Framework 2.0 which is quite a robust framework and expandable.
What are the various health IT solutions installed and how are they benefiting you?
The delivery of effective healthcare service to the customer requires the hospital's systems and processes to be of a very high order. IT is used in every part of healthcare delivery to patients. Seventy percent of healthcare delivery is through IT enabled systems and environment-We have our own ERP application that helps us to manage our HIS, EMR, Administrative and Finance Functions, Lab Information Management Systems with Bi-directional communication to lab equipments, Completely integrated RIS and PACS that helps seamless workflow of radiology imaging and reporting and in-house blood bank management system.
The company's proprietary hospital information system operates at each of its hospitals, enabling seamless record-keeping and accurate billing. The doctors have the ability to call up patient medical records electronically and to make diagnostic and progress notes during a consultation. Doctors are able to order by computer lab tests, radiology scans and prescriptions from their office. All the above features enable an excellent patient experience – by enabling faster and accurate process.
Indian healthcare is struggling because of a huge lack of hospital beds? How can private entities like Columbia Asia help in bridging this divide?
In India the lack of supply in terms of medical facilities is primarily in the Tier 2 and Tier 3 cities. As part of its strategy to have a national footprint, Columbia Asia is looking at such cities to expand its presence. The group is planning to have 17 hospitals established by 2013-14 which will result in an operating inventory of 2000 beds.
The private sector has played a huge role in shaping the Indian healthcare industry. In such a scenario, the responsibility of leading corporate hospitals like Columbia Asia is huge. Please comment.
The private sector accounts for 70-80 percent of the total healthcare expenditure in India, which is amongst the highest proportions of private healthcare spending in the world. The sector which is growing at over 15 percent CAGR is expected to be US $75 billion in 2012. Healthcare expenditure in India is expected to increase by 15 per cent per annum. This segment is expected to constitute 6.1 per cent of the country's GDP and employ around nine million people in 2012. As private players, the biggest issue is high capital expenditure incurred in our projects – especially land and building. Apart from this the private sector requires support in obtaining various clearances for obtaining land for hospitals and for other licenses for operating the hospital.
Given the enormity of the numbers, the government's role in establishing a framework for such growth is a key for private industry to grow. Government's support in appointing single window agencies for land clearances and operational licenses besides providing finance and fiscal benefits for such projects would help bring in higher investment in this sector.
Please provide the details of your expansion plans across the country and abroad.
Columbia Asia has a total of 19 facilities across Malaysia, India, Vietnam and Indonesia, and plans for another 15 new hospitals by the end of 2013.
What is your vision for Columbia Asia Hospitals in 2020?
We aim to achieve electronics and IT enabled network of specialised hospital capable of handling patient care at their homes through technology. There will be advanced diagnostic capability through tele- networks at patient homes installed in the near future. The Columbia Asia group will introduce standard medical protocols which are capable of being enabled by equipment through tele-networks. Also, in patient care surgery, with advanced robotics we will deliver care, seamlessly across geographies with enabling technology.

Follow and connect with us on Facebook, Twitter, LinkedIn, Elets video