Dr Krishnaswamy Kasturirangan
Member, Planning Commission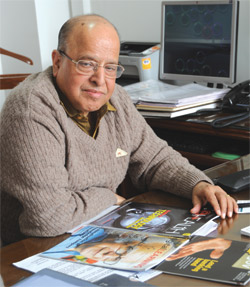 Dr Krishnaswamy Kasturirangan, Member, Planning Commission, has steered the Indian Space programme for over nine years as Chairman of the Indian Space Research Organisation (ISRO), Space Commission and as Secretary to the Government of India.
In an exclusive interview with Dr Rajeshree Dutta Kumar, Sheena Joseph and Pratap Vikram Singh, Dr Kasturirangan provides insights into the various applications of satellites and information and communication technologies in healthcare
What are the specific initiatives that have been taken under your leadership in the Planning Commission? How are you guiding and driving these programmes?

In the Planning Commission, I am involved in the areas of science and technology, environment and forest, climate change and agriculture research. Space is one of the key areas within the science and technology segment that I am looking after.

We have recently tried to complete the mid-plan review of various projects and programmes under the 11th Plan to look at how we have fared in these areas and also to identify the things we are supposed to do in the remaining two years left of the 11th Plan.

By and large the programmes under various scientific departments like Department of Science & Technology (DST), Council for Scientific & Industrial Research (CSIR), Department of Biotechnology (DBT), Department of Space, Department of Atomic Energy and Ministry of Earth Sciences have been progressing to different levels based on certain targets that have been set for them. There have been significant developments in terms of our publications, as well. India has now gone to the 9th place in terms of overall publications.

DBT is a very unique institution in terms of promoting innovations in biotechnology and recently it has organised Stanford India Biodesign to promote tech fellows or graduates from IITs or other areas of engineering, science and medicine. These fellows identify good and innovative ideas in the area of medical instrumentation. This is crucial as India imports medical instruments worth ` 15 crore and hardly 5% of the overall requirement today is indigenously manufactured. These youngsters are given a holistic view of the entire issue or dimension involved in creating medical instrumentation. This also involves opportunity and idea identification, converting that idea into prototype product, testing, uation, questions of business practices, financial management, ethical issues and intellectual properties.
Is DBT, through its initiatives, being able to bridge the gap between indigenous and imported medical instruments?

Yes. However, what is more important is the fact that it is trying to create cadres in the country, which can be the foundation for developing India as a biomedical instrumentation hub of the future.
Can you elaborate on how science and technology and Indian remote sensing satellites contribute towards health? How specifically will these initiatives affect the social development sector?
In health, specifically the Indian Space Research Organisation (ISRO) has taken some key initiatives for telemedicine. In India, there is a dearth of doctors and specialists in rural areas, whereas the density of doctors in urban areas, which have super specialty hospitals is much higher. Of the total number of doctors in India, hardly 2% practice in rural areas. So at doorstep of rural population, India does not have that kind of specialty support for treatments and diagnostics. Further, to transport every patient of rural area to the city to get specialist medical attention will be a huge task and probably impossible. Many of the patients who come to cities should be guided as to how to treat a disease and have right diagnosis by a specialist. These are the considerations that prompted us to see whether we can install equipments in rural/district hospitals like electrocardiogram or chest x-rays to monitor everything electronically and send it via satellite to some urban hospitals, which has a telemedicine centre, so that the reports can be analysed by specialist doctors stationed thousands of kilometers away.



"Today more than 300-320 hospitals in rural I­ndia have been connected to some 30-40 specialty or super specialty hospitals in urban centres and nearly 300,000 patients have been treated in through telemedicine. "
So there is enormous potential of ICT in the context of healthcare system in the country. Nearly 300,000 patients in the recent past have been treated in through telemedicine. Today more than 300-320 rural hospitals have been connected to some 30-40 specialty or super specialty hospitals in urban centres like Apollo Hospitals, Ramachandra Hospital, Mata Anandmayi Hospital, AIIMS and Sanjay Gandhi Post Graduate Institute. All these hospitals are connected to the rural areas and doctors in urban centres provide services to the rural folds by providing timely medical advice which is of specialist nature. They have also built mobile vans, which can not only penetrate at the levels of district hospitals but can go to other places and screen patients/population for their health problems and so on. These mobile vans can again transmit these reports using ICT for monitoring to specialty hospitals.

Many of these scientific departments, particularly atomic energy, as a byproduct of their nuclear research programme have developed number of isotopes such as Cobalt 60 and CCM-137, which are available today for cancer treatment for radiation therapy. This is one class of development that scientific department has contributed to. But there are potentials for cancer detection and treatment where ICT can be brought in.

Various types of processing which has gone into and newer softwares that have been brought into can reduce the complexities of hardware systems by judiciously complementing the hardware-software interfaces. For example, ECG developed in CSIR laboratory costs only around `10,000. It is quite affordable and being installed at many locations in the country. ICT can further be used to send these ECG reports to various parts of the country. ICT can also be used for information processing and information improvements for image processing. The space department has developed as part of remote sensing system, a number of image processing algorithms. These image processing algorithms if suitably adopted could be used for looking at the images that are normally for the nuclear magnetic MMR, CT scan, gamma ray cameras, etc. All of them need variety of image processing techniques which is found in the realm of information technologies because these are all signal processing and signal analysis.
The National Innovation Council promotes innovations which could actually cater to the need of grassroot people. What is the broader objective of this and what is the roadmap for addressing the needs of common people?

National Innovation Council has now formed three scientific departments or consortiums. We will bring them together and they will exchange their experience. Many of them have built their equipments for nuclear applications, medical applications and educational programmes. But then they will exchange their experiences, look at all technologies and analyse the potential for mapping these technologies for rural development or social applications. However, this has not been organised in a manner which is both sustainable and which can make an impact so far. This is where National Innovation Council's relationship with other scientific departments is going to make a difference.

Three departments—Atomic energy, Space and DRDO have already set up headquarters called the Innovation Directorate. Ultimately they are going to work together but initially it is going to be a linked system, which will exchange information and work with people in social areas, health areas, etc. to find out their requirements and transform these technologies to meet their demands. The ultimate mission is to see whether we can even create an institute where all the three could pool in their knowledge and then try to create solutions which become a kind of a gateway to find inroads into societal applications or health applications by appropriate institutions that specialise in it.


Follow and connect with us on Facebook, Twitter, LinkedIn, Elets video