ICT ENABLED HOSPITAL OF THE YEAR
MUNICIPAL CORPORATION OF DELHI


Municipal Corporation of Delhi, has six major hospitals toprovide tertiary patient care for the public including SwamyDayanand Hospital (250 beds), Rajan Babu TB Hospital(1155 beds), Hindu Rao Hospital (980 beds), MVID Hospital (250),Kasturba Hospital (450 beds), and GLM Hospital (97 beds).
The concept behind the HIS system, installed by Wipro Limited(Health Care), is to register the patient once in a life time, issueUHID and connect all hospitals for sharing the patient folder throughelectronic patient folder. The deployment architecture is decentralisedand the product is modular. The database of each hospital has beenconnected to the central server of MCD through EPF (electronicpatient folder), where the details on patient care, lab and radiologyreports are available and can be accessed by the treating physician.
Wipro HIS also been interfaced with lab equipments, which helpsin avoiding re-entering the results in the laboratory system. Resultsfrom the equipment are captured and displayed in laboratory moduleautomatically.
HIGHLIGHTS
Connects all the six hospitals catering to the needs of out patientand inpatient functionality within each hospital.
Includes patient registration with demographic details, outpatient visits, doctors appointment scheduling, admissions/bed,transfers/discharges, order entry, laboratory/radiology/cardiologyresult reporting, operation theatre management, main stores,sub stores, pharmacy, etc.
Generation of timely census and other reports with accuratedata.
Easier inventory management.
Generation of stock reports online and auditing of these reports.
Provision of browser based electronic patient folder.
Implementor: Dr. RC Patnaik, Chief Medical Offi cer (HealthInformatics), MCD
Website: https://www.mcdonline.gov.in/healthdetail.php?id=1
HIS helps in better patient care by retri of records,reporting system, inventory control, online availability ofpatient record and generation of statistical reports.
ARAVIND EYE CARE SYSTEM
The integrated hospital management system at Aravind Eye CareSystem was designed to automate patients enquiry, registration,billing, admission, clinics management, counselling, inpatientadmissions, operation theatre notes, laboratory, ward management,and credit services management process. IT has increased theaccuracy of the billing, diminution of waiting time, easy retri of datafor clinical studies and researches, planning, operational managementand decision making. Embedded systems for investigations ofpatients helped to store the fi ndings in the image for reference andalso for comparison. For some investigations, it simplifi ed the wholeprocess and patients themselves could undergo test without the helpof technicians. In the administrative areas side, accounting softwarehelped to eliminate entire manual work and also preparation of legaldocuments up to balance sheet and schedules are automated.
HIGHLIGHTS
Simple Message Service: Implemented to communicate with thepatients to increase their compliance rate of surgery, follow-up,medications etc.
Telemedicine: Aravind applied ICT to provide over 500 teleconsultanciesin a day.
Eyestalk: Developed for remote consultancy for second opinionusing software platform; uses FTP for transferring the medicalrecords between the ophthalmologists.
Medical Image Grading and Scoring: Implementation of ADRES(Aravind Diabetic Retinopathy uating) to send images takenby junior level technicians at remote places to diabetologistsfor review and diagnosis. Wide Area Network has been setupat these camps using leased line to share the data betweenbranches and the central hospital.
Implementor: Dr. P Namperumalasamy, Chairman,Aravind Eye Care System
Website: https://www.aravind.org/
HMS standardizes processes and improves operationalefficiency and performance of the system and staff.
KOVAI MEDICAL CENTRE AND HOSPITAL
Kovai Medical Centre and Hospital (KMCH) is a 500-bed multidisciplinarysuper speciality hospital located in Coimbatore.The hospital has more than 50 medical disciplines managedby highly qualifi ed and trained full time medical specialists providinground the clock service. KMCH is recognized by the Tamil NaduGovernment and Central Government for providing medical treatmentin specialized areas like open heart surgeries, kidney transplants, jointreplacements etc. Hospital is also recognized for getting fi nancialassistance for poor people through Prime Ministers National ReliefFund and Chief Ministers Relief Fund. The hospital provides cashlesstreatment through all public sector insurance companies and reputedprivate sector insurance companies. KMCH has implemented theBackBone HIS for automating its operations. The successful outcomeof the entire project has been a result of the great job done byits employees.
HIGHLIGHTS
Paperless Patient Ordering System: The pharmacy, lab requests,supplies, surgical issues etc., are all done within BackBonethereby completely eliminating paperwork.
Text Messaging: Text messages are used in communicating vitalinformation such as lab results, insurance pre- authorization andamount authorized etc.
Information Kiosk: A very simple to use touch screen kiosk inthe hospitals lobby providing information on patient details, billdetails, certain test results and for general information and nonpatients,etc. Another feature offered by the kiosk is a patientself-registration.
Supplier Portal: This is a mechanism to generate purchase ordersdirectly through the system for wholesalers and retailers.
Implementor: UK Ananthapadmanabhan,President, KMCH
Website: https://www.kmchonline.com/index.php
Installation of BackBone at KMCH not only improvedpatient experience, but also reduced administrative work.
SIR GANGA RAM HOSPITAL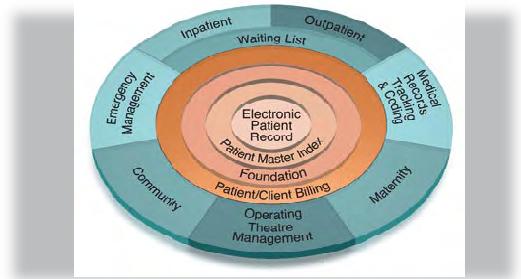 Five years ago, Sir Ganga Ram Hospital implemented aninternationally acclaimed software (TrakCare) from TrakHealth(now InterSystems, USA). Implementation has been turbulent,largely because of large volumes of transactions at every location,which has necessitated the development of unique workfl ows verydifferent from those originally confi gured in the software and thetremendous fl exibility of the software has aided all this. The softwareallows tight integration between patient registrations, admissions,billing, discharges, ordering, prescription, pharmacy, laboratories,imaging, stock indenting, purchase, receiving, stores and financemodules. This has lead to better patient management and inventoryand cost controls.
HIGHLIGHTS
Integration of laboratory machines with the HIS.
The electronic medical records module allows patient data to bealways available to doctors.
The pharmacy management system includes ordering ofmedication from the wards, with patient allergy alerts and drugto drug interaction warnings, intelligent drug substitution inthe pharmacy from existing stock, inventory controls and MISreports.
Patient billing is automated so that the bill is always updated andavailable at all times.
Tight integration between various activities relating to stock haveresulted in a tighter inventory control as well as smaller inventoryholding.
The volume of MIS data generated by the business intelligencetools has improved management decision making.
Implementor: Dr. Karanvir Singh, Head-MedicalInformatics, Sir Ganga Ram Hospital
Website: https://www.sgrh.com/
Installation of TrakCare at SGRH has led to better patientmanagement and inventory and cost controls.
ARTEMIS HEALTH INSTITUTE
Artemis Health Institute is 500 bed state of the art multi-specialityhospital, focused on delivering world class healthcare with itsstate of the art facilities, spread across India. The fi rst ArtemisHealth Institute, located in Gurgaon in the National Capital Region, isoperational since July 2007. Artemis Health Sciences is promoted byApollo Tyres Group, which is Indias largest tyre company and is highlyregarded for its professional management.
The hospital has an HIS (hospital integration system) in place thatcaters to the front offi ce operations like IP, OP, ER, pharmacy, billingetc. However, the back offi ce operations like procurement, accountspayable, accounts receivables, etc. were not there in the HIS. HenceSAP was implemented to meet the functional requirement of fi nance,procurement and management reporting. However, implementingSAP is a challenge which becomes even more complicated whenintegration with another heterogeneous system (HIS in this case) isrequired. There was a need to ensure that both HIS and SAP talk toeach other seamlessly.
HIGHLIGHTS
Implementation of international patients module is diffi cult ascountry and patient specifi c needs have to be met within thesame HIS package and also in SAP.
Pushing the data from HIS to SAP, is one step and confi rmationof delivery to SAP is the next step. Confi rmation of posting ofthis information into SAP is another step and fi nally markingthis record as an already read record and to stop it from gettingpushed again is the most important step.
Here there are a lot of technical aspects involved like maintainingthe sequence of records, maintaining the check of duplicaterecords, maintaining fl ag for read and unread records, maintainingthe flag and log of erroneous records.
With HIS and SAP seamlessly integrated, there is a single pointof data entry and duplicacy is avoided.
Also MRP (Material Requirement Planning) in SAP is done basedon the inventory position in the HIS pharmacy locations.
Implementor: Dr. Kushagra Katariya, Chief tiveOfficer, Artemis Health Institute
Website: https://www.artemishospital.in/
At Artemis Health Institute, integration of HIS and SAP hasresulted in effi ciently managing front as well as back officeoperations.
DR. LH HIRANANDANI HOSPITAL
The ICT at Dr. LH Hiranandani hospital results in maximumpatient safety and satisfaction and staff satisfaction. The inhousedevelopment of hospital management system (HMS)was to have the source code for dynamic changes over a period oftime as per operational requirements.
The HMS is an operation friendly system which has resultedin reducing the waiting time for patients. The laboratory softwareinterfaces with all equipments for automated data integration, and littleor no manual intervention for minimum error. The lab reports can alsobe viewed online through a secure login that ensures confi dentiality.
To ensure hat the lab parameters are performing optimally, softwarefor lab for QC checks has also been installed. Even the radiologyimages can be viewed by nursing staff and doctors through securedlogin during patient care in OPD and IPD.
HIGHLIGHTS
Dedicated OPD appointments module.
Hundred percent integrated online Standard OperatingProcedures (SOP).
In house developed research software.
Management Information System (MIS) helps management intaking marketing decision and helps the concerned authoritiesto associate or dissociate with doctors based on theirperformance.
Strong inventory management modules in HMS to block excessindents, and enabling ROL.
Live telecast of OT procedures to auditorium and even at far offlocations for knowledge sharing.
Electronic discharge summary and a printed copy given to thepatients.
Implementor: Dr. Sujit Chatterjee, Chief utiveOffi cer, Dr. LH Hiranandani Hospital
Website: https://www.hiranandanihospital.org/
The ICT at Dr. LH Hiranandani hospital complies with variousNABH and international accreditation requirements.
GOVERNMENT POLICY INITIATIVE OF THE YEAR
DRUG LOGISTICS INFORMATION AND MANAGEMENT SYSTEM
The Drug Logistics Information and Management System (DLIMS)handles procurement, storage and distribution of medicines,drugs, injectables, surgical goods and medical equipmentsand distributes them to medical colleges, district and taluka hospitals,community health centres and municipal corporations (435 directdemanding offi ces). All activities of indenting, procurement, receiptdispatch, billing etc. are integrated in a single database, which helpsmaintain accuracy and integrity of data throughout the process. Thesystem improves effi ciency and effectiveness of the drug logistics andwarehousing process by automated online indenting, monitoring ofrequirements versus availability of various processes. The existingmodules include: indenting, purchase order processing, specialprogramme monitoring, store issuable monitoring, store receivablesmonitoring, stock monitoring, bill payment and rate contractmonitoring.
HIGHLIGHTS
Centralised data base has increased accuracy, as all activitiesare inter-related and use the same data base.
As suppliers are also a part of the system, it is a very goodexample of Government to Business (GtoB) extension of egovernanceand this has also enhanced transparency.
System is hosted in central server of NIC hence data disaster,backup etc. are all taken care by NICs technical resources.
Management of drug procurement and supply improved due tocontinuous online monitoring.
As the system is online and all concerned employees and officersuse the system at their own.
Implementor: Central Medical Stores Organization,Gandhinagar, Gujarat
Website: www.gujhealth.gov.in/cmso_initiative.htm
Installation of DLIMS has helped in developing a differentwork culture with enhanced computer literacy leading tohuman resource development.
HOSPITAL MANAGEMENT INFORMATIONSYSTEM
The state Governments vision for HMIS is to allow generalhospitals to provide effi cient and quality health services to buildtrust and confi dence in the hearts of the citizens. The HMIS isa web-enabled system, which practically supports any time-anywhereaccess by the users. However, the user access has been controlledthrough GSWAN and role-based access has been imposed in orderto protect security of patient records. The HMIS has been envisagedto not only help the administrators to have better monitoring andcontrol over the functioning of hospitals across the state usingdecision support indicators and management tools, but also assistdoctors and medical staff in improving health services with readilyavailable patient data, work fl ow enabled less-paper processes andparameterised alarms and triggers during patient treatment cycle.
HIGHLIGHTS
Benefi ts to citizens: effi cient health services due to digitized healthrecords, electronic patient data, organized record keeping andreferral services, hospital related and health promotion, reducedper visit time, standardized charges.
Benefi ts for doctors and healthcare staff: increased effi ciencydue to easy access to electronic EMR, templatised treatmentrecording cycle and ICD10 codifi cation support, parameterisedSMS alerts for patients, recording observations, reduced timeto-serve patients, building knowledge-base for research &development support and keeping track of and manage biomedicalwaste as per FDA guidelines.
Benefi ts to state administrators and medical superintendents:getting real time data, getting state-wide holistic view ofhospitals, monitoring pre-defi ned health indicators, decisionsupport, management information system comprising of statusupdate reporting, monitoring effectiveness of national programsand identifying areas of improvements and comparing data usingstate wide reports.
Implementor: Commissionerate of Health, MedicalService and Medical Education; Gandhinagar, Gujarat
Website: www.epch.com
HMIS has established centralized helpdesk in healthdepartment, which helps in providing immediate solutionsfor resembling queries.
AAROGYASRI HEALTHCARE TRUST
In order to improve access of people, living below the poverty line,to quality medical care, Government initiated a pilot project in May2004 to partly pay for hospitalisation and treatment from ChiefMinisters Relief Fund (CMRF). However the inability of this schemeto meet the expected needs led to the set up of Aarogyasri HealthCare Trust scheme.
As of present, following components of the Scheme are underimplementation:
Aarogyasri I: for 15 districts and Aarogyasri (I&II combined) for 8districts through insurance company and funded from medicaldepartment budget.
Aarogyasri II: for 15 districts and chief ministers camp officereferrals directly by Trust and funded from CM Relief Fund.
All BPL ration card holders (white card) are eligible for benefit from thescheme. The total number of diseases covered under both AarogyasriI and Aarogyasri II schemes is 942. The scheme is implemented onlinethrough an IT portal for effi ciency, transparency and accountability.
HIGHLIGHTS
A list of diseases for coverage under scheme is pre-identifi ed;pre-existing disease load is covered; hospitalization for treatmentis a pre-condition.
Cashless arrangement with network hospitals.
An insurance company undertakes the health insurance andprovides risk cover.
Scheme provides coverage for meeting expenses ofhospitalisation and surgical procedures of benefi ciary members.
A separate fund is maintained as buffer / corporate fl oater to takecare of expenses that exceed the original sum.
Choice of hospital for treatment from among empanelledhospitals is given to patient.
All primary health centres (PHCs), which are the fi rst contactpoint, are provided with Aarogyamitra (health workers).
Implementor: Babu A,CEO, Aarogyasri Health CareTrust, HM & FW Department
Website: https://www.aarogyasri.org/ASRI/index.jsp
Aarogyasri project is web-based project for whichthe workfl ow and design has been developed by RajivAarogyasri Healthcare Trust.
HEALTH IT MASTER PLAN
In April 2008, Ministry of Communication and InformationTechnology, Egypt (MCIT) laid out the IT Health Master Plan forthe Ministry of Health and Population (MoHP) to be implementedjointly with IBM. The project aims at analyzing the current situation ofMoHP and identifying its key objectives and future vision, analysingthe current situation of Egypts health sector vis-Ã -vis the internationaltrends in the health sector outlining possible gaps and formulatingtactical strategies for achieving so. The project has high priority as itconcerns the IT strategy for health in Egypt, therefore it was followedup by the minister of communication and information technology,the ministry of health and several other ministers beside the workingcooperation team between the two ministries.
HIGHLIGHTS
MOH Business Vision
MOH IT Vision
MOH IT Implications
MOH Business Current State Assessment
MOH IT Situational Analysis
MOH Future State CBM
MOH Gap Report
MOH Strategic Initiatives & Study Areas – Sample ProjectsPrioritization
MOH IT Governance Model 10- MOH IT Governance Model
MOH Project Governance Model
MOH Information Model
MOH Conceptual Architecture.
Implementor: The Ministry of Health and Ministryof Communication and Information Technology,Egypt
Website: ttp://www.mcit.gov.eg/ProjectDetails.aspx?id=LwoZAzlgsAg=&type=ICT%20for%20Health
Health IT Master Plan has been developed keeping in mindthe Egyptian health system and regulatory framework.
TRIPURA VISION CENTRE,TELE-OPHTHALMOLOGY PROJECT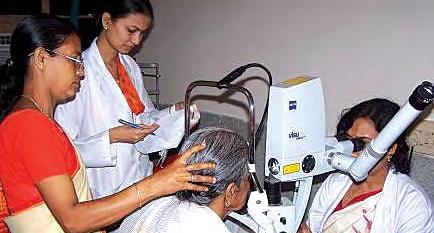 The tele-ophthalmology project is an initiative of the Departmentof Health aimed at offering primary and preventive eye careservices to rural citizens of Tripura adopting advances inmedical sciences, bio-medical engineering and its convergence withinformation and communication technology. Poised with the challengesof inadequate medical facilities and limited eye care specialists in therural areas, this initiative has overcome all geographical, economic,social barriers earlier faced by the rural citizens and has helped them inobtaining quality eye care services from vision centres located at theirdoorsteps. The project serves a rural population size of 26,48,074people in remote areas spread across 40 blocks of 4 districts in thestate of Tripura. All patients visiting the vision centre are completelyexamined by an ophthalmic assistant and the medical record isuploaded electronically for doctors live tele-consultation from the IGMbase Hospital in Agartala. Audio/Video conferencing tools seamlesslyintegrate with the medical information system in facilitating the qualityconsultation process.
HIGHLIGHTS
Comprehensive model for providing eye care in a decentralizedmanner, located at all 40 block offi ces of the state.
Patients are examined by ophthalmic assistants and the medicalrecord is uploaded electronically for doctors live tele-consultationfrom the IGM base Hospital in Agartala.
Audio/visual conferencing tools are integrated with the medicalinformation system.
Network support system of private peer to peer VPN withredundant TSWAN connectivity is established for exchange ofinformation.
Implementor: Dr. Sukumar Deb, Department ofHealth, Govt of Tripura
Website: https://ittripura.nic.in/Vision/TVC_About.pdf
The application of ICT tools not only takes the eye careservices to remote locations but also enables measuringthe quality and effectiveness of the service offered.
TAMIL NADU HEALTH SYSTEMS PROJECT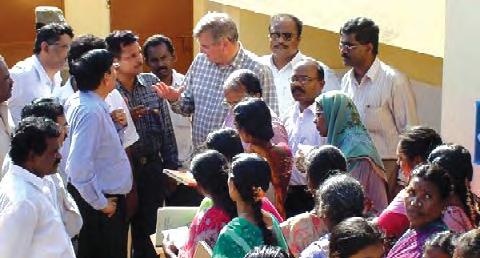 The HMIS project was envisaged by the health department ofTamil Nadu as part of the ongoing World Bank project for ITenablement of the hospitals. The project was conceptualizedto provide critical health data across the health chain for quick andtimely intervention by the health directorates. The project includes thedevelopment and implementation of hospital automation of secondarycare institutions across the state and a state wide health IT networkfor reporting on a uniform reporting platform. All the critical parametersare captured at the end user level and made available real time acrossthe health chain for decision making. The Tamil Nadu Health SystemsProject (TNHSP) has been set up to implement the World Bank aidedproject including the HMIS project under the TN Health Department.
HIGHLIGHTS
In a short period of six months, 30 hospitals have gone live withthe online system.
All respective end users are expected to use the system with NOdata entry support.
All registration, stores, pharmacy, wards, lab, doctors out patientprocesses are fully online.
The doctors are directly entering diagnosis, ordering lab testsand giving prescriptions online for all out patients.
The HMIS reporting system covering clinical, program andadministrative modules provides for immediate online access tothe health administrators at state level on various critical datasets.
The HMIS project brought in the services of various agencies toprovide a state of art solution,
Provided data centre support and critical connectivity to thehospitals across the state.
Implementor: Department of Health and FamilyWelfare, Government of Tamil Nadu
Website: https://www.tnhsp.org/
The online system records show over 10,000 patientregistrations, around 2000 lab investigations, and 8000prescriptions being entered daily.
NATIONAL NETWORK FOR CITIZEN HEALTHTREATMENT BY THE GOVERNMENT
The National Network for Citizen Health Treatment by the Governmentis a project for cooperation between the Ministry of Communicationsand Information Technology (MCIT) and the Ministry of Health (MOH).It is providing the most recent automated systems to develop centralmanagement of treatment by the government, and direct patientsto different therapeutic units, such as hospitals and specializedcentres in the country. The project aims to develop quality control andperformance uation systems to guarantee the delivery of subsidyto those for whom it is intended, and guarantee system efficiency. Italso aims to develop the information systems and databases of thecentral department for citizen health treatment by the government,and connect all peripheral departments and hospitals through a webbased application. The Information System of Citizen Health Treatmentby the Government makes information instant, easy to access, easyto update, and always available for those who need to know, andexceeds to support decision taking.
HIGHLIGHTS
Automating and linking 50 remote sites to the headquarters inCairo.
Processing around 8000 treatment requests daily from all theremote sites and the main centre.
Following up on the provision of state-funded healthcare servicesto prevent fraudulent use of these services.
Using the International Classifi cation of Diseases and RelatedHealth Problems (ICD) and Current Procedural Terminology (CPT) coding systems in treatment and diagnosis.
Providing accurate data and statistics regarding state-fundedhealthcare services.
Establishing collective integrated databases to serve therequirements of the Ministry of Health and researchers (contains
round 7 million medical records).
Implementor: Ministry of Communications, SmartVillage, Giza, Egypt
Website: www.mcit.gov.eg
Automation of 50 remote sites allows the citizens to accessthe service through the nearest remote site and avail allmedical and fi nancial information.
HEALTH MANAGEMENT AND RESEARCHINSTITUTE
The Health Management and Research Institute is a registerednot-for-profi t organisation working with the Government ofAndhra Pradesh, India, in a public-private partnership totransform the existing health care system through the innovative use ofinformation technology. Through both physical and virtual interactionswith its users, HMRI delivers a wide range of critical services: medicaladvice/counselling, detection/diagnosis, monitoring, health/hygieneeducation, and drug prescription/dispersal. The unique meansprovided by HMRI include: 104 Advice, providing free non- emergencymedical advice on the 104 number; and 104 Mobile, which offersservices to remote rural populations by a networked fl eet of 475mobile health units (MHUs), which serve as one-day-a-month localhealth clinics. In addition to the radical improvement in the qualityand access to health care for the rural poor, HMRIs integrated digitalsystem also permits better monitoring and response to disease trendsand epidemics.
HIGHLIGHTS
Caller Registration: each caller is provided with a unique id, sothat benefi ciary records of repeat callers can be retrieved.
Decision Support System: used to automate the diagnosis ofthe callers medical condition 83 algorithms are mapped to morethan 550 disease summaries, enablingdiagnosis of minor ailments by trained paramedics, allowingdoctors to focus on complex cases only.
Direct transfer to emergency response system (ambulanceservice) for emergency cases.
SMS Prescription: Doctors prescribe over-the-counter drugsthrough an SMS sent to the callers mobile number.
Voice recognition of nuisance callers through a software.
Implementor: Balaji Utla, CEO, HMRI
Website: https://www.hmri.in/
HMRI provides unique means of reaching at-risk ruralpopulations to supplement the existing traditional healthcareplatforms.
AMBULANCE CALL TAKING, FILTERING ANDTRANSFERRING SERVICES
The main objectives of the Ambulance Call Taking, Filteringand Transferring Services include: enhancing decision makingprocess for emergency call requests; applying proper advancedtools to manage and supervise emergency call requests; developingthe call taking process in the dispatching centre and digital recordingof all parameters of incoming calls requesting emergency medicalservices; deploying reports application that provides tools to manageand retrieve all information needed regarding the call basic parameters;providing tools to record, manage, and analyse the statistical analysisfor the call taking services as well as the process performance and thequality of service and assuring best effort and time saving, in handlingemergency cases.
HIGHLIGHTS
Filtering the incoming calls at Greater Cairo ambulance from130,000 calls per day to an average of 2500 calls per day.
The registration of all parameters of emergency call, generatingdaily reports and statistics.
Voice recording system for all calls to punish ambulanceabusers.
All emergency ambulance service calls (123) are being answeredas soon as the caller dials the number. The ability to search forany specifi c data or call at any time.
Building a database repository for all emergency calls for GreaterCairo.
The service is improved periodically to add more functions tohandle the project like complains handling and patient surveys.
Implementor: Ministry of Communication andinformation Technology, Egypt
Website: https://mcit.gov.eg/ict_health.aspx
The service applies proper advanced tools to manage andsupervise emergency call requests.

Follow and connect with us on Facebook, Twitter, LinkedIn, Elets video