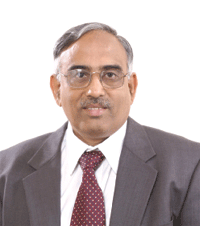 Established in 1990, Kovai Medical Center and Hospital is a 350-bed super-facility corporate hospital located in Coimbatore on a sprawling 20 acre site. It has over 50 medical disciplines with 100 full-time medical consultants,11 operation theatres with the most modern medical equipment, such as, 64 slice CT, cathlab, state-of-the-art laboratory equipment and EBUS equipment. KMCH has been a forerunner in adopting technology in diagnosis, treatment and and in every facet of hospital's operation to optimise cost and improve delivery of care to patients.
In an interview with eHEALTH, U. K. Ananthapadmanabhan, President, KMCH, talks about recent health initiatives taken by the hospital and how technology has revolutionised healthcare in the country and around the world. Excerpts:

What are Kovai Medical Center and Hospital's significant achievements in recent years?
Dr Nalla G Palaniswami, Chairman, KMCH, established the hospital in 1990 with 250 beds and 17,000 shareholders. We became the second corporate hospital in the country and the first such hospital in a second-tier city like Coimbatore. We added 100 beds in the year 2000 along with other satellite centers in the Coimbatore district. We are in the middle of a huge expansion involving an addition of 250 beds, 10 more operation theatres, cancer therapy units with Linac and PET scan equipment, with cost outlay of more than 200 crores.
The work is expected to complete by 2010, which will make Kovai Medical Center and Hospital one of the largest hospitals in the corporate sector in Southeast Asia.
Currently, we treat over 1000 inpatients and outpatients a day and it is expected to double in the next two years. We are getting a large number of patients from north-eastern states like Meghalaya ,Assam ,Tripura and Manipur and their number is increasing by about 20 to 30 per cent every year. The patronage from the local districts has been overwhelming due to which patient load has tremendously increased during the last 5 to 6 years.
Indian Government should realise that it is not possible for them to develop infrastructure and talent pool to cater to the needs of 1.3 billion people of the country and, therefore, allow more private-public partnership in building up Indian health care delivery system.

We have now emerged as one of the leading centers in Intervention Radiology in the world and a teaching centre in this discipline. We have expert consultants who perform Single Incision Laproscopic Surgeries (SILS) and Endoscopic Spine Surgery and Spine Correction Surgery involving 20 to 22 hours of meticulous surgical work, which very few hospitals in the country are doing.
What has been your most recent professional milestone?
I distinctly remember 20 years ago we did most of our transactions like billing, registration, taking in diet order or sterilisation of linen manually, but over the years I have been able to automate every transaction in the hospital. And, I have been mentoring many of my junior colleagues in adopting the latest technologies in their hospitals. I feel very proud when doctors, administrators and patients tell me that our hospital is one of the finest hospitals in terms of care, treatment, technology and cost-effectiveness.
To me it is a constant learning process by visiting hospitals, conferences and writing examinations and teaching.
What have been the important initiatives on the Health IT front in the past two years?
Our hospital is truly a paperless hospital where all the laboratory equipment like auto analyzers, blood gas analyser, blood cell counters are networked. Central sterilisation equipments are also completely automated. Pharmacy, laboratory, dietary requests etc are done through computer network without involving any paperwork.
We have empowered the patients by providing touch screen facilities at various locations within the hospital premises. The touch screen information facility provides various details like general enquiry, facilities of KMCH, tariff etc. An in-patient can also view billing information and medical details with his unique identification number.
We are now working on providing a facility to order meals through the mobile phone. We have also focused our attention on energy management which involves energy monitoring, energy conservation and use of alternate sources of energy. We have installed 14,000 litre solar water heating system which has resulted in huge saving in energy costs and has also provided 24-hour hot water supply to the patients. We have connected all our high energy loads to a Local Area Network (LAN) through which we monitor various electrical parameters like voltage, current , power factor, energy consumption. By this we have saved Rs 10 lakhs in a year on energy. The cost of this solution has been a fraction of the savings made last year. In appreciation of this work, we were awarded 'The Most Eco-friendly Hospital Building of the Year' by the RACC Association and the British scholars of India.
Any new initiatives taken by the hospital in academics?
Ever since the hospital started, teaching, training and research have been part of our clinical practice. KMCH has post-graduate DNB programmes in various disciplines like radiology, cardiology, anesthesiology, cardio thoracic surgery, ENT, germedicine and surgery, orthopedics, paediatrics and obstetrics and gynaecology. Hospital under its research and education trust has graduate and post-graduate programmes in all paramedical disciplines like physiotherapy, occupational therapy, nursing, pharmacy. Apart from these programmes we also have skill development programmes at the level of the technicians like respiratory therapy programme, operation theatre technician programme, dialysis technician programme and so on. To promote professional hospital management we also have post-graduate programmes in hospital administration affiliated to the state university at Coimbatore.
What challenges does the hospital face in achieving its goals?
The biggest challenge that the hospital face is the non-availability of skilled manpower at all levels. Today, majority of the skilled manpower prefers to work in metropolitan cities because of which availability of manpower is in shortage in tier 2 and 3 cities.
The other challenge that the hospital face is the high cost of medical equipment, and the rate of obsolescence in the medical equipment which puts tremendous pressure on the overall cost of medical treatment.
According to you, what are the reforms needed in the Indian healthcare industry?
Firstly, there is a need to bring a change in the mindset of people. People should see healthcare as a service that needs to be paid for.
And, the government should realise that it is not possible for them to
develop infrastructure and talent pool to cater to the needs of 1.3 billion people of the country and, therefore, allow more private-public partnership in building up Indian health care delivery system.
Health care must be treated as a priority sector and certain facilities like lower electricity tariff, land at subsidised rates should be provided. Tax sops, custom duty exemptions must be liberally provided to individuals and institutions coming forward to establish accredited hospitals.
Lastly, efforts must be taken to promote indigenous manufacturing of medical equipments which make medical care very expensive to the common man. Government should universalise health insurance for BPL families and also promote medical insurance in the private sector by allowing foreign companies to come in, and raise the insurance premium limit for income tax exemption for individuals to Rs 50,000.
Are there any schemes/programs started by the hospital to provide affordable healthcare facilities to the poor?
We provide concession to children from poor families, senior citizens and Army personnel at the hospital. We have performed over thousand free open heart surgeries on the poor children, in and around Coimbatore district. We have established 6 rural healthcare centers in villages like Thekkalur, Annur, Veeriampalayam, where we provide medical treatment at a very nominal cost for the benefit of the poor. We have also established Trauma care centers which operate 24/7 . We transport patients not only to our hospital but also to other hospitals. The patients, who are transported to government hospitals after first aid treatment, are not charged for the service.

Follow and connect with us on Facebook, Twitter, LinkedIn, Elets video