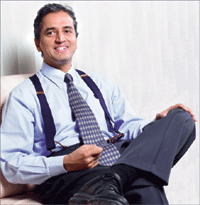 Established in 2001, Narayana Hrudayalaya, Bangalore, is a 1000-bed hospital spread over 25 acres. It's known around the world for subsidised healthcare services for the needy, unique micro health insurance scheme and renowned cardiac surgeon cum social entrepreneur of the country Dr Devi Prasad Shetty. The hospital receives about 800 patients a day and performs the largest number of heart surgeries on children in the world.
In an interview with eHealth, the incorrigibly optimistic
Dr Devi Shetty, Chairman, Narayana Hrudayalaya Pvt. Ltd (NHPL) group of hospitals, talks about the great strengths of the Indian healthcare system and the policy changes it requires to emerge as the largest healthcare provider in the world. Excerpts:
Could you detail upon the remarkable achievements of Narayana Hrudayalaya in recent years?
Narayana Hrudayalaya is the world's largest heart hospital performing over 50 heart surgeries a day. We are the only hospital in Asia doing artificial heart transplants. And, a month ago we performed a heart surgery, known as Norwood procedure, on a three-day-old baby.
What has been your most recent professional milestone?
Nowadays, I am concentrating on a surgical procedure in which the entire Aorta can be replaced from the body. I strongly believe that Aorta is disposable and can be replaced with a pipe if damaged. At NH, we have replaced several patients' Aorta.
Why do you believe that health cities can alone meet up the health requirements of our country?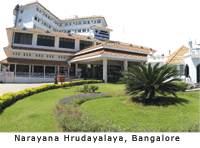 Hospitals with 200 or 300 beds cannot meet the requirements of a developing country like ours where majority of the people cannot afford healthcare services. We require 3000 to 5000-bed hospitals for volume-based cost reduction in health care facilities. In a 5000-bed facility, the blood bank and other medical facilities are shared among a huge number of patients than in a 200-bed hospital. For example, on an average a 200- bed hospital does about 200 MRI scans in a day and charges at least 5 to 10 thousand rupees per scan. Whereas if you do around 500 MRI scans in a 5000-bed hospital, each MRI woul cost a few hundred rupees.
Your hospital conducts the largest number of cardiac surgeries in the world and you are the only hospital providing the cheapest cardiac care for the needy – 65, 000 for an open heart surgery – without compromising on the quality. How have you made it possible?

By having a team of passionate doctors who believe in the cause of treating patients with great compassion. You will find medical professionals who after reaching a level of excellence acquire a degree of eccentricity, and it's not the money or fame they work for. It's something else. At Narayana Hrudayalaya, we try to give them that. And, that's the reason our attrition rate is zero at the senior level.
Could you explain how Indian health care system be reformed if the government becomes a health insurance provider than a health care provider?
The reason why Indian Government doesn't run IT companies is that it is a complicated business. It is a knowledge-based industry where a company has to be extremely flexible, as it depends on the abilities of highly-skilled manpower. And, if you lack the flexibility and uniformity in your work you can never build centres of excellence. Think about the healthcare industry which is hundred times more complicated than other businesses. For instance, in our hospital a technician with a B.Sc. degree, who runs a heart lung machine, draws an annual salary of 3 lakhs. How would you justify his remuneration unless you value his skills? So, the government instead of becoming a healthcare provider should become a health insurance provider.
We have already shown to the world through Yeshasvini that you can run a health insurance scheme on a premium of 5 rupees a month. Today, five million farmers are covered under Yeshasvini. And, the Government of Karnataka in coming days plan to cover 60 per cent of the state population under the scheme.
How can the Indian health care industry be transformed into a biggest employer?
Indian healthcare industry can emerge as the largest employer not just in the country but also in the world like the British Health care system, Indian Railways   and the Chinese Army, provided we enforce the required regulatory reforms. Consider this: for a 2 crore turnover the Indian IT industry employs about 5 to 7 engineers coming from middle class and upper class strata of society. Whereas for a 1 crore  turnover,  the Indian healthcare industry employs about 200 people comprising of nurses and class 4 employees. Healthcare is the only industry which is poised to take up the responsibility of accommodating a large workforce of highly-skilled and semi-skilled people.
I believe that India will become the first country in the world to dissociate healthcare from affluence. In our lifetime we will see millions of people, still living in slums with no running water or sanitation, but when they are unwell, they will have access to high-tech healthcare like an American or European citizen.
Besides the health insurance coverage,  what reformations can make health care accessible to the poor masses?
Government should encourage and support industries to build a large number of hospitals all across the country. Unlike other industries, health care industry is very sensitive to volumes. Say, for example, the cost of manufacturing an antibiotic tablet is less than a rupee, but a patient buys it at 300 rupees. So, what makes its price so high? It's not the cost of the chemical which the antibiotic contains, but the R&D cost that goes into finding that particular chemical by the scientists. And, the reason the R&D cost per tablet is so high is because, at present, there are a few takers. But, once a few million start buying it the price will come down significantly. Therefore, the only way to bring down the cost of health care is to have more beds, more OTs and more surgical procedures.
Where do you see the Indian healthcare industry in a few years from now?
I believe that India will become the first country in the world to dissociate healthcare from affluence. In our lifetime we will see millions of people, still living in slums with no running water or sanitation, but when they are unwell, they will have access to high-tech healthcare like an American or European citizen. You will see slum dwellers living with artificial hearts which a few Americans may afford.  This can only happen in India because we produce the largest number of doctors, nurses and medical technicians in the world. We have everything required to dramatically change the way health care is delivered. The only missing link is money. Once that is replaced by health insurance sponsored by the Government there will be a big transformation.
What challenges does the hospital face in achieving its goal of  30,000 bed strength in various centres across the country?
There is no great challenge except the finances.
What are the plans ahead?
We have hospitals in Jaipur, Kolkata, Jamshedpur, Hyderabad, Ahmedabad and we are planning to come up in tier-2 cities.


Follow and connect with us on Facebook, Twitter, LinkedIn, Elets video