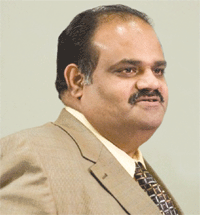 Apollo Health City, Hyderabad, is a 350 bedded multi-specialty hospital with over 50 specialties and super-specialties besides 10 centers of excellence, education, research, information technology. The average staff to patient ratio for the hospital is 3:1 with a 1:1 ratio prevailing in priority areas like the Intensive Care Unit and the Cardiac Care Unit.
eHEALTH caught up with Dr. K. Hari Prasad, CEO, Apollo Hospitals, Jubilee Hills, Hyderabad, to know about the hospital's achievements and initiatives in recent times. Excerpts:

---
What are the hospital's remarkable achievements in the past one year?

Apollo Hospital, Hyderabad, is the first hospital in the world to be accredited by the Disease or Condition Specific Care Certification (DCSC) for acute stroke by JCI. With the support of world-renowned consultants backed by outstanding clinical staff and sophisticated equipments, we have been able to reduce the average length of stay at the hospital from 11 days to 4.5 days for acute stroke patients. The hospital has also received JCI re-accreditation and NABL certification for  the  laboratories.
On the technology front, we have recently acquired world's most powerful and versatile platforms for Non-Invasive, Image-Guided Radiosurgery – Novalis Tx Radiosurgery. In the past few years, we have expanded  ourselves by  establishing a world-class International Healthcare Center with Knee Institute, Bariatric Surgery Institute and Institute for Aesthetics and Cosmetic Surgery.  We have also started the first Reach Hospital in Karimnagar under our plan of launching150 hospitals in the next five years. Apart from this, we have also launched two Sugar Clinics (for diabetics) in Hyderabad and have started working towards making our hospital a Six Sigma hospital.
What are the highlighting features of Apollo Hospital, Hyderabad?
Apollo has been providing high-quality healthcare at affordable costs to its patients, because we focus on treating ambulatory patients efficiently so that they get back to their work or home the very next day.
Apollo Health City offers medical BPO services for off-shore customers, online education for medical professionals and telemedicine services. Apollo is a pioneer in the field of telemedicine in India and is credited with being the first to set up a Rural Telemedicine Centre in the village of Aragonda, Andhra Pradesh. We are now the single largest telemedicine solution provider in India.
Apart from these, the Center for Medical Innovation at Apollo Health City, Hyderabad, continuously works on identifying newer applications that would benefit both the sick and the healthy. Also, the hospital has the nation's first pre-hospital emergency network consisting of 12 fully-equipped ambulances manned by trained personnel.
Apollo Cancer Institute provides world-class comprehensive cancer care with dedicated professionals and state-of-the-art equipment and facilities with a Tumor Board and now PET CT.
What has been your most recent professional milestone?
I have recently started the Bariatric Surgery Institute and Knee Clinic and Reference Laboratory with central labs.
What are the new initiatives being undertaken by the hospital on the Health IT front?

Apollo Hospitals is working on tailor-made software for the group with TCS which is world class  in terms of its operations, networking and functioning. We are aiming at making the hospital a complete paperless hospital within next 8-9 months.
In which domains does the hospital plan to expand?
The hospital is focusing on expanding its IT infrastructure and systems, improving patient care and services and preventive health check-ups.
What, according to you, are the reforms needed in the Indian health care system?
We need to increase the GDP for healthcare, spread public awareness and design a method of comparing outcomes of various hospitals, so that patients have the right to choose their partner for care.

Follow and connect with us on Facebook, Twitter, LinkedIn, Elets video