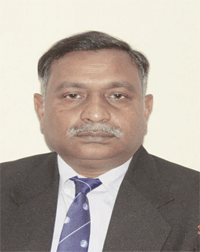 Sanjay Gandhi Postgraduate Institute of Medical Sciences, Lucknow, is known for teaching and training medical professionals in various medical super-specialties. The latest achievement of SGPGIMS is the setting up of the School of Telemedicine and Biomedical Informatics. Currently, the infrastructure at the school consists of several laboratories in all areas of healthcare IT, Telemedicine, HIMS, Health Knowledge Management, Medical Imaging Informatics, Biomedical Informatics, Artificial Intelligence, CDSS, Medical Mutimedia & Animation, Surgical Informatics etc.
Although functional since 2006, it will open admissions to its masters and diploma programmes in Telemedicine and eHealth later this year. To know more about the courses and the school, eHealth spoke to Dr S K Mishra, Nodal Officer, SGPGI Telemedicine Programme, who has been instrumental in starting the telemedicine programme at SGPGIMS. Dr Mishra is also the Professor and Head, Dept. of Endocrine Surgery, SGPGIMS.
Q. Despite the presence of IITs for over half a century the School of Telemedicine is the first institution in the country to teach Telemedicine and eHealth. How does it feel to be a part of such a project?

A. Application of Information Technology in healthcare is relatively a recent phenomenon in this country. Telemedicine is one of the technologies that has a great potential in facilitating healthcare delivery, knowledge and health information exchange across geographically dispersed groups of people/ organisation. In India engineering and technology educational institutions have always focused on the traditional disciplines. SGPGI is formed on the philosophy of creating human resources in emerging super-specialty fields of medical science and is a forerunner in such experiments in the country. Starting an academic programme in Healthcare IT is one such example. Though the discipline is a mix of medicine and technology but the current scenario has blurred the margins of scientific disciplines.

Q. Can you detail upon the evolution of School of Telemedicine and Biomedical Informatics?

A. SGPGIMS has been actively involved in telemedicine since 1999. We realised very early that automation is the only solution that can help hospitals to meet the challenges of modern health care delivery. SGPGIMS was the first fully computerised public hospital in the country with all patient activities taking place online and continues to be only one with an exceeding experience in the Government sector. The objectives of setting up of the School of Telemedicine are creation of various resource facilities, structured training programme, research and development, providing consultancy to government and private healthcare organisations and collaboration with technological and medical universities in the country and abroad. And, the most important is to meet the demand of skilled manpower in the emerging highly skilled health technologies. Presently, the healthcare industry recruits IT people from non-healthcare backgrounds and then train them.

Q. Can you tell us about the courses and the training programmes conducted by the School of Telemedicine?

A. Keeping in view the slow acceptance of ICT in Indian hospitals we decided to make a modest starting. This year we will open admissions to a masters programme in Telemedicine and eHealth with specialisations in Telemedicine, eHealth, Biomedical Informatics, Hospital Information Management System, Public Health System and Health IT Management. Keeping in mind the needs of low-end working professionals we have also planned to start one year advanced diploma programme in the same. Both programmes will have 20 to 30 seats each. We will keep upgrading the curriculum as per the needs of the industry. There are many courses in the line like digital medical library, medical education content development, computer-based surgical training etc., but we are going to launch them only after assessing the job market for these courses.

In 2006, we started customised training programs for doctors and technicians sponsored by various agencies. We have trained batches of doctors and IT professionals from states of Uttar Pradesh, Andhra Pradesh, Madhya Pradesh, Jammu and Kashmir and Maharashtra sponsored by their respective governments. We also conducted a training programme for a delegation from Maldives sponsored by WHO.

Q. What is the scope of telemedicine in a developing country like ours?

A. Currently, 75 per cent of the doctors practice in urban, 23 per cent in semi-urban and only 2 per cent in rural areas where the vast majority of population live. So, tele-consultation and tele-medicine can help us in reaching out to the people in rural areas. Whereas in the US tele-consultation is more home-based for patients suffering from chronic or terminal diseases. In India, telemedicine is still not a part of healthcare system. Hospitals in cities especially metro cities which get patients from far off places should have telemedicine facilities. There are many benefits of telemedicine technology in follow up of patients after initial surgical treatment. Dropouts during follow up have been due to the fact that patients had to travel long distances after surgery. At SGPGIMS the Department of Endocrine Surgery started its tele-follow up programme as it gets patients from far off places due to non-availability of this speciality elsewhere.


Follow and connect with us on Facebook, Twitter, LinkedIn, Elets video