"Our priority is ERP"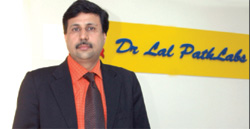 What is the level and nature of IT  applications in your overall delivery process? How is it adding value to your business efficiency?
LPL was the first Indian company to make extensive use of IT. Our entire lab operation is IT driven. We are currently using Centercity ULTRA, a software solution from GE Health Care, as laboratory information system (LIS) which is the industry standard. We have deployed ULTRA for the entire lab operations, as all the labs are connected with the central location through leased lines. They are also connected online with the same application. Most of the sophisticated analysers we use are also interfaced (Bi/Uni-directionally) with the centrally deployed LIS system. The ULTRA application is deployed right from the patient registration up to the final output in terms of delivery of reports.
Since all the analyzers are interfaced, it  reduces specimen processing and report delivery time up to a great extent. This is one of the most important factor of healthcare industry. With the help of IT we have achieved a lot of automation inside the lab, which ensures quality and error free lab operation. All these IT systems help LPL to handle huge specimen load in an organised manner.
Which are your major vendors in terms of clinical software, ERP, networking solutions and telecom/V-Sat?
We have always believed in strong relationships with industry leaders such as, GE Health Care, who provides us goods and services on the lab operations side. Wipro is our partner in ERP (MS Axapta) implementation. MTNL and Tulip IT are the major service providers for WAN connectivity, companies like IBM and Dell provide IT infrastructure and related services.
What is the average IT spend in your company and which areas would you prioritise for future technology investments?
Our average annual IT spending is approximately INR 2.5 –  3 crores. As of now, our top priority is ERP implementation, which is already on. Immediately after ERP we will go for the newer version of Centercity ULTRA and associated software solutions.


Follow and connect with us on Facebook, Twitter, LinkedIn, Elets video