Q. What are the potential application areas of teleconferencing equipment and solutions for the healthcare and medical service sector in India?
A. The use of communication technology in the practice of medicine may change the face of health care in India by improving access to dispersed expert medical information, diagnostic tools, and consultations. Increasing demand on practitioners' time and the increasing complexity of patients' education and management have created a demand for creative solutions. Telemedicine can answer some of those needs and since not long ago, it has become an essential component in the delivery of modern medical care.
Telemedicine will facilitate solutions for emergency medical assistance, long distance consultation, supervision, assurance, education and training for health-care professionals and providers. It will also help in combating tropical diseases, more so in a country like India with diseases and illness that require monitoring at regular intervals.
Today, patients and providers alike are taking advantage of the benefits of video conferencing. Live digital video and high-speed satellite connections enable specialists to uate and diagnose illnesses in real time, without requiring patients to travel long distances. Hospitals are leveraging the power of IP video networks to link clinics, consultants, specialists and patients, extending the reach of health care into remote areas. Medical professionals enjoy the convenience of accessing professional development classes, certification programs, and training through video conferencing.
Q. Having achieved a very healthy growth rate for Polycom from the corporate and government business verticals, how do you foresee the growth from the booming healthcare industry of the country?
A. Healthcare is, and will always be, one of the most important focus areas for Polycom. We believe that the best way to improve the quality of healthcare is to improve real-time interactive communication in healthcare environments. Polycom understands the problems and challenges that are faced by the healthcare providers and our solutions are developed offering the best level of care, controlled costs, addressing staffing shortages and serving rural patients.
It is our dream that within the next few years there will be telemedicine kiosks throughout the length and breadth of suburban and rural India. No Indian should be deprived of a specialist consultation wherever he/she is. This is not impossible. We see it as a way of repaying the society. Telemedicine is not a great money-spinner, but it is a great way of reaching out to the masses.
Q. The healthcare industry typically requires very high end video/imaging devices, how equipped are your products for delivering medical grade resolutions, display and data transfer capabilities?
A. Healthcare industry does require superior video imaging for display and data transfer. Polycom is well positioned to address this market due to its advancement in technology and high end video devices. Polycom's VSX™/HDX™ Practitioner Cart delivers real-time interactive voice and video communication capabilities in circumstances when maximum mobility is required within minimal storage areas. Equipped with easy connectivity to medical peripheral devices for quality medical interactions, it is compatible with the award-winning VSX series as well as the HDX series, Polycom's most advanced and sophisticated solutions which provide the greatest visual, audio and content detail in a multimedia collaborative meeting. Polycom VSX 7000 group conferencing system has been effectively used by Partners Healthcare in Boston, which devotes 30% of all conferencing needs to administrative purpose. Partners, doctors and nurses welcome Polycom solutions because they are self-contained, affordable and user friendly.
Adding to that, today's networks are well equipped to deliver multimedia telemedicine conference systems where there is simultaneous use of text, sounds, images, color & Motion and Polycom plays a very important role where technology can be shared between both Video & Data together in the equipment.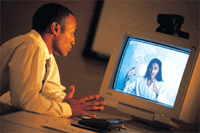 Polycom's solutions for the telemedicine industry: Polycom offers the industry's most powerful and robust conferencing capabilities that doctors can use. Polycom's VSX 7000 products are incorporated with technology such as Siren 14 technology delivering crisp, crystal clear audio with an integrated speaker and subwoofer. The product also provides exceptionally real, smooth motion video for an extraordinary video conferencing experience. Also, People+Content software allows content display in a video call. The VSX™ series span a wide range of products. For low-maintenance video conferencing system in your doctor's private consulting room, the VSX 3000, a desktop solution is perfect.
For those looking for a high-end system that approximates the scale of an important medical conference, Polycom maximum performance VSX 8000 uses the industry's most advanced video technology, Pro-Motion for outstanding clarity and fidelity.
The RSS 2000 allows users to easily start recording from any type of video conferencing endpoint, using simple DTMF commands such as Start, Pause and Stop. Up to 900 hours of stored content can be accessed from any IP endpoint or PC, enabling employees to easily access valuable company knowledge at their convenience.
Q. Web-based video-n-audio conferencing is getting increasingly popular, and it is also finding use in telemedicine applications. Does it have any implication for business like yours?
A. Video Conferencing is an integral part of all telemedicine applications. Telemedicine requires optimal face-to-face communications for any kind of medical diagnosis or treatment. Video conferencing enhances the experience of meeting over video than in person, making the meeting seamless and integrated.
Polycom provides a collaborative communications platform ranging from voice, video and data conferencing solutions and is therefore at an advantage.
Q. Which are your major clients and/or target customers among private and public healthcare establishments in India?
A. Polycom has provided solutions to a number of hospitals for their telemedicine venture. Escorts, Narayana Hryudayalaya, Apollo, TeleVital are some of the hospitals that are using Polycom's VC solutions. We have seen large scale deployment wherein thousands of patients located in remote parts of the country benefit from the solution, and in time this number is going to multiply. We have major plans to reach out to the masses and create awareness by providing healthcare at affordable costs through telemedicine tie ups with Reliance Webworld
Q. What is your healthcare sector client base in the foreign and international market?
A. Our client base worldwide is categorised into Healthcare Administration, Medical Education and Tele-medicine. Polycom's presence in these sectors are largely in US, Canada, Australia and other geographically dispersed countries. Medical Missions for Children (MMC), New Jersey a non-profit organization dedicated to serving the medical needs of catastrophically ill children in under served areas of the United States and the world, enables volunteer physician specialists in the U.S. and Europe to help sick children around the world using donated Polycom video collaboration solutions. To support this effort, Polycom has donated products and funds, including a recent installment of Polycom high definition (HD) HDX™ video solutions.
Northwest Research and Education Institue bridges the gap in the healthcare delivery and communications that plagues the largely rural and sparsely populated State of Montana with the Polycom's flagship VSX™ group video conferencing systems; the Polycom Practitioner Cart medical and healthcare video solutions. To name some more international users for Polycom solutions in Healthcare are NBN Telethon TeleHealth Center, Australia; Inland Northwest Health Services, US; Kentucky Telecare health Network (KTHN); New Zealand Telepaediatric Service; University of Vermont College of Medicine, Panacea Pharmaceuticals, US and many more.
Q. What is the business case for any typical healthcare service provider for adopting videoconferencing solutions, based on cost-saving and effectiveness model?
A. Of course, we have revenue models. When a telemedicine centre is opened, the doctor there charges around 450-600 (350 in cases) for a check-up. Part of the money is given to our specialist as his fees, but it is of course less than what he would have charged otherwise.
For the patient, it's a great benefit. Statistics have shown that only 15% of the patients treated through telemedicine actually had to come to the hospital for further treatment. So while he saves on costs of traveling to the hospital, he gets the same benefits of being treated by a specialist on an immediate basis. This also allows a possibility of medical consultations with more than one subject experts.

Follow and connect with us on Facebook, Twitter, LinkedIn, Elets video