Cisco has announced the roll-out of its Medical Grade Network (MGN) offerings in India, targeting the domestic healthcare service providers. What is the technology framework and solution architecture of MGN?
With the roll out of Cisco Medical-Grade Network we look forward to build awareness amongst hospitals and healthcare practitioners of the benefits of technology in the sector through our partners and healthcare seminars across the nation.

The Cisco MGN creates the foundation technology from which information can be disseminated within the hospital or healthcare system. By interconnecting independent healthcare entities that are now technology-enabled by the Cisco MGN, Cisco supports the transformation of healthcare with the connected healthcare ecosystem.
This Network helps create collaborative relationships among all members of the connected healthcare ecosystem, enabling a connected healthcare community through interoperable processes, technology, and people to provide 'anywhere, anytime' information.
The Network provides an optimized framework for the healthcare industry by meeting healthcare's unique needs for interoperability, security, availability, productivity and flexibility. Recognizing that every healthcare institution has different needswhether it is a hospital, a clinic, or an academic facility the Cisco Medical-Grade Network provides a framework that defines network strategies and policies that are purpose-built for each environment. By building networks within the organization that meet these needs, the stage has been set to expand the organization's reach into the connected healthcare ecosystem.
What business critical advantages will MGN bring in and how does it promise to enhance service quality and operational efficiency of service providers?
Cisco's MGN solution will enable healthcare organisations to enhance patient safety with more timely and accurate results and protection of patient data, as also to improve patient satisfaction by reducing wait times and stream line patient care process. It will also help optimize technology investments by fully integrating with existing systems and applications and minimize the risk of costly downtime through self healing capabilities.
The Cisco Medical-Grade Network provides the advanced technologies and infrastructure one needs to support their business capabilities and meet their business objectives. The Network is an emerging, health industry-specific architecture that defines an optimally performing healthcare network based on four key factors:
Resilience – High-quality health services depend on uninterrupted access to clinical systems and data. With a focus on maintaining continuous uptime, the Network optimizes the accessibility and transmission of vital-often lifesaving-information, to and from the point of care.

Protection – Fully embedded network wide security enables the Network to provide comprehensive protection of information and applications through the use of identity authentication tools, firewalls, intrusion detection systems (IDSs), and self-healing capabilities.

Responsiveness – Doctors and other medical personnel can access information at any time, from any location, through wireless-enabled and remote-ready applications and devices. A VLAN "guest network" enables business partners and other non-employees to gain secure network access.

Interaction – By converging voice, video, and data on a single system and dynamically connecting in-house and remote medical staff to one another, the Network strengthens communication among care-givers and allows for higher-quality patient care.
While the benefits of connectivity may be different for each segment of the health community, the benefits to the patient are the same: the delivery of safe, affordable, and accessible healthcare. In the end, it is simply about connecting people to enable access to critical health information anywhere and at any time.
Since western markets are considerably advanced than India's, their level of technological maturity is quite understandably higher. What has been your experience with deploying MGN and similar solutions for providers in advanced economies?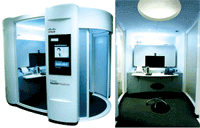 Adoption of technology by the healthcare sector has changed its dynamics across the world. With the advent of Internet technologies and rapid access to information; management and delivery of healthcare information has emerged as an issue of prime concern. Collaboration of technology, telecommunication and information has given rise to innovative practices such as e-health. These practices have opened up opportunities to provide healthcare facilities to patients better, faster, at lower costs and higher levels of convenience.
IT adoption among healthcare institutions in India is still comparatively low as compared to developed economies (average IT expenditure of large hospitals is still at 2% of annual turnover in India). In this scenario, how do you strategise to market high-end solutions like MGN? Do you have plans for offering shared services infrastructure for SME players?
In India the overall healthcare market is booming. A CII-McKinsey study reveals that the total healthcare market in the country could increase to US$ 53-73 billion (6.2-8.5 per cent of GDP) in the next five years.
Currently, India's domestic consumption of healthcare services is low but is expected to increase as the economy develops. The organised healthcare industry in India is still in its nascent stages and will take another couple of years to start taking shape.
The growth in the organized sector, from IT product/solutions vendor point of view, has created a need for provisioning specialized solutions to these players. Cisco has designed its Medical Grade Network (MGN), as an architecture that offers all these critical features that the healthcare sector demands for.
Cisco, has identified this space as one of the key growth areas for networking based on the plans that both national and international healthcare service providers have for India. Over the next couple of years Cisco will be strengthening its position in this market.
Cisco has also introduced its innovative 'HealthPresence Pod' in India. Can you elaborate on the Pod and how can it benefit healthcare providers in delivering services?
As part of its healthcare strategy, Cisco has piloted a HealthPresence Pod which can help the hospitals to take their service delivery closer to the patients. Using the Pod, the government's public health clinics too can offer healthcare services to patients residing in remote locations. Designed by Cisco's team in Australia, HealthPresence Pod is currently deployed in Bangalore as a pilot.
The Pod may be installed at any public space such as a mall or an airport or a railway station. A patient may walk into the Pod, video-conference with his doctor, plug in basic records such as EMR, and seek his/her advice. This way, the patient is not required to go to the hospital or the clinic which may be a few kilometres away from his house.
The Pod can thus bring convenience to the patients and also extend the service delivery points of private sector hospitals and government's PHCs. As an extension of this concept, this Pod may even be set up inside a van. The Mobile HealthPresence Pod can then reach to patients residing across a wide geography, revisiting the same locations periodically. Cisco will further develop the solution taking inputs from hospital customers in India and carry out the deployments through partners. The fees charged for these services will be determined by hospitals and PHCs. Once deployed, Cisco's role will be only maintenance and support.
What is the business volume you are expecting from the Indian healthcare market over the long term? What is the expectation from South and South-East Asia as a whole?
At this point, Cisco is working with its partners to build awareness for the benefits of putting in place a robust communication and information network, which will provide the foundations for advanced healthcare solutions.
It would be premature to peg a figure to the volume of business expected, but given that healthcare consumption as a proportion of average household consumption is expected to triple from 4% (1995) to 13% (2025), Cisco believes that the sector is on the verge of major growth and we are positioning ourselves to take advantage of this.

Follow and connect with us on Facebook, Twitter, LinkedIn, Elets video