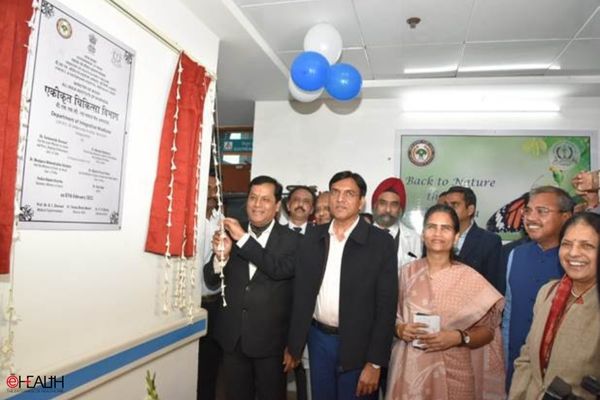 Union Minister of Health & Family Welfare inaugurated the Integrative Medicine Centre at the Department of Integrative medicine of All India Institute of Ayurveda (AIIA) at Safdarjung hospital, with Shri Sarbananda Sonowal, Union Minister of Ayush.
He stated, "Integrative medicine is aimed at harnessing the potential of India's rich heritage and medical knowledge, along with using modern advancements in allopathy. Both traditional and modern medical practices would help in providing better avenues of health and wellness. It is thus, the need of the hour that different medical systems must not compete but complement each other. Only then we can ensure the well-being of our citizens and further help in achieving health for all."
Also read: Safdarjung Hospital starts Sunday OPD to facilitate care for elderly
Dr. Mandaviya emphasised the significance of comprehensive healthcare in India's growth story at the opening of the new centre. According to him, the country has finally integrated health with its growth story under the visionary leadership of the Hon'ble Prime Minister, and residents must remain informed of their health, which in turn is vital for wealth generation. "A country can only develop when its population is healthy," he continued. Dr. Mandaviya reaffirmed the government's commitment to providing last-mile healthcare delivery and said that more than 1.5 million Ayushman Bharat Health and Wellness Centers (AB-HWCs) nationwide are now hosting health and wellness activities.
The government has planned to open such Integrative Medicine Centers at all government medical facilities, including all AIIMS in the nation, he emphasised. Initiating the co-location of practitioners of the Indian system and modern medicine through the establishment of such centres will serve to harmonise both medical systems and provide patients with collaborative multidisciplinary care.
Shri Sarbananda Sonowal congratulated the hospital for this new Centre and was hopeful that staff would perform their duties diligently. Appreciating the rapid strides made by the institute, Shri Sonowal said, "It is a matter of pride that the country is moving towards holistic healthcare and integrative medicine is a key step in this goal."

Follow and connect with us on Facebook, Twitter, LinkedIn, Elets video