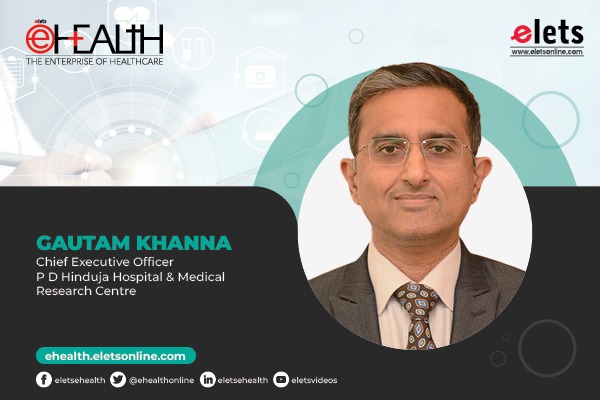 The entire value chain of the healthcare industry is undergoing a huge transformation on account of technology adoption in reducing the cost of healthcare, and accessibility of healthcare facilities, shares Gautam Khanna, Chief Executive Officer, P D Hinduja Hospital & Medical Research Centre with Kaanchi Chawla of Elets News Network (ENN). Edited excerpts:
What position do you think Indian healthcare start-ups are in right now, and how are they doing?

India's start-up ecosystem is thriving. The country is home to over 100 Unicorns. According to the NASSCOM Startup Ecosystem Report 2015, India serves as the fastest growing startup-base worldwide and six to eight per cent of the recent B2C startups in India belong to the healthtech sector. At the moment there are over 3,500 healthtech startups in India, spanning from platforms, helping to monitor health conditions, apps using AI to detect illnesses and diseases, platforms connecting patients with doctors, and much more.
The entire value chain of the healthcare industry is undergoing a huge transformation on account of technology adoption in reducing the cost of healthcare, and accessibility of healthcare facilities. Early diagnosis, and effective treatment & healthcare start-ups play a key role as they focus on aspects of improving efficiencies & better ways to healthcare delivery.
Over the past few years, healthcare has seen a dramatic evolution. New developments and trends in the healthcare sector are being developed by start-ups in that sector. Do you believe the healthcare services offered by start-ups to patients are of high quality?
Many solutions are being tested and monitored continuously. The low quality ones will fall by the side & only good quality ones will sustain.
Change in patient demands: Better health awareness, rising income, access to insurance, lifestyle changes and stress related diseases, patients demand high quality healthcare.
Expectations from start-ups: Medical start-up companies with little or no healthcare experience have to bring value to the industry where healthcare companies already hold remarkable research, clinical, and operational assets. Delivering quality healthcare is key not just to gain trust of the patients, but earn credibility & acknowledgement from other stakeholders.
Roll out apps & platforms only when completely tested & feedback incorporation: Be very mindful in choosing users during beta testing, take the feedback, evaluate & improvise. This will make sure quality, glitch-free delivery of services & lead to patient satisfaction.
Dedicated quality assurance team: We may have the most skilled physicians and experienced nurses in the industry, but if we can't provide a consistently high quality experience to patients, they won't recognize us for outstanding healthcare. The goal of all startups should be to develop long term relationships with patients rather than approaching each interaction.
Bad data can lead to life threatening mistakes: The healthcare industry depends heavily on accurate patient data to make diagnostic and treatment recommendations. Errors, incomplete records, and staff's inability to access useful data can severely impact the quality of customer care, even potentially leading to life-threatening mistakes and malpractice lawsuits.
Do you believe Artificial Intelligence is making a sufficient contribution to the expansion of start-up healthcare companies in India?
Machine learning and healthcare are in many respects uniquely well-suited to one another. At its core, much of healthcare is pattern recognition. If there is one activity at which machine learning excels, it is identifying patterns and extracting insights about complex systems given lots of data. Healthcare therefore, represents an ideal challenge for AI.
Some of the greatest healthcare innovations today have a significant AI component. For instance, AI was leveraged for multiple purposes in the healthcare industry, from early COVID-19 detection to providing assistance to patients and drug re purposing.
Applications to remember:
Imaging – Examining a medical scan to determine whether a tumor, a skin lesion, a retinal disease, or some other indication present is a clear-cut example of object classification. This is exactly what deep learning excels at.
Chatbots – Patients can share symptoms and questions via text message and receive automated clinical guidance in response. Similarly, AIs can be developed that communicate with patients on an ongoing basis to ensure that they remain engaged and compliant with their care regimen.
Remote health – Remote health will reach its full potential only when empowered by machine learning (and the right sensors). AI augments the doctor's judgment about cardiac and pulmonary diagnoses with data analysed from tens of thousands of past patient exams in seconds.
In-hospital care – Using machine learning to monitor the well-being of patients in hospital beds by synthesizing data from bedside monitors, ventilators, a patient's EMR, and various other data sources.
Precision medicine- The premise of precision medicine is that if a computational system knows your entire genome, your metabolic profile, your microbiome composition, what food you eat, how often you exercise, how much you sleep, and a thousand other data points about you; and it also understands a disease's particular pathway in your body down to the molecular level; then it can synthesize all this information and craft a pharmaceutical and behavioural regimen specifically tailored to optimise body's response.
What do you think about the current state and prospects for your organisation in the digitally driven healthcare ecosystem?
Hospitals are an important stakeholder in the ecosystem. 80 per cent of total healthcare market, witness a huge investor demand from both global as well as domestic investors. It is expected to reach $132 billion by 2023 growing at a CAGR of 16-17 per cent. Hospitals are moving from digitisation to technology & transformation.
Future Prospects:
1. Growing & sustaining telemedicine current surge outreach remotest of the nation & beyond.
2. Patient friendly virtual apps, e-platforms, chatbots
3. Research in personalised & precision medicine via big data analysis & genomics.
4. Streamline supply chain and inventory management systems.
5. Expand remote care services tele-radiology, tele ICU, teleguidance.
6. Expand home care services – especially for geriatric care.

Follow and connect with us on Facebook, Twitter, LinkedIn, Elets video