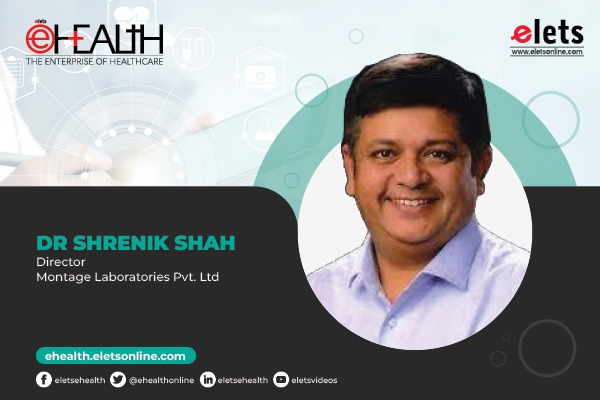 Healthcare start-ups are expanding and opening up new horizons around the world. With the newest technology and regulations, the healthcare sector is constantly changing, necessitating the establishment of tech start-ups shares Dr Shrenik Shah, Director, Montage Laboratories Pvt. Ltd in an interaction with Kaanchi Chawla of Elets News Network (ENN). Edited excerpts:
What position do you think Indian healthcare start-ups are in right now, and how are they doing?

Since the launch of Startup India, a government of India initiative, on August 15, 2015, with an action plan concentrating on three areas:
Simplification and hand holding
Funding support and incentives
Industry-Academia partnership and incubation. Start-ups have started coming on the market and there are many in healthcare too.
Start-ups in healthcare are doing very well, and some of them have grown to a great extent, like Netmeds, HealthifyMe, and PharmEasy. They started with a small concept and today they have grown to top healthcare startups.
An Ahmedabad-based start-up, Wizarma Healthcare Pvt. Ltd., has recently been acquired with a 100 per cent stake by Tata's 1 mg at a very young age.
Healthcare has drastically evolved over the past decade in India. From affordable insurance, and easy access to doctors and medicines to the invention of tech-enabled life-savings treatments, quality of healthcare is growing – thanks to innovation and disruption offered by mushrooming health tech startups. What you see today is just a glimpse of what the future has in store!
According to a research by the Internet and Mobile Association of India and Praxis Global Alliance, India's health tech sector was valued at US$1.9 billion in 2020. This is set to grow at a CAGR of 39 per cent to touch US $5 billion by 2023 and a staggering US $50 billion by 2033, according to RBSA Advisors. With almost 7500 health tech start-ups in India currently fueling growth, and thousands more that will take seed in the coming few years, the state of healthcare in India looks very promising.
Over the past few years, healthcare has seen a dramatic evolution. New developments and trends in the healthcare sector are being developed by start-ups in that sector. Do you believe the healthcare services offered by start-ups to patients are of high quality?
Over the last decade, technologies have been driving the healthcare industry through various innovations in how we find, prevent, and cure diseases. This shouldn't have happened without the massive growth of AI-driven technologies and digitisation of healthcare workflows, as a response to more savage global conditions, as well as the rising demand for accessible and quality medical services.
As we press on into the future, it's critical to remain mindful of the trends driving healthcare technology in 2022. Although legacy software and infrastructure are critical to the success of modern hospitals and care centers, it's important that we consider how those systems can integrate with newer technologies or how they may eventually be replaced with more reliable systems. The focus should be on improving performance, productivity, efficiency, and security without sacrificing reliability or accessibility.
The healthcare services provided by start-ups are very easy to get (easy accessibility), cheaper, use modern technology, and have quality services. But the very frequent appearance of the news in media that online sales of medicines, and cosmetics are spurious and mis branded is raising many questions on the authenticity of medicines. Regulatory control is also poor in the online sale of medicines.
Do you believe Artificial Intelligence is making a sufficient contribution to the expansion of start-up healthcare companies in India?
Artificial Intelligence (AI) and related technologies are increasingly prevalent in business and society and are also applied to healthcare. These technologies have the potential to transform many aspects of patient care, as well as administrative processes within the provider, payers, and pharmaceutical organisations.
There are already a lot of research studies suggesting that AI can perform better than humans at key healthcare tasks, such as diagnosing diseases. Today, algorithms are already outperforming radiologists at spotting malignant tumours, and guiding researchers in how to construct cohorts for costly clinical trials. However, for a variety of reasons, it will be many years before AI replaces humans for broad medical process domains. AI offers to automate aspects of care, and some of the barriers to rapid implementation of AI in healthcare.
AI is helping the expansion of startup healthcare companies in India to a great extent.
Hospitals and doctors may streamline operations, engage patients, streamline procurement procedures, and more with the help of digital care ecosystems provided by health tech start-ups. What are your thoughts on it?
Healthcare, and more precisely, hospitals, are undergoing a fullscale digital care ecosystem. The underlying benefits are many – improved patient reach and health outcomes, reduced overall costs, and increased competitiveness. The higher percentage of the younger population, rising income levels, ageing population, growing health awareness, and changing attitude towards preventive healthcare, etc. are expected to boost healthcare services demand in the future. Also, the focus is shifting from health care to health and well-being.
Health tech start-ups will make the task easier for doctors and hospitals regarding operations, managing patients (outside and inside the hospital), procurement, and surgeries/procedures. Once the data of the patient with the diagnosis is fed into the system, the software will analyse everything, like the availability of medicines, availability of doctors for surgery/ procedures, availability of other requirements for the surgery/ availability of beds/rooms in the hospital, etc. so the administrative load will reduce drastically without any error or code.
What opportunities and threats do you think Indian start-ups in the healthcare industry face?
There are more people alive on the earth than have already died. The population of the world is crossing 8 billion, and India is going to overtake China in terms of population shortly and will become the most populated country in the world, fortunately, or unfortunately.
High population, modernisation in the lifestyle and digitalisation of everything is offering many opportunities in healthcare.
The higher percentage of the younger population, rising income levels, ageing population, growing health awareness, and changing attitude towards preventive healthcare, etc. are expected to boost healthcare services demand in the future. Also, the focus is shifting from health care to health and well-being. In the future, there will be a greater focus on promoting healthy lifestyles, vitality, and wellness; on primary and secondary prevention; and on early diagnosis. This offers great opportunities for start-ups in healthcare.
However, growth – a frustrating process, general management, customer trust, security and privacy, failure to deliver as expected, lack of proper innovation, and competition are the threats for them.
The healthcare startup world is growing at an exponential rate, with both risks and opportunities offered. Combined with the blast of technology, this can be viewed as a golden age for healthcare startups. The challenges for healthcare startups might be there, but in time, nothing is impossible for talented visionaries in the healthcare industry.
How did this year go for Indian healthcare start-ups? What are their expectations for the future and where do they envision themselves as 2023 draws closer?
The year 2022 is almost about to be over, and the healthcare industry is preparing for, what promises to be a most interesting 2023.
During the COVID -19 pandemic, healthcare startups have done wonderful growth by providing patient-centric services, and that has given a boost to them. In 2022, start-ups have made good growth regarding their reach to customers and also in their valuation. Many start-ups have got the advantage of increasing valuation regarding stake dilution or getting private equity or venture capitalist with them.
In 2023, healthcare start-ups will have good deals – big and small— and increasing regulatory scrutiny will make 2023 a year to remember for all.
Startups will look:
For private equity companies to begin vacuuming up sub-scale companies and consolidating them into bigger companies.
For some of the weaklings in the start-up.
For failure among the wide range of companies that were valued more on the total addressable market than on any real-world impact on patient care.
What do you think about the current state and prospects for your organisation in the digitally driven healthcare ecosystem?
Being attached to pharmaceutical manufacturing for many years, we have to run fast to meet with a digitally driven healthcare ecosystem. We have to keep on improving ourselves regarding introducing new products, use of modern technologies, continuous upgrade in the terms of international regulatory compliance, change in the mindset of the people working with us and make them understand "change is a continuous process and we have to adopt it". We have to consider drawing up a long term strategic plan for developing and implementing digitalisation, resolution on ICD-11 and the WHO family of international classifications and terminologies, the three-part National eHealth strategy toolkit, six member states current digital health situation and status, actions, strategies, policies and investments, and recommendations of various United Nations panels on digital and innovation topics.

Follow and connect with us on Facebook, Twitter, LinkedIn, Elets video