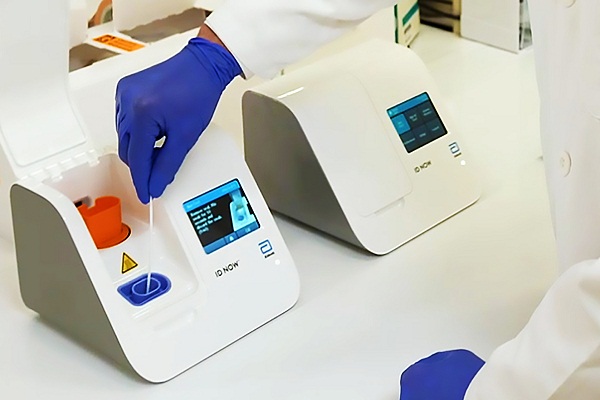 US pharma giant Abbott Laboratories has launched a Covid testing kit that can tell if someone is infected in as little as five minutes. The test kit is so small and portable that it can be used in almost any health-care setting.
The company said, "The U.S. Food and Drug Administration (FDA) has issued Emergency Use Authorization (EUA) for the fastest available molecular point-of-care test for the detection of novel coronavirus (COVID-19), delivering positive results in as little as five minutes and negative results in 13 minutes."
"With rapid testing on ID NOW, healthcare providers can perform molecular point-of-care testing outside the traditional four walls of a hospital in outbreak hotspots," Robert B. Ford, president and chief operating officer, Abbott, said in a statement.
The medical-device maker plans to supply 50,000 tests a day starting April 1, said John Frels, vice president of research and development at Abbott Diagnostics. The molecular test looks for fragments of the coronavirus genome, which can quickly be detected when present at high levels
A total of Covid-19 cases has crossed the one lakh mark. The administration has faced flak from various quarters for not testing as aggressively as some of the East Asian countries like South Korea.
The company said that it is working with the administration to deploy tests to those areas where they can have the highest impact.


Follow and connect with us on Facebook, Twitter, LinkedIn, Elets video