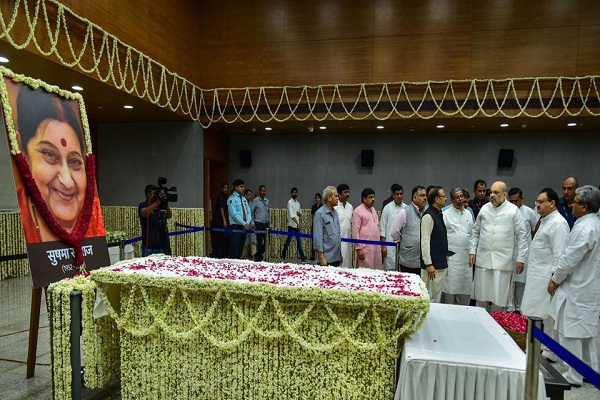 A pall of gloom descended across the country when former External Affairs Minister and one of the most accessible leaders of Modi Government passed away at the age of 67 on Tuesday night. She died due to a sudden cardiac arrest.
According to media reports, she suddenly collapsed at home and admitted to emergency ward of All India Institute of Medical Science at 10:15 pm where she breathed her last .
Earlier in the day she congratulated Prime Minister Narendra Modi for the Government's decision to revoke article 370, making special status for Jammu and Kashmir redundant and bifurcation of Jammu and Kashmir with Ladakh as Central-ruled territory.
"Thank you Prime Minister. Thank you very much. I was waiting to see this day in my lifetime," she tweeted.
Leaders from across political spectrum have expressed condolence over her sudden demise with Prime Minister terming her a remarkable leader who devoted her life to public service and was a source of inspiration for crores of people.
Swaraj-The Minister with human touch
Swaraj, one of the most beloved and eloquent leaders was known for her out of way problem solving style. Late foreign Minister tagged once 'supermom' of India by Washington Post won many accolades for her eagerness to help to any Indian in distress worldwide. She used to strike chord with young and old alike with her round-the-clock social media presence and extending helping hand in time of crisis.
Born in 1953, she was most dynamic leader who became cabinet Minister at the age of 25. After Indira Gandhi, she was the only woman Foreign Affairs Minister India has till date. Lawyer by profession, she was elected as a member of the Parliament in 1996 from South Delhi Constituency but she resigned and became the first female chief minister of Delhi on October 13, 1998.
Kidney transplant in 2016
Swaraj who had kidney transplant in 2016 was suffering from various other diseases including diabetes.
Some reports are stating that Swaraj died due to heart attack while others holding cardiac arrest responsible for demise. Here is explainer about all aspects of heart attack and cardiac arrest.
What is a heart attack?
The heart is a muscle, and like all muscles it requires an oxygen-rich blood supply. This is provided to the heart by coronary arteries. A heart attack occurs when there is a blockage of the coronary arteries. This is often caused by a blood clot. Such a blockage, if not quickly resolved, can cause parts of heart muscle to begin to die. (1-3)
What is a cardiac arrest?
A cardiac arrest is different to a heart attack. In a cardiac arrest the heart actually stops beating; whereas in a heart attack the heart normally continues to beat even though the blood supply to the heart is disrupted.
Symptoms of a heart attack and cardiac arrest
In addition to the physiological mechanism being different, the symptoms of a heart attack and a cardiac arrest also vary.
Symptoms of a heart attack include chest pain, shortness of breath, coughing, light-headedness or dizziness, sweating, and weakness
Sudden loss of consciousness/responsiveness, no berating, no pulse are among symptoms of cardiac arrest
Follow and connect with us on