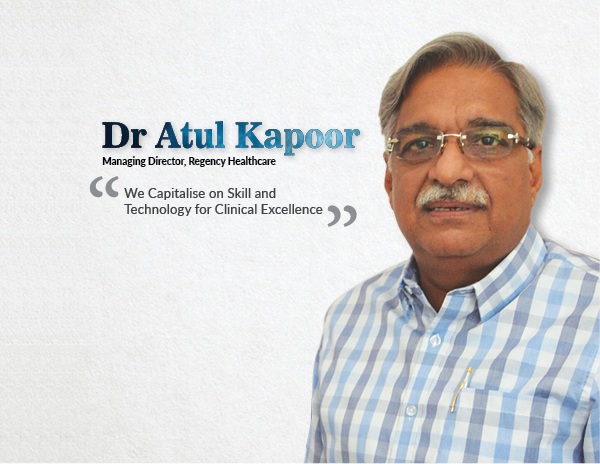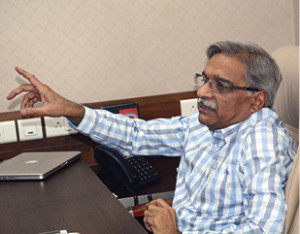 Regency Healthcare has been able to establish a distinct identity by delivering super-specialty medical services in Kanpur and surrounding areas for the last 20 years. Dr Atul Kapoor, Managing Director, Regency Healthcare, tells Elets News Network (ENN) about their achievements, challenges and the way forward
Undoubtedly Dr. Atul Kapoors heart beats for Kanpur and is committed to make highest quality healthcare accessible and affordable to the residents of Uttar Pradesh and he nostalgically shares that– Regency Hospital was the first, Multi- Specialty Tertiary Care Corporate Hospital in Uttar Pradesh, which was established in 1995 with a view to fill the wide gap between the demand of high quality medical services and actually available services on ground.

Our vision is to become the largest Healthcare player in the State of Uttar Pradesh over the next 5 years.
In a span of 20 years, the hospital has been able to establish a distinct identity for delivering super specialty medical services to Kanpur and surrounding cities.

Abhishek Kapoor, Vice President " Strategy & Expansion
In next couple of years our expansion is strategised to ensure accessibility of quality clinical care to patients across the state. With our roadmap in place, by 2018 we shall be managing 1000 patient beds across the region. With strategic partnerships with HCG and Fresenius Medical Care we are bringing Topnotch Cancer and Renal care to the state of Uttar Pradesh and beyond.
In the private sector, the hospital has to its credit a lot of Firsts like Coronary Angiography to Angioplasty. Beating Heart Surgery to Heart Valve Replacements, Dialysis to Kidney Transplant. Removal of complicated Brain Tumours and Spinal Disorder correction, complicated GI Surgeries to Bariatric Surgery, Hip & Knee replacements and many more. It would be fair to say that the hospital has initiated a large number of procedures which were not being done in Kanpur region earlier. Regency Hospital was also the first NABH & NABL hospital in the State, as well as the first centre for Pediatric Intensive Care (PICU).
Regency Healthcare Journey
1995: 100 bedded Regency Hospital
2007: 125 bed Expansion of Regency Hospital
2008: New OPD block added
2009: Regency School of Nursing
2009: AMRITA – A School for Special Children
2012: 100 bedded Regency Renal Sciences centre Dedicated Kidney Transplant Hospital 2015/2014: Regency City Clinic
2016 June: 100 bedded Regency HCG Cancer Center
2016 July: 100 bedded Regency Hospital, Govindnagar

Gunjan Kumar, CIO & Head – New Initiatives
With the scale and the pace at which we are growing, it calls for an ICT (Information Communication Technology) refresh. We are revamping our IT infrastructure, interconnects, deploying latest generation Firewalls & monitoring devices, upgrading Servers, adopting Virtualization and are migrating applications to Cloud. We have adopted Rapid Deployment Model for Apps with distributed environment and API integration for utmost clinical data security. Our SAP S/4 HANA initiative will further enhance our operational efficiencies and support governance. We are now braced-up to venture into the regions of UP where accessibility and usage of IT is primitive.
Being amongst the top hospitals in the state of Uttar Pradesh, what is your specialty towards serving patients from rural areas of the State?
Regency Hospital is equipped to serve the entire gamut of medical needs of the city and beyond with trust created through medical excellence over the years. Patients from places like Unnao, Kannauj, Farukhabad, Fatehpur to Banda, Orai, Auraiya, Etawah and Jhansi apart from various other places reach out to Regency Hospital to get proper medical treatment. The aim is to provide the patients with easily accessible, comprehensive and consistent quality medical care, with a special focus on patient's need. More than 100 Super Specialist Consultants offer practically all kinds of medical treatment. Regency Healthcare has a staff strength of 1400, which will soon be more than 2000 by the end of 2016.
What are the various IT initiatives undertaken by Regency Healthcare?
We are upgrading our IT infrastructure, the 3 hospitals already operational have been connected via multiple interconnects on Ring Topology to central Data Centre. We are adding various layers of security to network and applications. Our PACS and Teleradiology system for CT, MRI units placed across centres, has given our Radiologists and Consultants access to diagnostic images real time basis from any of the Centers.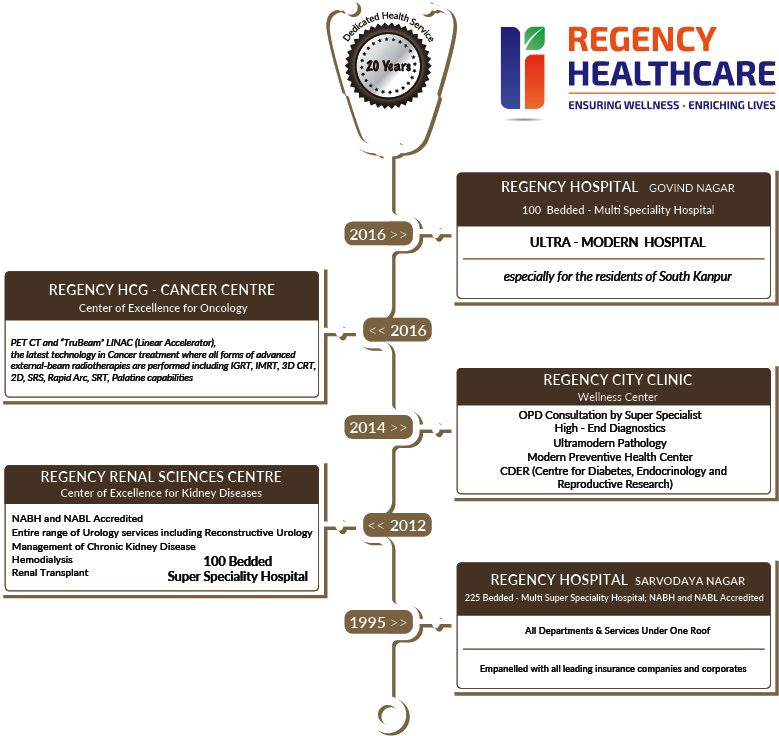 We are moving towards Digital MRD and wish to make all services paperless wherever possible. We are now implementing SAP-HANA on Cloud and are working to refresh our Hospital Information System (HIS) and Clinical Information System (CIS). We are also installing a Pneumatic Tube System for transport of medicines, lab samples and documents across different departments of hospital.

Dr Rashmi Kapoor, Director Division of Pediatric Intensive care & Pulmonology
Today apart from being the only super specialty hospital, Regency hospital is considered to be the most sought after center for pediatric care. We have a number of sub-specialties in pediatrics like pediatric endocrinology, pediatric gastroenterology, adolescent gynecology and pediatric pulmonology. We believe in providing complete care to our children hence we have ancillary branches of pediatrics in our hospital like occupational therapy, physiotherapy, speech therapy and psychology.
What challenges did you face in adopting technology in hospitals located in Tier II cities?
There was a time when Tier II cities were lacking in IT-driven services, but now it has changed. Lately, IT companies have developed special focus on Tier II and Tier III cities.
How do you keep your staff updated about the new ITdriven services offered by Regency Healthcare?
We organise training sessions for the employees of the hospitals. There are people working for 20 years with us who have grown along with the organisation, they are the first's to be educated about the new initiatives and made to understand the benefits. Once the positive impact of the new technology is understood, there is hardly any challenge thereafter as most of the new initiatives are taken to enhance efficiencies and improve patient comfort & convenience.
What is the current footprint of Regency Healthcare and what are the expansion plans?
Regency Healthcare started 20 years ago with the aim of providing trauma and Intensive care services that were non-existent in the state. A single hospital called Regency Hospital where super-specialties like Cardiac Sciences, Cosmetic & Plastic Surgery, Dermatology, ENT, General Surgery, Internal Medicine, Neonatology & Paediatrics, Ophthalmology, Orthopaedic, Pulmonology Nephrology, Urology (Kidney Transplant) etc., were all started under one roof for the first time in Kanpur.
Over the last two decades, Regency Healthcare has expanded into renal care and Oncology and currently owns and operates 500 beds across three facilities in addition to nearly 50 Dialysis beds in Kanpur. India is going to be the capital of noncommunicable diseases and cancer in the coming years. As a result Regency has a special focus for Oncology and Renal care.
It aims to expand across the state via these verticals, ultimately having a presence in every city of the state. Its Lucknow facility should see the light by early 2018 and the work for Varanasi & Allahabad will also start soon.

Santosh Gupta, utive Director – Finance
We have come a long way, today our processes are reviewed & validated by PWC and E&Y. Our SAP initiative will ensure further transparency in our processes and bring us at par with the best in the industry. The Analytics tools of SAP will give real-time insight into financials & processes and further assist in informed decision making.

Salim Rizvi, Vice President – Marketing
We have abundance of skill and experience in our clinicians and surgeons which brings in the challenge to share the nuances and differentiators that places them at par with celebrity status doctors of the metro cities. For this technology & social media acts as enablers to persistently educate people about our excellence in medical care & services and many of them have trusted Regency over metro cities hospitals for most complicated treatment.
How do you relate to Swachh Bharat and medical waste?
Its a very good move and we all should be a part of it. It would be fair to say that the hospital has initiated large number initiatives to keep environmental pollution and medical waste in check.
As part of its ongoing diversification and modernization schemes, Regency Healthcare is presently setting up a modern state-of-the-art centralised kitchen and highly mechanized laundry centre to cater to its 5 multispecialty hospitals, nurse hostels in the city of Kanpur (UP).
This ambitious Green field project will save a lot on electricity usage as it has been designed to utilise about 60KVA power load only. Majority of machines will run on steam available from specialised boilers installed for the purpose. All the new Regency Hospitals have Water Harvesting & ETP Plants, to ensure that 99% of waste water emanating from the Kitchen and Laundry services is treated & reused, which would roughly be about 1,20,000 litres per day. This will save a sizeable quantity of potable water daily.
This Green project will be a unique endeavour in Uttar Pradesh and specially first of its kind in the city.

Follow and connect with us on Facebook, Twitter, LinkedIn, Elets video