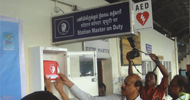 Philips Healthcare and Rotary Club of Coimbatore Launch Save a Life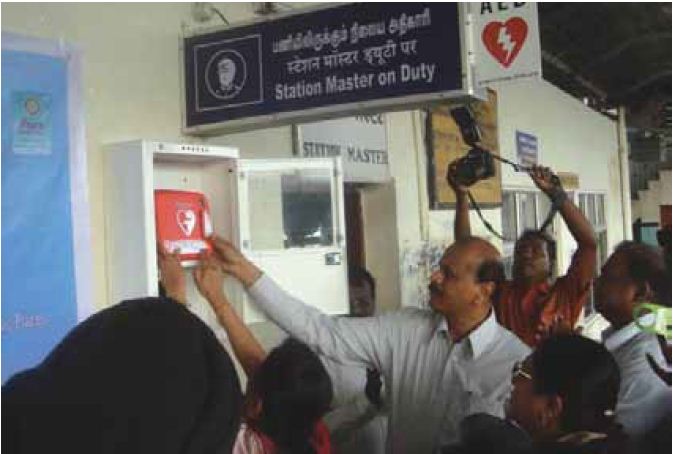 Rotary club of Coimbatore and Philips Healthcare have launched Save a Life project under which 10 Philips Automated External Defibrillator or AED devices will be installed across the city at public places. It is estimated that in India the annual incidence of Sudden Cardiac Arrest (SCA) is 0.55 per 1000 population, i.e. over 600,000 arrests takes place per year in India. During SCA, the electrical system of the heart becomes chaotic causing the victim to collapse and stop breathing. Sadly, survival rate from sudden cardiac arrest is less than one percent, because medical services cannot reach the victims in time.
But by providing assistance at the earliest possible moment through Cardio Pulmonary Resuscitation (CPR) and defibrillation using an AED, the victim has the best opportunity of survival and virtually anyone can save a life. AEDs can be used by common bystanders without prior medical knowledge, by simply following the voice instructions provided by the device.
Dr Balavenkatasubramanian from Coimbatore is the man behind the mission. During the launch Dr Balavenkat disclosed that a doctor colleague died of sudden cardiac arrest a few months ago in Coimbatore. It was then that he pledged to do his part in making life-saving AEDs more accessible to common man. My colleagues life could have been saved if a shock had been delivered in time,he said.
Dr Balavenkat approached Rotary Club of Coimbatore with the idea and received immediate support for the noble initiative from the Clubs district President Rtn. PHF.K.S. Balakrishnan.
Speaking on the occasion Jitesh Mathur, Senior Director, Philips Healthcare, said that a cardiac arrest victim requires immediate medical attention in less than 10 minutes. In India, though the situation is improving by each day, reaching a hospital or getting an appropriately equipped ambulance within 10 minutes is still a distant dream. This makes access to emergency devices such as AEDs in public places very critical. Onlookers need not feel helpless; rather they can feel empowered to save a life with the help of AED technology available nearby in case of an SCA.
With over 800,000 automated external defibrillators installed worldwide, Philips is the leader in public access defibrillation. Philips HeartStart defibrillators are used by over 140 airports and 75 airlines worldwide, numerous communities and companies in various segments (such as manufacturing, retail, finance, transportation, and hospitality). Philips has also recently launched the website www.savelives. net in India as a part of its corporate social responsibility initiative to spread awareness on the issue.
An AED is a portable electronic device that automatically diagnoses the potentially life threatening cardiac rhythm disturbances in a patient. If a shock is required the device delivers it (called defibrillation), which allows the heart to regain normal rhythm. When turned on, the audio instructions, clearly spoken by the machine, coach the user through the process. The device is small and rugged and can be easily carried to the place of requirement. Along with the use of the AED, CPR is required. This is an easily acquired skill, which can be effectively imparted to any lay person within a few hours by a certified trainer.

Follow and connect with us on Facebook, Twitter, LinkedIn, Elets video