Piramal Diagnostic Services Pvt Ltd is India's largest chain of diagnostic centres from pharmaceuticals major Piramal Healthcare, providing a comprehensive range of tests under one roof. It is spread across the country with 104 diagnostic centres in 48 cities and over 300 collection centres, and performs over 4 million pathology and radiology tests every year.

During the past two years, Piramal Diagnostic Services implemented 21st Century Health Management Solutions' Enterprise Apex Laboratory Information System (E-LIS) across 45 labs to reduce the turn around time for test reports, especially in cases where the reports are needed urgently, which has made data transfer easy and increased accuracy by eliminating human errors.
eHEALTH caught up with Girish Mehta, President and CEO, Piramal Diagnostics Services and VasuKumar Nair, Principal Consultant and Director of 21st CHMS, to know more on the implementation of E-LIS.
How has Apex LIS helped Piramal Diagnostics?

GM: Piramal Diagnostic Services is India's largest Pathology and Radiology Centre chain from pharmaceuticals major Piramal Healthcare. When you have a chain of more than 100 centres, efficiency, accuracy and quick response time to clients become vital.
Since we provide advanced diagnostic facilities under one roof, turn around time ( TAT ) is a very important aspect of our delivery. Earlier in cases where tests reports were required urgently, the manual process of sending the test results to centres was causing delays. Tracing the samples sent for tests was also an issue. However, Enterprise Laboratory Information System (E-LIS) has transformed the manual and error-prone system to an automated one, thereby, improving the efficiency and resulting in significantly faster TAT .
Can you tell us how E-LIS improves efficiency?

VK: E-LIS changes the operations in labs by reducing human interface. Bar coding to track samples and direct interfacing with hi-tech medical equipment is the key. Bi-directional interfaces transfer data from sample in vacutainer to the medical equipment and the test result is transferred directly from the medical equipment to the LIS application. Therefore, it eliminates human errors and increases accuracy, reliability and speed. It also reduces manpower cost and rework. The policy setting and monitoring system at our head office controls even the remotest centre, thereby, implementing standard protocol across all centres. The doctors authenticate the reports online with their digital signatures.
How can E-LIS change the way laboratories work?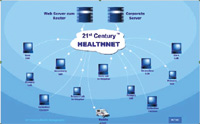 VK: Enterprise LabNET solutions can be a game changer. It can do to labs and diagnostics business what core banking did to banking sector in India. ICT driven processes follow minimum mandatory quality norms and ensure that the non-compromising policy norms are built in the system.
How was the E-LIS system customised for Piramal?

GM: We wanted robust yet flexible software. So, it all started with brainstorming – our doctors, administrators, marketing experts, and finance experts sat down with 21 CHMS. Our needs for a software that would be compatible with all medical diagnostic equipments, right from radiology to pathology, were laid down.
We found the consultants at 21CHMS were very knowledgeable about issues impacting pathology labs business. 21CHMS consultants follow a systematic methodology of mapping their solutions with our requirements which brings out the best possible solution. Their knowledge of latest medical equipments and readily available interfaces hastened the automation process. We also mapped our front office effectively to handle cash payments and ensure efficient and accurate billing.
What are the strengths of ICT solutions provider company?
VK: Knowledge of IT has to be backed by in-depth domain knowledge. 21 CHMS is not just an IT implementation company. We come with strong domain knowledge and therefore follow a consulting approach. Our expertise in healthcare allows us to advice our clients on how to meet their needs with minimal customising, at the same time offering value-add consulting towards improving services. ICT is used strategically to implement policies and best practices across the chain and not simply for computational or automation purposes.
Does Piramal Diagnostics plan to modify this system or top it with anything else?

GM: As a future plan, Piramal Diagnostic intends to integrate a patient service module in the LIS solution. It will enable the patients to get their reports online by logging into a website and also get reminders and relevant info by SMS.
How does it feel to be nominated for "Best IT Implementation of the year 2009" by PCQuest magazine ?
GM: I must compliment all the team members at PDS as well as 21CHMS ELIS who worked really hard to make this successful. It is a vindication of the strategy and supporting processes which have made us India's largest chain of Diagnostic Centres in less than a period of five years.
VK: For 21CHMS, it is a matter of great pride to be recognised by the industry. It is our mission to provide innovative and affordable ICT solutions built on in-depth domain knowledge which can transform healthcare industry not only in India but worldwide.
We are grateful to Piramal Diagnostics and Girish Mehta for resposing their faith in our commitment and ideas. We are implementing similar innovative Enterprise Apex HMIS Solutions for large Hospital Chains, such as, Narayana Hrudayalaya which will take this concept to the next level.
About 21st Century Health Management Solutions
21st Century Health offers consulting services, state-of the-art HealthNET solutions as well as implementation methodologies based on people, processes and technologies. In a span of 6 years, 21st Century Health has provided consulting services and HealthNET solutions to many known hospitals, diagnostic centers, laboratories chains, medical colleges and management institutes, and leading endoscopy/ laparoscopy surgeons and cardiologists.
About Piramal Diagnostics Services

Piramal Diagnostics, India's largest chain of clinical diagnostic centres, is a venture of Piramal Healthcare. Piramal Diagnostics is spread across the country with 104 diagnostic centres in 48 cities and over 300 collection centres, and performs over 4 million pathology and radiology tests every year with the widest test menu. It offer a comprehensive range of tests in pathology covering Biochemistry, Immunology, Hematology, Histopathology and Immunohistochemistry, Microbiology, Molecular Biology, Cytogenetics and Flow Cytometry.
Some of its key laboratories and Centres of Excellence are accredited by the National Accreditation Board for Laboratories (NABL). It uses the NABL process norms in all the laboratories and the radiology centres use the ISO norms.
Recently, Piramal Healthcare announced its net profit, which in the first quarter this fiscal has risen 45.5 per cent to Rs.74 crore, compared to the Rs.51 crore notched up in the corresponding period last year. Its total income has increased 16.4 per cent to Rs.569.76 crore from Rs.489 crore earned in the year-ago period.
Follow and connect with us on