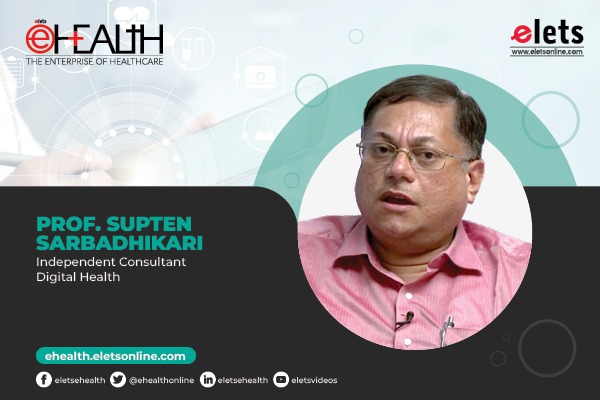 As the relevance of technology increased throughout the epidemic in India, healthcare startups have found a multitude of use cases within health tech, from developing AI assistants to optimising workflows for doctors. Delving deep into the discussions Prof. Supten Sarbhadikari, Independent Consultant for Digital Health had an in-depth conversation with Kaanchi Chawla of Elets News Network (ENN). Edited excerpts:
What position do you think Indian healthcare start-ups are in right now, and how are they doing?

Indian start-ups in the healthcare sector are showing great promise. Healthcare is now reaching patients' homes through teleconsultations, mobile apps that help deliver healthcare programs, the use of IoT (IoMT/ IoHT) devices to track vitals, diagnostics at home, and rapid self-diagnostic tests. Start-ups addressing these needs are also getting funded by investors from India and abroad.
The rising uptake of consumer's digital health is being supported by the adoption of technology by doctors and healthcare institutions in various ways, such as e-prescriptions, social networks for doctors, and communication with patients through WhatsApp integrations.
Healthcare domains such as mental health, radiology, surgery, and ICU care are being increasingly covered by digital / tele-health solutions.
Healthtech was one sector that got a big push in investments in healthcare start-ups, receiving $2.2 billion in funding across 131 deals (nearly five times more in 2021, compared to 2020), as shown by Inc42 data. For the record, the healthtech space also minted four unicorns in 2021, announcing the sector's coming of age.
While health tech is considered a safe bet, returns to investors are lower than in the case of the fintech and e-commerce sectors. Therefore, there is comparatively much lower funding for health tech startups compared with eCommerce or fintech.
Over the past few years, healthcare has seen a dramatic evolution. New developments and trends in the healthcare sector are being developed by start-ups in that sector. Do you believe the healthcare services offered by start-ups to patients are of high quality?
While there is a hype about the use of AI/ML as a panacea, there has been steady progress. Consumers do care about product quality. As we see some healthy financial returns arising out of healthcare start-ups, we can assume that quality is improving. Obviously, those who fail to maintain the standards will start losing the share and eventually disappear.
Do you believe Artificial Intelligence is making a sufficient contribution to the expansion of start-up healthcare companies in India?
The leading areas of AI/ML (Artificial Intelligence / Machine Learning) applications in healthcare include diagnosis and treatment recommendations, patient engagement and adherence, and also administrative activities. There are many instances where AI applications can perform healthcare tasks as well as or better than humans.
AI has the potential to transform how healthcare is delivered. It can support improvements in care outcomes, patient experience, and access to healthcare services. It can increase productivity and the efficiency of care delivery and allow healthcare systems to provide more and better care to more people. AI can improve the experience of healthcare practitioners, enabling them to spend more time in direct patient care and reducing burnout. The start-ups that are trying to address these issues may fare better in the market.
Ethical issues in the application of AI to healthcare are also important, and the freshly drafted Digital Personal Data Protection (DPDP) Bill 2022 may ensure the safe and ethical use of such applications.
If we ignore the overselling portion of the terminology AI/ ML, we can see that it is being properly applied to get useful market traction.
At the National Academy of Medical Sciences (India), we are currently working on bringing out a white paper on the optimal use of AI for healthcare delivery.
Hospitals and doctors may streamline operations, engage patients, streamline procurement procedures, and more with the help of digital care ecosystems provided by health tech start-ups. What are your thoughts on it?
Absolutely. Many of the health tech start-ups in India are targeting these services and are getting traction from their respective target consumers.
What opportunities and threats do you think Indian start-ups in the healthcare industry face?
The COVID-19 pandemic has hastened the adoption and mainstreaming of digital health, mostly through telehealth. The timely Telemedicine Practice Guidelines (TPG 2020) of India has been a welcome starting point. As patients also find tele-homecare to be safer and more convenient, adoption is likely to accelerate in the near future. Already, people, especially in the bigger cities, are using wearable devices (Fitbit / Apple Watch) to track various health parameters. Soon, they will start demanding that their healthcare provider utilise those data for decide on the optimal management of their disorders.
To sum up, the biggest threat is the perception of useless costs. The opportunities lie in demonstrating the value additions these products and services bring to the table.
How did this year go for Indian healthcare start-ups? What are their expectations for the future and where do they envision themselves as 2023 draws closer?
Healthcare in India is going through a developing phase where it is adopting consumer centric and digital-first solutions. The shift is to get away from traditional providers like hospitals/governments/ employers / and insurance coverage is driving the decisions for patients.
As I pointed out before, there has been a nearly five fold increase in investments in this sector in 2021, compared to 2020. If this trend continues, 2023 may well be a watershed year for encouraging more and more start-ups to explore the healthcare sector.
What do you think about the current state and prospects for your organisation in the digitally driven healthcare ecosystem?
There is no doubt that healthcare five years from now will utilise technology to a much greater extent than it does now. Currently, medical knowledge is doubling in 72 days, and it is not possible for any human being to keep track of all the recent developments. Therefore, AI-enabled aids have to be used for healthcare delivery, on a regular basis. Now we are entering the Healthcare 4.0 era. Very soon, we will usher in the Healthcare 5.0 era, and then we cannot leave technology out of healthcare in any way. Presently I am an independent consultant, and am trying to explain these to students in various universities where I am teaching as an adjunct faculty.

Follow and connect with us on Facebook, Twitter, LinkedIn, Elets video