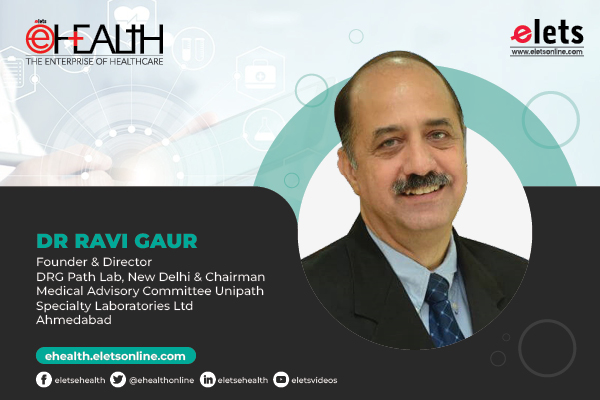 Pathology is a balanced mix of basic science and clinical medicine; both disciplines involve analytical thinking. It underpins every aspect of patient care – from preventing disease to diagnostic testing and treatment advice – by using cutting-edge technologies. Today we are at a point where pathologists can, and are ready to prepare complete molecular profiles of various diseases, which is helping in improving diagnosis and carving out personalised treatment.
There is currently a great shakeup in pathology and laboratory medicine that has brought pathologists and laboratory scientists into the center of patient care. It is becoming increasingly important for diagnostic specialists to redefine their roles to be clinical solution providers, guiding treatment decisions, predicting disease risk, and following up on patients.

There are two distinct types of innovations – Incremental and Disruptive innovations.
Incremental innovations are a continuous process of simply improving the performance of currently existing technologies / methodologies for a better value laboratory test and enhancing the capability of current platforms.
Disruptive innovation (DI), on the other hand, is the introduction of a new concept/technology. DI is defined as an invention that disrupts an existing practice and creates a new one by providing a different method or process, which ultimately overtakes the existing. Generally, when DIs are introduced, their performance is initially less than existing standard technologies. But because of their ability to bring cost down, delivery benefits and gradual improvement, they end up replacing established service standards. These innovations are basically targeted towards the broader base of customers where cost-effectiveness dictates reasonable expectations about performance. The prime reasons for these DIs are the increasing cost of healthcare, the demand for better accessibility of diagnostics, and the increased dependence on pathology labs to cater for precision diagnostics. DI are fast becoming a key to providing new age solutions.
Diagnostic labs are a perfect place for DIs , as they heavily rely on technology.
In the last one decade, there are several examples of DIs in the clinical laboratory. The salient ones are – 
Point of care testing (PCOT)
Next-generation sequencing (NGS)
Digital pathology (DP)
Artificial intelligence (AI)
Use of social media in clinical practice, education, communication etc
a) Point of Care Testing (POCT) –
POCT is defined as an investigation done close to the patient at the time of the consultation, with instant availability of results to make immediate informed decisions about patient care. POCT is a typical example of DI, being cheaper, quicker, and easier to perform, but has less accuracy compared to a standard laboratory test. Handheld analysers for testing whole blood are another example of a disruptive technology that can be used for POCT, even at home. The switch from manual labour intensive laboratories into fully automated chemistry analysers, mobile general-purpose dual arm robots now mark a new horizon for automation. These robots can perform certain repetitive tasks faster, cheaper, and more accurately than humans. DIs also extend into inventing automated blood drawing, and few small portable devices are now able to perform many laboratory tests using one drop of blood.
b) Next-Generation Sequencing (NGS) – Advancements in genomics are leading to the cost of sequencing the human genome, making it more affordable so that it will inevitably find its way into all aspects of healthcare – not only in disease diagnosis and management, but also prevention, risk assessment and health monitoring. The disruptive innovation that made this possible is NGS. Genomic data has already become an integrated part of all cancer reports and is fast becoming a part of other pathology reports.
With unprecedented advancement in bioinformatics and computer abilities, along with the significantly reduction in the cost of sequencing every day, it is anticipated that in a few years, NGS technology will be adopted as a routine tool, much beyond major labs and can provide much valued information for better targeted therapies and improved clinical outcomes. Experts say, the genomic pathology represents disruption in two aspects: the first is by replacing an array of laboratory tests (biochemistry, microbiology, and molecular pathology) that each requires expensive and specialised instruments and a high level of expertise with a single cost-effective technology platform that is NGS. It will also disrupt the current paradigm of the clinical laboratory as a diagnostic service by taking it into a new era of preventive and primary care pathology. While NGS is a new technology, PCR, an existing technology that has undergone revolutionary modification and a great example of DI.
c) Digital Pathology (DP) – The introduction of Digital pathology (DP) is a great example of disruptive technology in laboratory medicine. The diagnostic quality of digital whole slide imaging is now almost the same as microscopic diagnosis. DP has various advantages and has an extended scope of applications. These include easy sharing of slides worldwide for digital second opinions from expert pathologists across the globe, in almost no time and even provide intraoperative consultation (frozen section diagnosis), for remote locations.
Archiving the digital copy of the glass slide will be easy. Slide digitisation will reduce the need for space and decrease the drawback associated with storing glass. Simply stated, pathology digitalisation will convert the world of pathology into a hub/ centers, where diagnosis could be performed in a different location that is thousands of miles away from where the specimen is processed. Pathology digitisation will have its impact on education, through sharing online resources (scanned slides) nationally and internationally and reduction in cost of training.
Additionally, DP is disruptive because it paves the way for computational pathology and Artificial Intelligence to transform pathology assessment from being qualitative (relying on subjective assessment by a pathologist) into quantitative assessment through image analysis. Its beyond doubt that the value of DP will redefine pathology practice. The replacement of glass slides with digital images, will revolutionise the workflow of pathology, make it faster & more efficient, bring flexibility in the workspace & working hours, reduce the error rate due to mixing up of cases, help in integration into laboratory information systems and improve accessibility.
d) Artificial Intelligence (AI) – The use of Artificial Intelligence, is another promising DI, that can transform the future of pathology and laboratory medicine, especially since medicine is transferring from being reactive to being proactive in the coming years. Recent evidence shows that AI can complement (can't replace for sure) the role of pathologists/ lab scientists. The concept of using AI in the laboratory relies on the fact that computer systems have the ability to uncover and understand complex and nonlinear associations. Because they are thinking in a way different from humans, they will have a better ability to provide diagnostic/ prognostic models or algorithms and advance the analytical ability much further than what a human can do. Pathology labs are storehouses of data. AI can also be utilised for big data analysis, that can be used to improve public health management and assist decision-making in healthcare.
e) Use of social media in clinical practice, education, etc – An important recent DI in laboratory medicine is the use of social media in clinical practice and education. Social media now represents a platform for communication, with e-mails becoming official documents of consultation and other forms of interactions among pathologists and clinical laboratories. These disruptive models are still evolving with associated advantages, disadvantages, and risks that have to be carefully considered. Regardless, it seems like a wave of change is eventually coming and we will need to adapt to DIs.
Few other trends include, the use of spatial biology in laboratory medicine, which has revolutionised our capacity to quantify cellular heterogeneity with spatial context, opening the doors to advanced study of the tumor microenvironment and treatment responses. The integration of two fields of medicine to create an interrelated discipline such as 'Histogenomics' and 'Radiohistomics' is happening. The 'Histogenomics' represents the interface of histology & genomics and will allow a much better understanding of the clinical behavior of cancer. While 'Radiohistomics' is the interface between diagnostic imaging and anatomical pathology. This can even expand further to multi-dimensional analysis that includes clinical parameters, omics data, digitised morphology through pathology images, and 3D radiology, taking us into a completely new era of patient management. The future for sure is interesting and pathology labs should gear up for the inevitable change.
An important question to ask is why is there a need for disruptive innovation in the clinical laboratory? There are multiple reasons for this, including the escalating cost of health care that is becoming unaffordable. A second motivation is accessibility of patient care. DIs can bridge the gap by providing innovative alternatives to make health care accessible to all. Disruptive technologies, if encouraged, can allow for better laboratory care in under-served areas and remote geographies.
However, the path is not easy. There are multiple challenges, like – significant resistance to DIs innovations by current technology providers, governmental regulations, hesitance from health care providers for adoption and question mark on their validation processes. All of them need to be addressed at a priority to make the desired impact. Adoption of DIs requires a multi-throng approach that involves well-crafted solutions to key aspects of the process, including creating successful multidisciplinary collaborations, innovative accreditation, and regulatory addressal. It also must be coupled with successful commercialisation plans, modernisation of health care structures, and business models. A successful DI requires establishing a unique collaborative model between academia, policy makers and industry. It also requires new sources of unconventional funding, which should be open to high-risk & high-reward projects.
It should also be matched with innovative thinking, including new approaches for delivery of care and identifying similar patients who would benefit from such disruptive technology. Additionally, in some cases, an innovation that is disruptive allows a whole new population of consumers' access to a product or service that is traditionally only accessible to wealthy customers who can afford it. Cost-to-consumer plays a very important role in the adoption and success of such disruptions.
DIs offer solutions with different benchmarks or new value propositions. They represent a new paradigm in diagnostics. They hold a great promise of redefining the standard of care not only to improve and accelerate care, but also to make it available at a more reasonable cost. An open dialogue and a multidisciplinary approach are needed to overcome the challenges that face the implementation of DIs in pathology labs.
The pathology and laboratory medicine community needs to promote and nurture a culture of disruptive innovation. This is a long-term objective that takes multiple steps. It has to start by educating medical students and scientists at an early level, thinking outside the box and unconventionally. It's time to think differently, think big , think disruptive, and execute with passion. But one should not do things differently , just because they are different — they need to be better !!
Views expressed by Dr Ravi Gaur, Founder & Director DRG Path Lab, New Delhi & Chairman Medical Advisory Committee Unipath Specialty Laboratories Ltd, Ahmedabad

Follow and connect with us on Facebook, Twitter, LinkedIn, Elets video