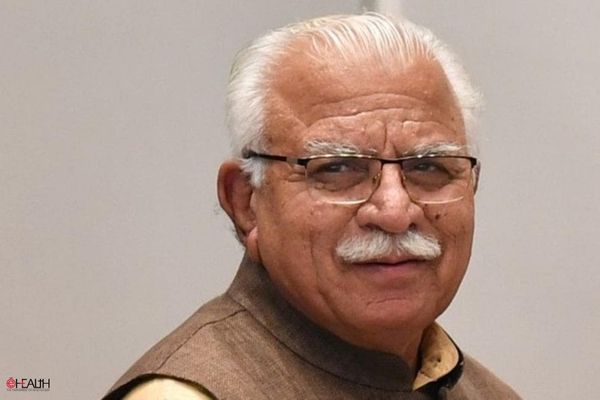 The Haryana government introduced "CHIRAYU Haryana" (Comprehensive Health Insurance of Antyodaya Units) scheme in an effort to extend the benefits of Ayushman Bharat to an additional 29 lakh beneficiaries with annual incomes up to Rs. 1.80 lakh.
At a state-level event in Manesar, Gurugram, the initiative was introduced, and 12 beneficiaries received golden cards from Chief Minister Manohar Lal Khattar. With the introduction of this scheme, deserving families won't have to look for financial support for better medical facilities.
According to a government release, CHIRAYU Haryana is anticipated to provide the 1.25 crore Antyodaya population a new lease on life, meaning that 50 per cent of State citizens will benefit from the scheme. With the launch of this scheme, all of these families would receive free medical care up to Rs 5 lakh, with the state government covering the cost of any necessary treatments.
Khattar said that now the scope of this scheme has also been extended to Persons With Disabilities (PwD). "The launch of CHIRAYU has once again highlighted the State Government's commitment to providing state-of-the-art health facilities to poor and needy families. From today, Antyodaya families have been brought under the ambit of 'Ayushman Bharat-Pradhan Mantri Jan Arogya Yojana' (AB-PMYAY), he said.
The CM said that the National Health Authority had been given access to the beneficiaries' data so that it could be linked to the AB-PMJAY portal and PPP ID. In order to locate eligible beneficiaries and register them so that their cards can be created in mission mode, integrated data is shared with all districts. According to him, the BPL annual income limit was raised from Rs. 1.20 lakh to Rs. 1.80 lakh by the current State government. For these families, golden cards are being prepared. According to him, beneficiary identification camps would also be set up at the district and block levels, and mission mode would be used to create the golden cards that would cover all Antyodaya families' beneficiaries. It is expected that everyone will get these cards by December, 31.
"There are a total of 715 hospitals empanelled under the Ayushman Bharat scheme in the state, including 539 private hospitals and 176 government hospitals. This means that needy people are getting the benefit of health facilities through this scheme in about 32 hospitals in every district of Haryana. Treatment for 1500 health ailments will be possible under this scheme," asserted the Chief Minister.
"So far claims worth more than Rs 580.77 crore have been settled under AB-PMJAY. Haryana has also received a letter of appreciation from the National Health Authority (NHA) for prompt claim payment during the year 2021. Haryana is the first state in the country to link Ayushman cards with Aadhaar. Furthermore, 100 per cent biometric authentication is done at the time of hospitalisation in the state (except for newborn babies and in case of emergencies)," said Khattar.
The Chief Minister stated that in addition to AB-PMJAY, the Haryana government has made sure that the general people in the state have access to affordable, convenient, and modern medical services. Currently, the state offers free access to 228 different types of operations, 70 different types of tests, and 21 different types of dental care. Additionally, 541 medications are provided without charge. "Apart from health facilities, effective steps have been taken for the upliftment and welfare of the poor in other areas as well. In the 'Antyodaya' campaign, we are financially strengthening those families that could not come into the mainstream due to any reason. Through the Mukhyamantri Antyodaya Parivar Utthan Yojana, the government has taken the initiative to increase the income of every family up to at least Rs 1.80 lakh. More than 550 Antyodaya Melas were organized in the state in three phases, in which more than 2.5 lakh families participated. We are ensuring the scheme reaches the last mile citizen," shared Khattar.
He stated that in order to assure Haryana's overall growth, emphasis has also been placed on developing the 5S — Shiksha, Swasthaya, Suraksha, Swabhiman, and Swavlambhan. Given that Haryana is one of the largest states in the nation, it is important to ensure that its residents have access to essential services, which is why PPP is being used. On this occasion, a film created by the department of information, public relations, and languages were also shown.
MLA Satya Prakash Jrawta, Rajnarayan Kaushik, Additional Principal Secretary to the Chief Minister, Dr. Amit Agrawal, Director General, Information, Public Relations, and Languages Department, and many other prominent state government officials were also present.


Follow and connect with us on Facebook, Twitter, LinkedIn, Elets video