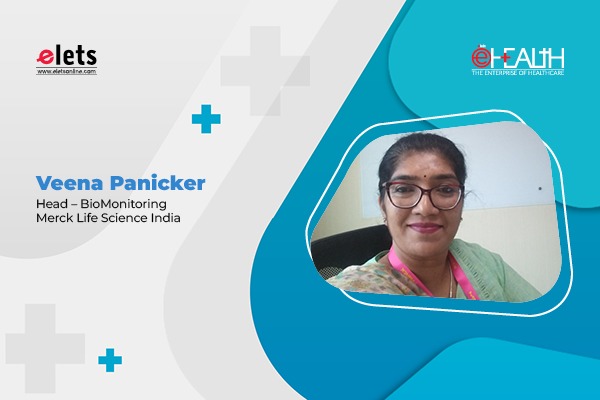 Merck Life Sciences has come up with an innovative solution, "MAT Lab" that could enable the pharma and biopharma sectors to upscale their capability in microbial analysis. Shedding light on MAT Lab and its applications, Veena Panicker, Head – BioMonitoring, Merck Life Science India shares her thoughts with Elets eHealth.
What is the primary aim of establishing the MAT lab?

The Microbiology Applications Lab (MAT) is a first-of-its-kind technology hub by Merck in India which will be open to both industry and academia. The MAT lab will be a space for pharma and biopharma companies to collaborate with Merck and enhance their capability in microbial analysis. The MAT lab will enable us to partner with our customers in training and method optimization. Also, it will simplify global technology transfer in areas of Microbial quality control (QC) in the pharma and biopharma segments. Bioburden testing, sterility testing are critical areas in pharmaceutical product releases. Companies can avoid errors and delays by adopting validated protocols and an experienced workforce. Moreover, it bridges the skill gap that results in higher productivity of the pharmaceutical industry in India.
The Merck MAT lab will offer hands-on training, formal bioprocessing educational courses, and experiments. Also, the lab offers best practices and new approaches to develop, optimize, and scale-up processes. We plan to use the expertise and infrastructure to enable the academic fraternity to upskill their technical abilities to become more industry-ready.
The testing services offered in the MAT lab include sterility testing, rapid bioburden testing, pyrogen testing, advanced membrane filtration, and other pharma QC applications. The lab includes a vibrant space for certified training, application support, feasibility studies, and method development for Pharma and Biopharma industries.
What are the technology trends redefining & reshaping the Biopharma and Pharma sectors?
The Pharma and Biopharma industries are witnessing new technology trends like agile project management, precision medicine, and additive manufacturing. With this, single-use technology is also gaining a lot of prominence. Besides this, digital transformation is revolutionising the way we look at healing and health, be it using artificial intelligence or extended reality, or even digital therapeutics.
How MAT lab will benefit the Biopharma and Pharma sectors?
Microbial contamination is a big challenge in pharmaceutical output. Pharmaceutical Industries have very strict norms to comply with to ensure sterility of the finished products. Developing Sterility testing protocols for each product can be time-consuming. Our services include expertise in developing the testing protocols with the accepted global methods, thereby saving time and costs for our customers.
Moreover, we intend to open the MAT lab services to the academic fraternity through Merck High End skill-building initiatives. This will help in making students industry-ready by giving them exposure to industry expectations in the field of microbial QC. Apart from hands-on skill training, our curated training programs ensure industrial relevance in delivering the updated norms both in Pharma and Food sectors. The students and faculty will get an exposure to industry requirements, thereby making them identify and develop competence as per the industrial setup.
What measures are you taking to leverage innovation to get maximum healthcare benefits for the masses?
Innovations need to move from the research table to the counter, at a faster pace to help people get the benefit from it. Today, we see that innovations take considerable time and resources. The pandemic situation has reiterated the need for speedier solutions to global health problems. A skilled and industry-ready workforce can contribute to both innovation and commercialization. India is a hub for brimming young talent, who can benefit from adequate exposure to the industry and regulatory needs. Collaboration is the key which can help bring the entire ecosystem into an energized hub of innovation. At the MAT lab, we seek to contribute to better technical expertise and to help catalyze innovations in the country.
What innovations do you see further accelerating the pace of transformation in the healthcare sector?
The healthcare sector is constantly evolving. Patient convenience and improved quality of life will always be a focal point. The need for advanced treatments; immunization; novel drug delivery systems are transforming the industry. Biotherapeutics is becoming an integral part of treatment for diseases like diabetes, cancer, and many more.
Startups are coming up with innovative solutions for patient convenience by leveraging new technologies and digitalization. There is a need to enable faster commercialization of ideas. Also, technical expertise and regulatory awareness can help innovative startups expand their horizons faster and effectively. They can bring accelerated transformation in the healthcare sector, especially in India.
At MAT lab, we understand the trends and industry needs for custom solutions and services that help pharmaceutical and biopharmaceutical companies to improve their processes from drug discovery, development to manufacturing.

Follow and connect with us on Facebook, Twitter, LinkedIn, Elets video