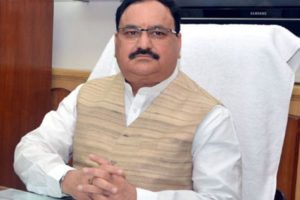 Reiterating the Narendra Modi Governments vision to achieve universal health coverage, Union Minister for Health and Family Welfare J P Nadda on Monday said India is committed to reforms in health service delivery with the help of ICT.
ICT (Information and Communication Technology) has great potential towards improvement of delivery of healthcare services. India is committed to reforms in health service delivery using ICT under Digital India Program of Government of India, said the minister while speaking on Making Digital Health Services a Priority in Healthcare Reform at Global Digital Health Partnership Summit in Australia.
Underlining the importance for building digital health ecosystem, the Minister highlighted four major areas where India has adopted digital technology recently.  Towards improving health service delivery, towards improving compliance of people towards health & care, engaging citizens in partnering with government for planning and management of health services delivery and Improving governance, Nadda added.
The minister further deliberated about various applications of IT in different areas of healthcare ecosystem such as integrated health surveillance program, public health management and hospital information system.
We have, e-Hospital- developed by National Informatics Centre which is implemented in more than 173 Hospitals and e-Sushrut" developed by Centre for Development of Advanced Computing Noida which is implemented in more than 80 hospitals. Online Registration System (ORS) is used for scheduling online appointments in public sector tertiary care hospitals. Around 139 hospitals are currently using ORS application, he said.
The Union Minister also enlisted some of the initiatives of the Government to make health delivery service faster and easily accessible to all.
Terming National Health Portal (NHP) as Citizen Portal for Healthcare, he said it provides authentic healthcare information to people.
The Government, he said, is committed to create integrated digital health platform.  We wish to enable hospitals and health service providers to do so by giving them free software systems and data storage facilities, in addition we wish to use big data analytics to prioritize our interventions and become proactive in solving healthcare challenges of our citizen.
Many eminent guests including Greg Hunt, Minister of Health, Australia, Tim Kelsey, Chief utive Officer, Australian Digital Health Agency, Glenys Beauchamp, Secretary, Department of Health, Australia, along with delegates from Canada, Hong Kong, Indonesia, Italy, New Zealand, Saudi Arabia, Singapore, South Korea, Sweden, United Kingdom, United States of America and WHO were present on this occasion.