Wockhardt Hospitals has been not only adopting latest technologies, but also establishing an environment allowing experimentation and customisation according to the needs of the hospital and location. With the main focus on clinical aspect of medical care, it has been intelligently enhancing HIS and other technological tools. It aims to create a true patient-centric setting through the digitisation of different operations and departments to enable easy access to services. In a very open conversation, Sumit Singh, CIO, Wockhardt Hospitals, shares his vision and passion towards role of technology with Kusum Kumari of Elets News Networks (ENN)

Please walk us through the kind of state-of-the-art & high-end technological interventions being undertaken at different centres of Wockhardt Hospitals? Please provide details.
About 5 years ago, I joined Wockhardt Hospitals with literally no background in the healthcare industry. Prior to Wockhardt Hospitals, I was working in one of the big four accounting firms in the United States (US). One of the key reasons for joining Wockhardt Hospitals was that it was moving into a direction that I wanted to be part of. I wanted to help make a radical shift in technology in the medical care field in the best way I could. At that time, what was up in the horizon at Wockhardt Hospitals was that we were in the process of building up our flagship 330-bed hospital that came up about 2 years ago in the South Mumbai area. That was the reason to channelise numerous changes in the entire Wockhardt Group.
As of today, we have in total nine hospitals in Maharashtra, Gujarat and Goa. Since the time I have joined Wockhardt Hospitals, two large hospitals have been started in Mumbai. Since the beginning, we have focused on clinical care and clinical excellence. At the time of my joining, all the hospitals of Wockhardt Group were isolated in terms of their operations and disconnected from the IT perspective. Therefore, we decided to go for a new hospital information system (HIS) about 4 years ago. In order to choose the HIS according to our needs, we did extensive search, including global and Indian service providers. For this, we ultimately chose Wipro, which is also our existing vendor for the past decade. We had to work together with them to enhance the HIS, as we believe an HIS cannot be merely about ensuring appointments and other regular activities.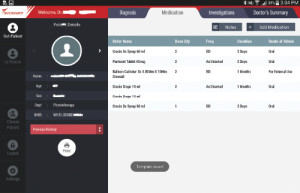 These enhancements were in line with the fact that in the Indian context, the provision of handling the clinical aspect by HIS and other digital solutions was quite behind to the west. The primary reason behind the above is the existing mindset. The core thing we did was to enhance first of all our clinical areas to the extent that each and every operation is digital to ensure efficiency. Moreover, we integrated other features with the HIS system. For example, we went for an intensive care unit (ICU) system by Philips. In fact, we were the first or second hospital in the country to have that system across all our 100 ICU beds to directly collect realtime information related to patients parameters.
For this, we made the entire hospital Wi-Fi so that no important information is missed when patients move in different areas. To run an HIS in a hospital, we have standard operating procedures (SOPs) to run the operations and processes efficiently. We have created Workstation on Wheels, also called Computer on Wheels (COW), which was self-fabricated after three to four tries to register all information related to medication and treatment not only in the ICUs, but also in the wards. We constantly endeavour to improve facilities located in different areas.
      Key Takeaways
Has in total nine hospitals in Maharashtra, Gujarat and Goa
Main focus on clinical care & clinical excellence
Has made major enhancements in the existing HIS from the clinical perspective
Has created Workstation on Wheels, also called Computer on Wheels (COW), which was selffabricated after three to four tries to register all information related to medication and treatment
When it comes to the management of the hospital, which starts from the reception, what kind of technologies have been adopted by Wockhardt Hospitals to address challenges related to waiting time and patient experience?
In order to ensure fast and easy access to our services, we have invested in the mobility space. We have created our own product by guiding a competent mobility vendor chosen by us. We have created a separate mobile application related to hospital management. One of the few measures undertaken by us is that whenever a patient comes to the hospital, we provide them a tablet to capture all the relevant data along with digital signature directly and conveniently. We have kept the entire system very simple. Once the data has been captured and saved, patients are asked to come to respective counters for verification of captured data and also to make any corrections by the customer utive. The patients are also issued cards with bar codes and all relevant information for hassle-free service in the hospital. Such a system allows easy access of exhaustive information by our associates. We have witnessed increased satisfaction from the patient side, as well as enhancement in efficiency. With the Wi-Fi in the entire building, such entry of information can be done from anywhere. We also have interfaces that allow patients to see diagnostic test results online. Basically, we have designed our website 2 years ago in such a way that it is mobile-friendly. Currently, we are in the process of creating a mobile application. We will collaborate with the vendor with technical capabilities, but the underlining feature of such a feature should be integrated with our own information system in order to ensure data and patient privacy.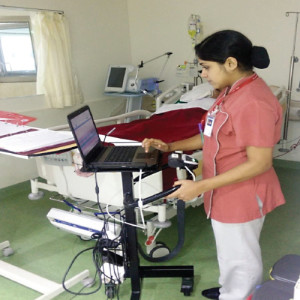 What were the regulatory challenges in terms of enhancement of infrastructure? Please provide details.
As such, the frameworks provided by the regulatory agency are quite wise and allow us to mostly accomplish what we want to do. Its only under certain times when we find ourselves in difficult propositions and conflicts, which is however quite rare. I am more focused on how regulation is able to allow an environment for critical analyses and innovations happening in the market in a much faster way. Digitisation is supported in a conscious manner through changes in the thought process of the regulatory process. I would also like to suggest that the regulatory bodies need to focus on the standardisation of the entire lifecycle of healthcare to ensure more efficiency.

We have lately seen a spike in the number of casualties due to accidents mainly due to infrastructural challenges in the tier-I and tier-II cities. In what ways is Wockhardt Hospital addressing this challenge to provide right treatment and technology in the ambulance itself?
About 3 years ago, we launched our own mobile van, which is actually about a 24-feet Volvo kind of bus partitioned into three separate chambers. It includes a lab and other medical facilities, such as electrocardiography (ECG) machines, etc. Other equipment can be included after checks and balances by the Government of India. It is staffed by a doctor and a couple of nurses, along with a specialist, if needed. With 4G around, realtime monitoring is much easier now than before. It is still running successfully. It is like an outpatient department (OPD) on wheels with competent doctors doing not just first-aid but also others tests. This model is little expensive, but can be implemented across India.
Follow and connect with us on Facebook, Twitter, LinkedIn, Elets video