Operating under the umbrella of Beacon Group of Companies, Beacon diagnostics manufactures and distributes reagents for biochemistry and serology testing. Chirag Joshi, CEO, Beacon Group of Companies, tells ENNs Rajesh K Sharma of the sectors phenomenal growth and where the IVD industry is headed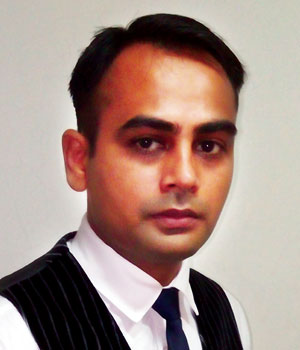 Please tell us about Beacon Diagnostics presence in the IVD segment.
The Beacon group of companies consists of three companies " Beacon Diagnostics Pvt Ltd, Vector Biotek Pvt Ltd and Biogeny Diagnostics Pvt Ltd. All three companies make reagents for the various IVD branches.
Beacon Diagnostics is into manufacturing and marketing of IVD reagents used for Biochemistry tests and serology testing. It also markets Turbidimetry tests and rapid tests manufactured and imported from different high quality sources.
Vector Biotek markets equipments imported from various sources which includes Biochemistry- semi and fully automated systems, hematology- includes 3 part and 5 part differential analysers and electrolyte. It also markets Hematology reagents.
Biogeny Diagnostics markets generic hematology reagents and urine chemistry products. All the 3 companies have pan India operations with more than 300 distributors and customers including private labs, corporate hospitals, government and semi government institutions.
What is the IVD sectors worth right now, and in your opinion, are its future prospects?
The IVD sector is currently estimated to be around `4000 crores.
The future prospects are very bright as the market is growing at estimated 17-20 percent per annum.
What is the current state of innovation in the IVD industry? Do you see a trend emerging about which way the industry is headed? Please tell us about the R&D happening at Beacon.
IVD market is witnessing in tests moving from lab to near patients (NPT) and rapid testing. The expansion of immunochemistry and application of Molecular biology are the emerging trends in IVD markets. The industry is moving towards more and more products beings manufactured in India.
The R&D activities are focusing on future trends of testing including molecular and Rapid testing.
What are the practices that you follow at Beacon Diagnostics to ensure the quality of your products? Is the Indian market quality conscious when it comes to diagnostics?
We are ISO 9000-13485 certified company and have FDA approved manufacturing facility. Hence, we are compliant to very high and rigorous manufacturing quality procedures.
Indian market are definitely quality conscious. However, pricing also plays a major role and hence we see Chinese companies dominating the market in middle and lower market segments.

Follow and connect with us on Facebook, Twitter, LinkedIn, Elets video