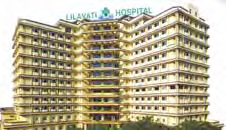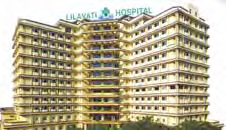 At the forefront of medical technology, Lilavati Hospital today is amongst the best tertiary care providers in the country
Firm on its commitment of the state-of-the-art facilities, best medical expertise, research, education and charitable endeavours, the hospital has won the trust and confidence of people from all walks of life – national and international. Based on a powerful Sanskrit inspiration, Sarvetra Sukhi Na Bhavantu, Sarve Santu Niramia which means let all be blissful, let all stay healthy, the hospital has focused its operation on providing quality care with a human touch, which truly reflects the essence of its motto More than Healthcare, Human Care. The hospital started with 10 beds and initially had only 22 doctors. Today, it boasts of 314 beds with one of the largest Intensive Care Units (ICUs), most advanced operation theatres, more than 300 consultants and manpower of nearly 1,800. Hospital caters to around 300 In-patients and 1,500 Out-patients daily.

New arrivals
The hospital has always put a foot forward in having the best-in-class technology continuum across all segments of medical treatment as they aim to provide premium quality of care and hospitality to patients. Amongst the latest is 3Tesla MRI with latest Philips Ingenia having digital technology that improves the image quality, is faster and is equipped with advance software leading to increased diagnostic applications. Unique digital broadband MR architecture captures the pure and increased signals with greater diagnostic accuracy. Extend ultra-large field-of-view gives extended coverage for whole body MRI and its wide bore leads to less claustophobia. In addition, the hospital has Somatom Definition Flash " a second generation dual source CT scanner that is also the worlds fastest and safest CT scanner. The dual source technology optimally reduces harmful radiation thus ensuring a healthier scan for the patients. Now, whole body CT scan is possible with flash speed of 4.5 seconds while entire heart can be scanned in 250 mili-seconds nearly quarter beat with no breath hold at all. Installation of machine at Lilavati Hospital is the 1st installation in western region and only 2nd in entire India. Hospital is now equipped with advanced 4D ECHO machine which in addition to enabling accelerated 3D ECHO also helps in performing technologically advanced tests for newer therapies in treatment of heart failures.
Highlights

314 bedded hospital including 72 intensive care beds
12 state-of-the-art well equipped operation theatres
Lilavati Kirtial Mehta Medical Trust is an approved research organisation by the Ministry of Science and Technology, having all modern facilities necessasry for conducting reserach
Accolades
Efforts and hard work put in by team Lilavati Hospital has resulted in various awards and accolades. Mr Chetan Mehta, Trustee, Lilavati Hospital & Research Centre said, These esteemed awards were only possible with the commitment, dedication and devotion of all our staff members. This recognition reiterates our motto which is More than HealthCare, Human Care. It is an honor to know that we are able to contribute significantly to our countrys rapidly growing Healthcare industry.
The hospital started with 10 beds and initially had only 22 doctors. Today, it boasts of 314 beds with one of the largest Intensive Care Units (ICUs), most advanced operation theatres, more than 300 consultants and manpower of nearly 1,800. Hospital caters to around 300 In-patients and 1,500 Out-patients daily


Follow and connect with us on Facebook, Twitter, LinkedIn, Elets video