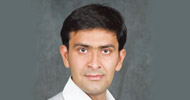 Pranay Upadhyay
Business Development Manager, Scientech Technologies
Tell us about the latest trends in the ultrasound market.
The ultrasound market is similar to the computer and mobile market. The ultrasound device segment has adopted this trend with the introduction of laptop-size and hand-carried ultrasound systems. Windows PC-based architecture and device miniaturisation are making it possible to pack increasing amounts of processing power into smaller and smaller medical devices. Notable trends include a push towards portable ultrasound devices, vascular ultrasound, and cardiology ultrasound.
How the healthcare industry is playing with Ultrasound technology for improved diagnosis? Brief us about your products.
The ultrasound technology has proven boost to the healthcare industry because of its variety of technological advancements such as 3D/4D-imaging, color doppler techniques, user friendliness, cost-reduction, new miniaturised technology, lower manufacturing costs and more advanced use of ultrasound in medical diagnostics. The understanding of various technologies, correct implementation and proper training of ultrasound devices is very important for the health care industry.
Scientech Technologies Pvt. Ltd. presents a variety of Ultrasound Training System such as CT Scan, Medical Ultrasound, Doppler Sonography, Ultrasonic TM Mode, Ultrasonic investigation with the eye are some of our unique products especially designed for educational and research purpose for biomedical engineering colleges, science colleges, medical institutes and research institutes. Caddo 10 E Computerized Tomography (CT) Training System is an important method to investigate inner structure of objects not only in medical diagnostics but also testing materials in different fields. Caddo 11E Ultrasonic investigation with the eye is used for ophthalmology studies using ultrasound application. Its largest importance lies in the area of bio-metry, in the measurement of distance in eye. Caddo 12 E Ultrasonic TM Mode is used for studies in echocardiography.
How do you think the market is growing? What is your market share in the industry?
It is quite clear that the market of ultrasound machines is growing rapidly. The demand of ultrasound in market is because of its advantageous and features. These are painless diagnostic procedure, absence of ionizing radiation (x-ray), decreasing prices, grooming population, portable & user friendly machines and few others. Currently, one of the fastest growing segments in the ultrasound equipment market is hand-carried ultrasounds that are becoming increasingly popular among clinicians throughout the world. Our products have significant share in the industry.
In such a competitive market, how do you plan to strengthen yourself in the near future?
Scientech is an Indian company with a Global vision. Scientech products and services are in the market from decades. We are playing a small but an important role in making the lives of people better and this planet happier. We have excellent & unique ultrasound and imaging training systems that helps and trains medical professional & engineers. Our competitors are far behind in our educational training systems. We are the number one education solution provider.
What are the challenges faced by the ultrasound market presently?
There are certain factors and barriers for the growth of ultrasound machines in India. Strict implementation of pre-natal diagnostics tests act that would prevent deliberate abortion of fetus after determining the gender of the baby. This unjust practice has led to seriously-skewed male-female sex ratio. Hospitals, Nursing Homes etc. that carry out ultrasound tests are made to register and obtain a certificate to be allowed to do the testing. This certification is a tedious process that could take up to six months and more and becomes reason for withdraw of orders. Another reason is lack of awareness, skills and knowledge about the machines. A user should undergo a proper training before operating on ultrasound machine.

Follow and connect with us on Facebook, Twitter, LinkedIn, Elets video