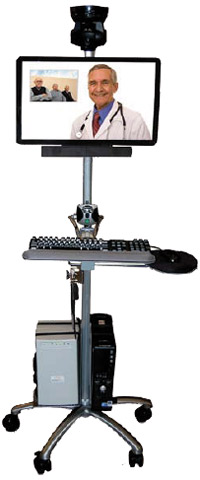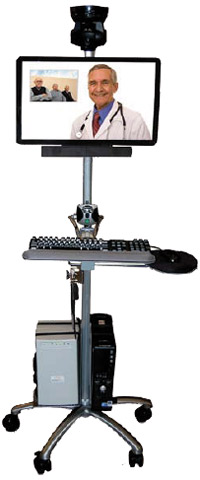 If the government has to make 'Health for All' a reality, it has to leapfrog the infrastructure gap of hospitals and healthcare centers using technology
By Rachita Jha

Telemedicine is not new to the country and has evolved in its technology and reach over the years. In addition to the global optimism on the telemedicine equipments market, the article aims to find out the market trends, innovations in video conferencing solutions for telemedicine in India.
The cost of healthcare delivery for government around the world is on the rise as they negotiate challenges such as access, quality, and lack of doctors, nurses and hospitals. If we continue on the current model of brick and mortar traditional healthcare services, it would take decades before any country can train enough medical professionals and caregivers or build enough hospitals to solve these challenges. Video conferencing as a technology is fast catching pace among the corporate houses and has also found its rightful place in the healthcare sector as the popular platform for interaction between doctors and patients remotely located in space and time. Technology today makes it possible for a patient ailing in a far-flung village in a state to connect with the leading doctor in a super specialty hospital and get tele-consultations at much lower cost.
Although in India, the telemedicine equipments market is still at a nascent stage; globally the telemedicine industry is experiencing excellent growth rates and is poised for a CAGR of around 19 percent during 2010 – 2015. The US and Europe remain the dominant markets that have seen significant support from the government and private players apart from rise in their ageing population that demands enhanced equipments for home treatment. Asia on the hand, has a huge growth potential that is waiting to be tapped as the cost benefits of telemedicine services makes it a preferred technology option for treatment of patients anywhere at any time.
High definition tele-presence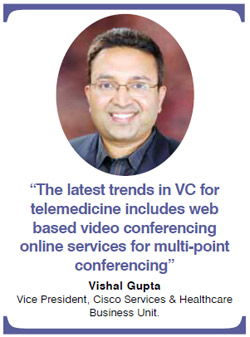 Across the globe, telemedicine is certainly on the rise. From continuity of operations to the training and retention of staff to patient diagnosis over video, the idea of telemedicine has come a long way in the last decade. With HD video conferencing tools now more affordable and easier to deploy than ever before, hospitals, clinics and rural health centers find that there is  little difference in a face to face video call and actually being there in person. A report states more than 54 percent of people in India would be happy to deal with their doctor or health provider on a video call – moreover, with the current availability of one doctor for 1,700 people, the more proficient use of video conferencing technology promises to be the way forward to make healthcare services accessible to all especially in the rural areas. "The use of new and advanced communication technologies in the practice of medicine is changing the face of healthcare in India as they improve access to quality and affordable medical services regardless of location or time. Solutions for health care based unified collaboration solutions i.e. real-time high definition audio and video conferencing or tele-presence are used by numerous private and public healthcare institutions for multiple applications, hospital administration, and medical education for improved patient care," said Neeraj Gill, Managing Director-India & SAARC, Polycom.
Dr Arjun Kalyanpur, Chief Radiologist, Teleradiology Solutions mentions about a tie up with Cisco where Teleradiology Solutions have been implementing telemedicine for Raichur for over a year.
He says, "RXDX, a multi speciality health care provider, set up by Teleradiology Solutions in Bangalore has been providing telemedicine consultations to villages in Raichur district (Gillesgur, Bichalle etc) in Northern Karnataka. Using the digital stethoscope, cardiologists at RXDX have been able to diagnose complex congenital heart disease and suggest intervention. A dedicated telemedicine doctor tracks the patients, their follow-up and arranges specialist intervention at the nearest tertiary care center if needed. The villagers have adapted amazingly well to these virtual doctors!"
Technology trends

Moving away from a piece meal approach that required the companies to provide only the VC components, the hospitals today demand telemedicine as a package solution for an easy user experience in terms of having an integrated solution connecting different components such as VC hardware, switching equipment, software.
"Until now the demand was limited to pure video conferencing solutions, which provided only audio and video capabilities. Customers expected only the basic features in video conferencing for telemedicine. However the market trends are changing rapidly; and the hospitals now expect a more holistic solution which is easy to set up and maintain" informs Vishal Gupta, Vice President, Cisco Services & Healthcare Business Unit.
The market is also moving towards more holistic and integrated solutions, in which the videoconferencing capability is just one component. The customers expect the solution to provide the complete functionality including audio, video, medical data, prescription, and the ability to integrate with electronic medical record systems. Vishal Gupta adds, "The latest trends in VC for telemedicine includes a Web based (Internet) video conferencing  online services  for  multi-point conferencing, dedicated (on-premise or data center based) video conferencing solutions (with software and hardware) for HD multipoint conferencing using conference bridges, wireless, mobile, and portable video conferencing solutions for  healthcare."
The global technology in VC for telemedicine has now moved to the cloud as the next wave of revolution in high performance based tele-presence for hospitals and academic institutions. Cloud-based technologies, services and software applications have an advantage that they are delivered from the Internet rather than a dedicated enterprise network in a single location, and therefore have a multiplier effect in its collaborative use on information sharing via secure real-time audio and video content.
Reflecting on the potential of cloud for telemedicine, Michael Helmbrecht, VP Product Marketing, LifeSize says, "Two of the 'hot trends' in VC today are cloud-based solutions and mobility.  Cloud-based solutions are attractive for telemedicine applications where a doctor needs to see a patient on a regular basis without having to physically travel to the patient's location (or vice versa) but needs business-class quality and flexibility in how it's deployed. Our technology allows doctors to invite patients to participate in ongoing discussions, for free, with superior HD quality, data sharing capability and built-in, standards-based encryption and enterprise firewall traversal. In a similar way, mobile solutions that allow doctors to connect with patients, administrators or other physicians, via their own mobile device – such as an iPhone, iPad or Android Smartphone – are a growing trend in telemedicine."
Global standards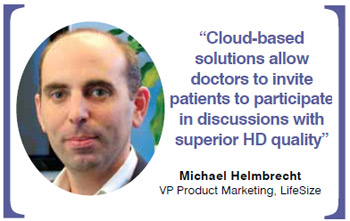 There are various organisations involved in the standard setting for telemedicine equipments. These include uation guidelines for telemedicine/telehealth systems that have been provided by The Office for the Advancement of Telehealth, which is part of the Office of Rural Health Policy, located within Health Resources and Services Administration (HRSA) at the US Department of Health and Human Services. Elaborating on the same Vishal Gupta says, "The Standards and Guidelines from the American Telemedicine Association includes Practice Guidelines for Videoconferencing-based Telemental Health, Core Standards for Telemedicine Operations and others for specific telemedicine areas. In addition, there are Healthcare technology standards like HL7 (Health Level Seven – for exchange of medical information) and DICOM (Digital Imaging and Communications in Medicine – image exchange standards) and Telecommunications standards are set by the United Nations agency, International Telecommunications Union (ITU) and the Internet Engineering Task Force (IETF). Products that adhere to these standards allow users to participate in a conference, regardless of their platform." Apart from these, there are many standards available for Video & Audio Codecs, transports protocols, video and PC window sizes, Security which might be applicable for video conferencing irrespective of the application where it is used.
Challenged by bandwidth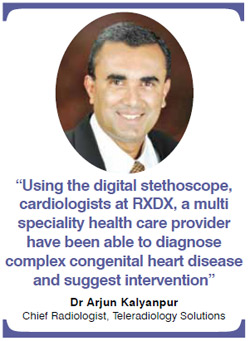 Availability of high bandwidth for real time video conferencing in tele-health is a core requirement gain good quality images that can be used for medical personnel education, peer consultation, patient education and direct patient care. With new telecommunication platforms and device upgradation in cameras, monitors, and coder/decoders keeping the rugged rural environment in consideration, the performance of video conferencing in low bandwidth conditions continues to be an area of research and innovation. "Usually to support good quality video conferencing, there is a minimum requirement of network bandwidth which continues to remain a challenge in certain parts of India. New open standards such as H264 High Profile – embedded in all our systems today – enable to reduce bandwidth utilisation for High Definition Audio and Video communications by 50 per cent on average, which translates into considerable savings in bandwidth cost and in the network infrastructure required," avers Neeraj Gill, Managing Director-India & SAARC, Polycom.  Network speed and access is less and less of an issue in India as many states have deployed state wide area networks (SWAN) and start leveraging that infrastructure to provide various public services like health, education and others, he adds.
FUTURE TECH
Web based (Internet) video conferencing online services for multi-point conferencing
Dedicated (on-premise or data center based) video conferencing solutions
Wireless, Mobile, and Portable Video Conferencing Solutions

Cloud-based telemedicine solutions
Interoperability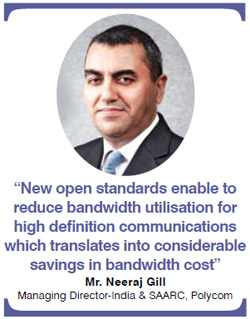 The major challenges in the VC telemedicine equipment market are flexibility and interoperability. Being able to deploy VC broadly throughout a hospital network or among regional clinics and at-home patients alike can be challenging, especially if different solutions such as endpoints, desktop software, etc don't work together. "Customers should look for solutions based on open standards to avoid vendor lock-in which ultimately leads to higher integration and migration costs. We have our solutions based on open standards allowing healthcare institutions using other vendor products to communicate and collaborate," says Neeraj Gill. Globally there is the Unified Communications Interoperability Forum (UCIF), a non-profit alliance of worldwide technology leaders designed to help global organisation be more productive by enabling standards-based, cross-vendor interoperability of UC hardware and software across enterprises, service providers and consumer clouds. As a member of this consortium Helmbrecht says, "Using proprietary solutions, for example, can make deployment incredibly difficult, especially for users that want HD quality and collaborative features like the ability to share patient records and x-rays directly from the system. We believe that interoperability is a key component in delivering products that drive the ubiquity of video communications and are on open and interoperable standards with all of the major players in the market." The need of interoperability standards has been much felt in India as these will make the telemedicine system more flexible and efficient in its collaborative model.
Way forward
Until now the advent of technology in the remote areas for tele-health has faced much resistance and cultural roadblocks as resistance to change and the preference of consultations and visits to clinics was the mainstay. People in India are used to travel and have in-person check-ups and interactions with the specialists. "However, with Tele-presence and High Definition visual communications you literally feel like you are in the same room as the consultation is life-like and highly interactive. The best way to improve healthcare is to provide real-time communication and collaboration over high definition audio, video and content anytime and anywhere," says Neeraj Gill. With recent developments in cloud-based solutions doctors can invite patients to meet with them face to face 24/7 at no cost to the patient. "The opportunities for this technology in India are truly endless. From remote access to specialty care in neonatology, telepsychiatry, oncology, emergency care, nephrology and radiology to rural telemedicine, pharmaceutical research, medical education, home health monitoring and administrative meetings devoid of costly travel and headache for physicians, healthcare in India can improve vastly through the use of this technology," opines Helmbrecht. As VC equipment becomes simpler and more cost effective to deploy, manage and use, training and retaining staff is also a real benefit to healthcare organisations. The value of the technology is massive and the best part is that it's all available today.

Follow and connect with us on Facebook, Twitter, LinkedIn, Elets video