With satellite communication technology, telemedicine provides access to quality healthcare, even to the farthest reaches of the nation
By Ramachandran Viswanathan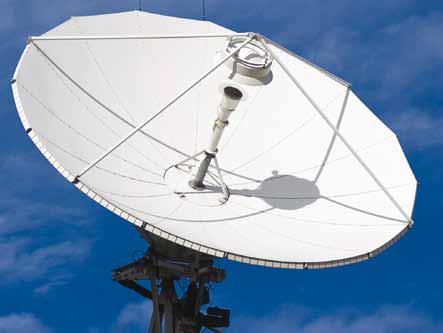 Telemedicine has been recognised as an area that can solve many of the country's health problems, by the Government of India
Thousands of women die every day due to complications during child birth in the villages and small towns of India. The reasons are dependence on local midwives, who cannot tackle any complication during childbirth, and absence of good and accessible healthcare. Similarly a large number of people die every year due to some or the other complication or in the absence of correct diagnosis.
In India of the 21st century, providing universal access to good and affordable healthcare is the biggest challenge. The government reiterates this whenever the issue of challenges before the public healthcare system is raised. Though there have been some improvements; child survival, maternal mortality and communicable diseases still constitute 38 percent of deaths, while non-communicable diseases account for 42 percent of all deaths.
More startling is the data that one-third of global cases of filaria are in India, half of the world's leprosy cases are found in India and every year more than 300 million episodes of acute diarrhea occur every year in India in children below five years of age.
Gaps to fill

Public healthcare is the responsibility of state governments and has three facets: primary healthcare at the village level, district level health centers and medical colleges, and at the city level public and private hospitals.
In rural or semi-urban areas the situation is worse in the absence of buildings, refusal of doctors to live and work in areas far removed from cities and the unavailability of trained staff and medicines. For the last three decades efforts are on to ensure that every primary health centre at least has a building. Unfortunately, even today many primary healthcare centers don't even have buildings. If there is a structure, there is no medical staff to man them, or there is lack of availability of life-saving drugs.
Communication technology goes the distance
This is where technology can provide an answer. And to some extent a small beginning has been made by institutes like the Sanjay Gandhi PGI in Lucknow or by individuals like Dr Devi Shetty at Narayana Hrudayalaya who use telemedicine and tele-mentoring to treat patients in hospitals in different parts of India and even with hospitals in Pakistan.
At present the Indian space agency, ISRO, is using satellite technology to set up a telemedicine network with 200 nodes spread across the country
The Indian government has recognised tele-medicine as an area that could provide a solution. The effort over the years to get doctors to work in rural areas has not succeeded. Now it hopes to raise a team of paramedics in rural and semi-urban areas, but that has faced opposition from trained doctors and it has not solved the problem of ensuring universal access to healthcare.
Satellite technology is being used in Nigeria to control the spread of malaria. According to a European Commission report, the Nigeria Malaria Control Programme uses space technology to uate and monitor malaria outbreaks. The Nigerian satellite capacity is used to monitor climate and earth conditions, which influence the spread of the disease across Nigeria throughout the year. This satellite information is completed by surveys of infected areas. Linking data on climate, temperature and disease pattern can help provide both real-time and projected understanding of the disease features.
Earlier this year Nepal announced a US $400,000 project to use tele-medicine to reach out to people in remote areas with no road connectivity.
At present the Indian space agency, ISRO, is using satellite technology to set up a telemedicine network with 200 nodes spread across the country.
National projects
The central health ministry has launched two projects: OncoNET India and Integrated Disease Surveillance Project. Under the OncoNET project 25 regional cancer centres will be connected with four peripheral medical colleges/hospitals each and create a network of about 100 telemedicine nodes.
All district hospitals under the Integrated Disease Surveillance Project will be networked with regional medical colleges to deliver continuous professional education and advice.
A national task force is also at work to frame guidelines to aid the growth of telemedicine. Tele-mentoring is an area that should be seen as an area of investment for widening the reach of healthcare. Using satellite technology a remotely located surgeon can seek the help of a centrally located and more experienced surgeon to say, perform a complicated procedure.
The central health ministry plans to focus attention on 235 districts that account for a major proportion of infant and maternal deaths. This is an area where telemedicine and tele-mentoring could come in as a helpful tool.
State-level thrust
Public healthcare, however, is a state subject. It is the state governments that are ultimately responsible for setting up the infrastructure and ensuring universal access. The central government can only offer broad policy guidelines and carry out centrally targeted schemes. States need to be educated and brought on board on using satellite technology as an effective tool.
In Jammu and Kashmir, as part of the larger telemedicine initiative at Delhi's All India Institute of Medical Sciences (AIIMS) run by ISRO, 12 centers are being connected. Emergency on-call consultation regular telemedicine consultation and medical lectures are planned to be conducted.
States that figure low on the human development index are the ones that have higher percentages of people below the poverty line.
The road ahead

Given the low public investment in healthcare across the country the use of cheaper but effective technology could provide answers to such states. Most city-bred and city-located doctors are reluctant to work in rural areas. Their argument is lack of infrastructure facilities and availability of modern educational structure for their children.
Setting up hubs and deputing doctors from state hospitals to interact with specialists sitting far away through satellite technology needs to be addressed seriously by governments. A few corporate hospitals in the country have used tele-mentoring through self-funding.
There is need for the central government to rope in states particularly, those with larger number of poor people lacking access to healthcare and plan a national mission on healthcare through satellite technology. Northern states like Uttar Pradesh and Bihar apart from areas in remote hills should be the first to be integrated with modern health facilities though this technology.
Subsidies or financial assistance to develop cheaper application of satellite technology for ensuring benefits of good healthcare to reach out to larger number of people should be considered by the government. After all, a country's economic growth also depends on the state of health of its people and India which, in the coming years will have one of the largest working populations in the world needs to make a big investment in this area for a glorious future.

Follow and connect with us on Facebook, Twitter, LinkedIn, Elets video