State of the art radiology department at Hinduja Healthcare Surgical, Khar, has put preventive care and world-class diagnosis at patients' doorstep.
New trends in radiology and imaging
Radiology is undergoing a major shift in how it is practiced. In this rapidly changing healthcare environment, radiologists need to closely watch the emerging trends that are influencing their field. In radiology, there is significant variance in clinical protocols and contextual measurement of quality.
Healthcare costs across our nation are frequently described as unsustainably high and advanced imaging tests and radiologists have been targeted as contributing to the problem.
With ever-increasing concerns about radiation dose and the appropriate use of diagnostic imaging tests, doctors are continuously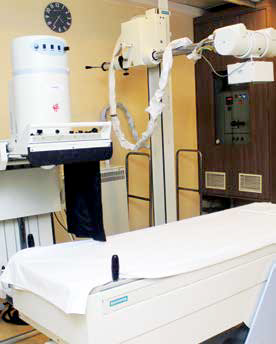 looking for ways to better image their patients. Advances in ultrasound are making technology appear more attractive for certain clinical applications, from breast health to cardiology, thanks to their non-invasiveness, cost-effectiveness and lack of radiation."We have Siemens 128 slice Somatom Definition AS Plus, one of the fastest single source CT scanner in the world which provides accurate speedy diagnosis and also incorporates dose reduction tools. We have with us the best standard tools that are required including ArtisCath Lab from Siemens, Kodak CR/DR system, high end Colour Doppler USG from Philips amongst others," says Dr Zena Patel, Department of Radiology, Hinduja Healthcare Surgical.
From patient compliance point of view there are now faster CT scanners, improvisation in scanning techniques and better contrast media. All of these have a direct impact on the image quality, making it advantageous for the radiologist as well. Advanced technology has streamlined workflow and has replaced film reporting with direct reporting on PACS workstations. Advanced IT integration with HIS, PACS, speech recognition software for direct dictation of reports are all advanced tools which streamline workflow and reduce turnaround time.
Safety First
The newer remote viewing systems allow access via e-mail or the Internet to images and reports through modules for a PACS, third-party standalone systems or linked to the facility's archive/ storage system. Most are cloud- or Web-based systems so they can easily be accessed outside of a hospital's computer system. All offer data encryption and password protection.3Dand 4D ultrasound hasrevolutionized the field of obstetric ultrasound, which has now become a more patient friendly and interactive experience.The use of CT scans in diagnostic radiology has skyrocketed in the past decade, which warrants the need for creating awareness about the importance and methodology of dose reduction among physicians and radiologists.Adds Dr Patel, "Our CT scanner has an inbuilt real time dose modulation software which lowers the radiation exposure to the patient (CARE Dose 4D and Adaptive dose shield). Quick scanning with the newer multislice CT in difficult patients like trauma, geriatric and children reduces / negates the need for repeat studies and indirectly decreases radiation dose to the patient."
---
Dr Abhay Shah, Department of Radiology,
Hinduja Healthcare Surgical, Khar
"Exciting new technology we are awaiting to arrive in India are wireless transducer, 640 slice CT scanner, noiseless MRI, peri-operative MRI, OLED displays and cloud based imaging."
---
 State of the art PACS
PACS (Picture Archiving and Communication System) is now becoming anecessity for the radiologist's workflow. The continuous increase in diagnostic imaging like CT, MRI and related newer advances drives the increasing need for efficient image review and management solutions that PACS has to offer. In consequence the speed and capabilities of image storage and visualization is also increasing. PACS has become an invaluable tool for communicating diagnostic results across healthcare systems, and is being integrated with other healthcare enterprise systems, such as HIS. "We have 2 Siemens PACS workstations with 2D- Plaza and 3D – Syngovia software which allow efficient reading and decrease post processing workload. In addition speech recognition software has been configured on PACS, which enables direct dictation of reports on PACS. Intra and cross modality comparison of scans is possible with entire radiology investigative data of each patient available on one click," says Dr Anupam Dudani, Department of Radiology, Hinduja Healthcare Surgical. There is permanent archiving of images and a report that helps in reporting follow up patients. PACS viewing is available in all wards, ICU and OPD room computers where the clinicians can view the scans and reports of their patients. Home viewing is available for the consultants, which helps in problem solving during emergencies. Interesting case libraries can be made which can be used as an academic tool and in presentations. Use of the speech software negated the need for a medical transcriptionist
IT in Radiology Department
Emerging innovations in ultrasound, such as development of wireless transducers are set to keep the market going throughout 2014.Technology has now become a backbone of radiology both in terms of hardware and software. Superior configurations of different hardware components enables better scanning and reporting. Advanced software available in the scanners and 2D and 3D PACS render the raw data in visuals for diagnosis and analysis purpose. Hospital Management Information System(HMIS) provides an easy to use and user-friendly interface towards multi-dimensional and intricate healthcare operations.
 Cross Functional Role
The role is multi-functional for the radiology section. Breast elastography is a new sonographic technique that provides additional characterization information on breast lesions over conventional sonography and mammography. Freehand ultrasound, or compression elastography is based on the application of a compressive force to the breast and on the measurement of the shape-deforming effect, thus providing a value of lesion stiffness compared with that of surrounding tissues. Breast elastography can substantially improve ultrasound capability in differentiating benign from malignant breast lesions – thus reducing the number of biopsies
---

 Dr Zena Patel, Department of Radiology, Hinduja Healthcare Surgical, Khar
"We have speech recognition software configured on PACS, which enables direct dictation of reports on PACS."
---
 Earlier cardiac catheterization was the only way to look at the coronary arteries. With the 128 slice CT scanner, Coronary CT Angiography can be performed in just 5 seconds and it gives spectacular images of the heart. Advanced post processing software helps in creating wonderful 3D images of the heart. CT Coronary angiography has revolutionized the screening of patients for coronary artery disease. "USG and CT guided biopsies of tumors is routinely performed in our department. Histology and grade of tumor diagnosed from the biopsy specimen is crucial for the oncologist in deciding further management. Palliative treatment in the form of tapping of large amounts of fluid in the chest and abdomen is also done in our department," says Dr Abhay Shah, Department of Radiology, HindujaHealthcare Surgical.
---

Dr Anupam Dudani, Department of Radiology, Hinduja Healthcare
Surgical, Khar
"We have 2 Siemens PACS workstations with 2DPlaza and 3D – Syngovia software which allow efficient reading and decrease post processing workload.
---
 With the combination of thin data (0.6 mm) and advanced viewing and post processing workstations, detection, localization and evaluation of morphology of tumors can be done with precision in oncology patients that helps in preoperative assessment and staging. With the 3D software, images can be viewed in different planes and early cancer can be picked up. Follow up studies can be directly compared on the PACS workstations as images and the reports are all archived. This is timesaving in oncology reporting

Recommended from all portals