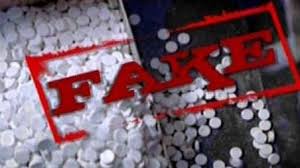 A gang involved in counterfeiting life-saving medical equipment of reputed international brands has been busted. The crime branch's special unit on Thursday arrested two men, Gulshan Kumar (33) and Ganesh Kumar Sharma (26), who allegedly made articles used in dialysis, angiography etc, besides duplicate sugar test strips.
Police said the duo made counterfeit medical products at a workshop set between iron casting units and leaking drains in Madipur, west Delhi. Articles with a printed value of Rs 25 lakh were reportedly seized. Sources said raids are still on in Madipur and Paschim Vihar, and wholesalers who connived with the duo for high margins are also likely to be arrested.
Ravinder Yadav, additional commissioner of police (crime), said 370 boxes of sugar test strips bearing the OneTouch Horizon brand name, 200 dialysis guide wires marked 'Guide Wire Technology Inc', 500 femoral catheters marked 'Medcomp USA' and 'Dr Surgical' were seized besides a large quantity of semi-prepared articles, packaging material, printed labels, literature and machinery. .
Officials said the duo got into the counterfeiting business seven years ago when they started selling generic Chinese sugar test strips in the packaging of an international brand. Three years ago, Gulshan learned to manufacture the articles from some medical agents in Bhagirath Palace. He rented the Madipur workshop about six months ago and started production with Ganesh.
Additional DCP (crime) Bhism Singh said Gulshan was caught near RML Hospital on a tip-off. "When we consulted doctors, they said the seized products are used in critical diseases and have to be manufactured in sterile conditions, which was totally ignored in the instant case," Yadav added. Sources said the duo sold a catheter that cost Rs 20 to manufacture at Rs 130 while an imported one costs Rs 150.

Recommended from all portals