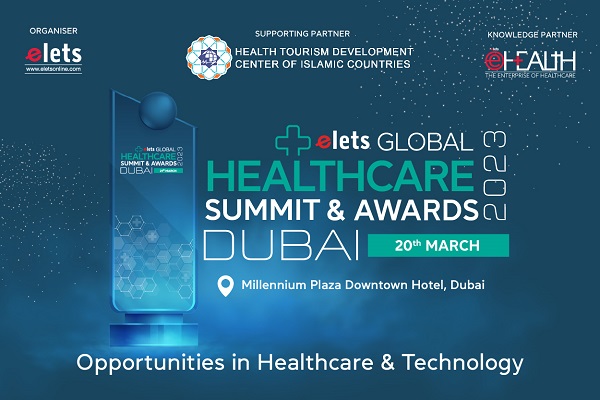 The healthcare industry has taken a monumental leap forward, thanks to the integration of cutting-edge technologies into its operations. And what better way to celebrate this game-changing transformation than through the Elets Global Healthcare Summit and Awards, presented by Elets Technomedia and eHealth Magazine! Held on the 20th of March 2023 at the Millennium Plaza Downtown Hotel in Dubai, this event recognised the outstanding achievements of the world's leading healthcare organisations.
This awe-inspiring summit, themed 'Opportunities in Healthcare and Technology,' brought together the brightest minds in the healthcare sector to showcase the limitless potential of technology in transforming the industry. With thought-provoking discussions and insightful presentations from trailblazing innovators, this event was a platform for the game-changers, the rule-breakers, and the pioneers who are shaping the future of healthcare. And let's not forget about the prestigious Elets Global Healthcare Awards, recognising the visionaries who are paving the way for a brighter and healthier future. It celebrated the efforts of healthcare organisations and technology providers who made significant contributions to the healthcare ecosystem.
Get ready to witness a healthcare revolution like never before!
Award Categories and Winners:
Healthcare Organisations:
Leading Public Health Initiative (NGO) – Smile Foundation
Excellent Work during Covid – Trichy SRM Medical College Hospital and Research Centre (Dr. Deodatt Madhav Suryawanshi)
Digital Technology for Doctor & Patient Support – HealthPlix Technologies
Excellence in Stroke Care – Jogo Health Pvt. Ltd.
Excellence in Digital Healthcare Technology Solution & Leading Medical Brand – Lupin Ltd
Healthcare Delivery Brand (Hospitals) – Dr. M.G.R. Educational and Research Institute
Digital Technology Solution for Hospitals, Excellent Work during Covid & Excellence in Patient Safety & Centricity – Apollo Hospitals Enterprise Limited
Leading Public Health Initiative – Apollo MedSkills Ltd.
Emerging Healthcare Delivery Brand – OPENMINDS Psychiatry, Counselling and Neuroscience Center
Digital Technology for Patient Support – Prime Healthcare Group
Excellence in Heart Care, Excellence in Bone & Spine Care & Patient Centric Brand in Women's Health – Jehangir Hospital
Excellence in Healthcare access and affordability – Zenplus Gulf Medical Response & Ambulance Service
Outstanding Pathology Services & Excellence in High-end diagnostics – SRL Limited
Outstanding Pathology Services – Lifenity International
Outstanding Home Diagnostics Services – U4RAD Technologies / XRAi Digital
Excellence in Healthcare Innovation – Zulekha Hospitals LLC
Leading Global Healthcare Startup – MediPocket
Outstanding Learning and Development Professional in Healthcare & Pharmaceutical industry – Dr. Ameya Ghanekar Consultancy
Excellence in Healthcare access and affordability – Access Clinics – Aster DM Healthcare
Excellence in Multi-Specialty Hospital in India, Excellence in Robotic Surgery, Excellence in Multi-Organ Transplant & Excellence in Quality & Patient Satisfaction – Sir H N Reliance Foundation Hospital
Excellence in Research and Development – WALTER BUSHNELL DRUGS PVT LTD
Healthcare Delivery Brand (Hospitals) & Excellence in Healthcare Innovation – KIMSHEALTH
Leading Public Health Initiative (Government) – ICMR, Headquarters, New Delhi. (Dr. Neha Kidiley)
Excellence in Cancer Care – Gulf International Cancer Center
Healthcare Leaders:
Leading Diagnostic Leader – Vijay Dhawangale, Founder & Chairman of Lifenity International
Finance Leader in Healthcare – Vineet Bhandawat – Chief Financial Officer
Leader in Patient Centricity – Dr. Rohit Kumar, Medical Director & Specialist General Surgery of International Modern Hospital
Corporates:
Outstanding Digital Health Investor – Govin Capital
Leading Health-tech Brand – Agatsa
Excellence in Pharma Innovation- Digital Marketing Solution – Doceree
Excellence in Digital Healthcare – Cloud Host
Excellence in Digital Print Solutions for Radiology – Accurate
Excellence in Patient Experience – Gotriage.com
We take great pleasure in praising the healthcare organisations for their incredible job. We congratulate each and everyone who received recognition at the Elets Global Healthcare Summit & Awards for their unique and excellent accomplishments.
Follow and connect with us on