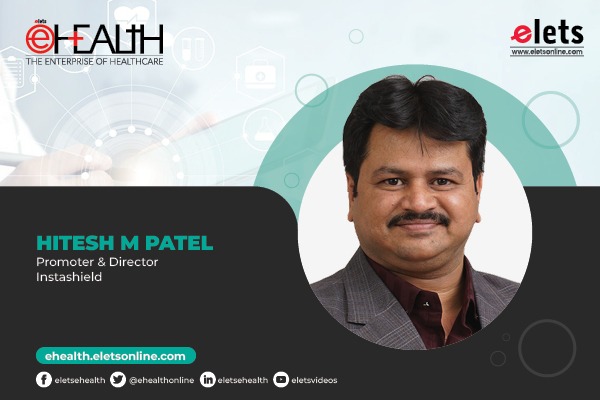 Healthcare start-ups play a pivotal role in bringing changes with new innovative technologies. There are more than 50,000 start-ups that are growing year on year-in various sectors. Delving deep into the discussions Hitesh M Patel, Promoter & Director, Instashield had an interaction with Kaanchi Chawla of Elets News Network (ENN). Edited excerpts:
What position do you think Indian healthcare start-ups are in right now, and how are they doing?

In the last eight to ten years, the startup ecosystem has been built thanks to government initiatives such as Startup India, Make in India, Atma Nirbhar Bharat, and supporting incubator platforms with institutions like IIT, Atal Incubation, Thub, Wehub, etc. There are more than 50,000 startups that are growing year on year in various sectors like Biotech, Healthcare, Healthtech, etc. Recently, our honourable Prime Minister shared that India has more than 100 unicorns, and in the next few years, we will see more of them.
The healthcare space is at a crossroads with post-pandemic challenges. We are seeing increasing Cardiovascular diseases (CVD), mental health, viruses with new mutations, brain fog, etc. There is an urgent need for innovative start-ups which can be addressed through innovative healthcare technologies.
Over the past few years, healthcare has seen a dramatic evolution. New developments and trends in the healthcare sector are being developed by start-ups in that sector. Do you believe the healthcare services offered by start-ups to patients are of high quality?
In recent years, there has been a dramatic change in healthcare technologies like AI, the digital intervention of advanced technologies enabling precision solutions, etc, and thanks to innovative startups bringing out of-the-box healthcare solutions to combat these challenges. I believe that healthcare services offered by startups are of high quality and there is a need for these technologies at affordable prices for patients at-large.
Do you believe Artificial Intelligence is making a sufficient contribution to the expansion of start-up healthcare companies in India?
I truly believe that AI will be the next big revolution, as globally we are observing an imbalance in the ecosystem and changing lifestyles. We are witnessing new diseases such as SARS-COVID, new mutations, etc, which can hit any corner of the world and affect human society. Thus, with AI, these kinds of challenges can be protected, and can bring newer technologies enabling better healthcare to all.
Hospitals and doctors may streamline operations, engage patients, streamline procurement procedures, and more with the help of digital care ecosystems provided by health tech start-ups. What are your thoughts on it?
In spite of the advancement of healthcare technologies, there is a need for transparency in the entire healthcare system. We have seen the ill effects of the high cost of treatment which is unaffordable to the average person. I believe digital care technologies would streamline all the stakeholders like doctors, hospitals, diagnostics, etc to the operations within the value chain of operations, engage patients and procure procedures so as to bring affordable health care systems. I strongly believe start-ups will play a pivotal role in bringing about these changes with new innovative technologies.
What opportunities and threats do you think Indian start-ups in the healthcare industry face?
From an opportunity standpoint, the healthcare industry is growing at a CAGR of 39 per cent with an estimated $ 3.5 billion over the next three years and expanding with the increasing population and lifestyle disorders, offering immense potential for startups to grow in these sectors by bringing in newer innovative healthcare technologies. Having said that, the healthcare ecosystem in India is not robust, considering the growing need for healthcare to name a few. Infrastructure, availability of skilled workforce, the gap between the private healthcare sector and government hospitals, need for doctors in the rural areas, etc. The government plays an important role in providing healthcare to all as a responsibility to provide better healthcare. With this background, the start-ups would face a lot of challenges as there is investment and support required to develop technologies as these are high costs involved.
How did this year go for Indian healthcare start-ups? What are their expectations for the future and where do they envision themselves as 2023 draws closer?
With the recent pandemic aftermath, most of the innovations need to be addressed, and many startups are involved to bring immediate solutions to combat. For example, vaccinations, treatment kits, diagnostic kits, etc. I foresee 2023 will continue to understand the post covid challenges as earlier mentioned like CVD, brain and mental health, etc. There will be more innovations from the startups in this sector.
What do you think about the current state and prospects for your organisation in the digitally driven healthcare ecosystem?
We see great opportunities with the current state of the digitally driven healthcare ecosystem. Our company, Insta shield is one such startup involved.

Follow and connect with us on Facebook, Twitter, LinkedIn, Elets video