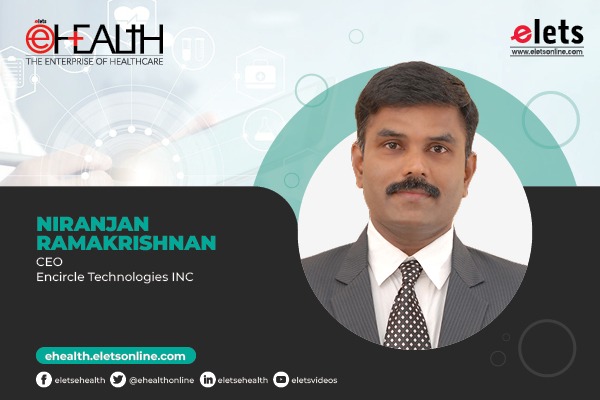 There are thousands of start-ups coming up every day with the dream of being financially successful. Most start-ups use AI just for the purpose of increasing the valuation by implementing the technology in bits and pieces for the sake of using it shares Niranjan Ramakrishnan, CEO, Encircle Technologies INC with Kaanchi Chawla of Elets News Network (ENN). Edited excerpts:
What position do you think Indian healthcare start-ups are in right now, and how are they doing?

"Remote" is the most used keyword during and after Covid, which was the catalyst that enlivened healthcare start-ups to deliver telehealth. Tech start-ups were very quick in adopting new-age technologies like data science, cloud computing, and artificial intelligence to deliver various healthcare services remotely through various business use cases such as Homecare, Femtech, ChildTech, Disease reversal Fitness, etc. Yet another highlight is, most of the startups learned to integrate traditional healthcare delivery with advanced technologies, and most of them were attracted by the big hospital chains, larger corporations, and investors to raise huge funding.
Over the past few years, healthcare has seen a dramatic evolution. New developments and trends in the healthcare sector are being developed by start-ups in that sector. Do you believe the healthcare services offered by start-ups to patients are of high quality?
There are nearly 7700 active healthcare start-ups in India as on Nov 2022 which is almost a 100 per cent rise from the 3500 healthcare start-ups in 2021. The overall volume of start-ups, their fund-raising capabilities, the nature of their service offerings, and the ability to cover the volume of relevant customers are up in the last couple of years which shows that the start-ups started realising the value they deliver through their platform. However, revenue realisation vs revenues projected to investors continues to be an issue. New-age entrepreneurs understand that in the competitive start-up ecosystem, the stickiness with the customers (patients or families) is directly proportionate to the outcome based on the service.
Do you believe Artificial Intelligence is making a sufficient contribution to the expansion of start-up healthcare companies in India?
Artificial Intelligence (AI) could be used for finer accuracy, earlier detection, advanced prediction, and faster analysis thus supporting clinicians, technicians, and business executives in delivering quality healthcare and efficient services. In my opinion, though there are quite a few great use cases of AI applications in healthcare, we are yet to implement or adopt AI technology to its fullest extent to help the public at large either in improving healthcare or reducing the cost for patients.
Most start-ups use AI just for the purpose of increasing the valuation by implementing the technology in bits and pieces for the sake of using it because of the lack of necessary skills, cost, and understanding by the promoters.
Hospitals and doctors may streamline operations, engage patients, streamline procurement procedures, and more with the help of digital care ecosystems provided by health tech start-ups. What are your thoughts on it?
If we review the offerings of the top 20 healthcare start-ups, they cover teleconsultation, ePharmacy, crowdfunding for medical emergencies, the clinical community, the healthcare marketplace, corporate wellness, children, femtech, homecare, remote patient monitoring, EMR – EHR, eCommerce, disease reversal, chronic disease management, diagnostics, referrals, scheduling & appointment, medication management, alternative medicine, and healthcare finance & payment solutions. Most of these healthcare start-ups cover end-to-end healthcare services of hospitals, doctors, administrators, ancillary services, and patients as islands of services in a fragmented manner, thus allowing a healthcare consumer (patient) to realise the integrated benefit of the integrated start-up ecosystem.
What opportunities and threats do you think Indian start-ups in the healthcare industry face?
Opportunities:
The Indian healthcare technology market is expected to grow from $2 billion, which is just 1 per cent of the overall healthcare industry's value, to $50 billion in the next ten years as per the report by RBSA Advisors.
The healthcare technology market is set to grow in the areas of remote (home) healthcare, ePharmacy, fitness, wellness, chronic disease management, analytics, and personal health management that includes eCommerce. This is bound to expand both in B2B and B2C markets.
Threats:
Most of the start-ups are aiming at the valuation game to join the Unicorn world and just focus on customer adoption, and data mining but are not focusing on integrated healthcare delivery with the aim to solve the key challenges of the healthcare world.
There are thousands of start-ups coming up every day with the dream of being financially successful without a proper understanding of the domain or technology and miserably fail to sustain.
How did this year go for Indian healthcare start-ups? What are their expectations for the future and where do they envision themselves as 2023 draws closer?
As mentioned in the earlier response, the year 2022 saw almost 100 per cent growth in terms of volume, revenues, and market share of healthcare start-ups in India. Overall Healthtech is expected to grow from $2 billion to $50 billion in the next decade. With the fear of a recession, start-ups may experience a challenging situation to convince investors, and raise capital in 2023. However, companies with innovative concepts, strong business models, delivery mechanisms, and good resources may see great success.

Follow and connect with us on Facebook, Twitter, LinkedIn, Elets video