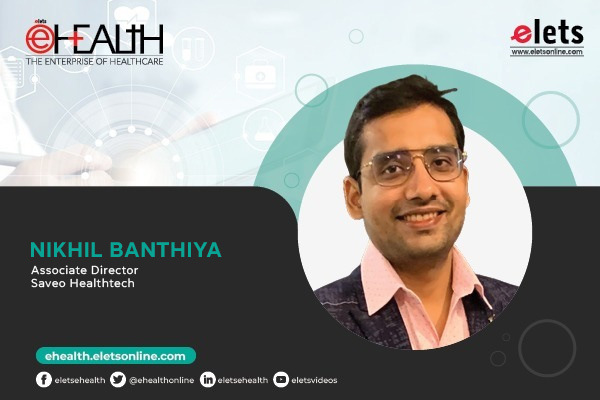 The Indian economy's healthcare industry ranks among the busiest in terms of both employment and income. Healthcare start-ups are rapidly expanding as a result of Indians being more and more health concerned shares Nikhil Banthiya, Associate Director, Saveo Healthtech with Kaanchi Chawla of Elets News Network (ENN). Edited excerpts:
What position do you think Indian healthcare start-ups are in now, and how are they doing?

With 107 unicorns, India has become the third-largest start-up ecosystem in the world. Healthcare is one of the busiest sector of the Indian economy, in terms of both revenue and employment. With Indians becoming more and more health conscious due to the rising awareness about health issues and fitness activities, healthcare startups are booming speedily, and over 3,500 health tech businesses exist today in the Indian startup ecosystem.
Today, if we look at healthcare start-ups, we realise that they span across the entire gamut of healthcare and related services – sales and distribution, R&D and manufacturing, EHR services, teleconsultation and digital medicine, and many others. The field is still new but has improved and progressed significantly beyond simple discovery. Recent technological advancements and connectivity options have enabled companies to give top-notch healthcare services to individuals who previously lacked it, especially for rural people who can now consult with top professionals through a click of a button and use the best healthcare services.
New age start-ups have a positive social effect and are given a lot of attention and help in all areas, including guidance and funding. This creates numerous growth prospects for businesses in the healthcare industry. With all the developments and the digitisation in the industry, by 2025, the market for Indian health tech companies is anticipated to grow to $21 billion, while the whole addressable healthcare is expected to soar to $638 billion.
Over the past few years, healthcare has seen a dramatic evolution. New developments and trends in the healthcare sector are being developed by start-ups in that sector. Do you believe the healthcare services offered by start-ups to patients are of high quality?
The Indian healthcare sector owing to its extremely low doctor-to patient ratio is taking some drastic measures to change how things are currently done, and the healthcare ecosystem's new-age startups have been shifting the focus of the industry trend towards a patient centric ecosystem. In lieu of this development, the healthcare sector now offers a wide range of potential solutions, they're now developing new approaches to treat and diagnose patients effectively with the help of Telemedicine, Artificial Intelligence (AI), Internet of Things (IoT), etc.
Due to the development of modern technologies, vaccines for harmful viruses, therapies for life threatening illnesses, early genetic disorder identification, treatments for psychological diseases, and much more now seem to be within reach.
In an emerging market like India, where there is a significant gap between rural and urban populations regarding access to high-quality and efficient medical care, new age startups may ultimately prove to be a gamechanger.
Do you believe Artificial Intelligence is making a sufficient contribution to the expansion of start-up healthcare companies in India?
The ever-evolving startup ecosystem has catalysed the growth of healthcare companies in India. The adoption of the Internet of Things (IoT) and Artificial Intelligence (AI) are currently receiving a lot of attention, with several healthcare companies depending on AI, IoT and Machine Learning to improve their operations. Today, AI is being utilised by pharma companies as well as pharma distributors/retailers to optimise pharma supply chain, forecast inventory, improve R&D capabilities of pharma companies, pre-approving insurance, keeping patient health records, to lighten the strain on healthcare participants and eventually save money.
Talking from a patient's perspective, AI enables doctors to personalise care, which has been a long-held ambition. Automating administrative activities is another way AI could have an impact on healthcare. The field of image diagnosis in medicine is being transformed by AI. It has replaced the difficult procedure of MRI image analysis and made it easier. As a result of the time that machines can save doctors, nurses, and other healthcare providers on duties, it is anticipated that the healthcare business might save $18 billion. Technology like voice to-text transcriptions could assist with writing chart notes, ordering tests, and prescribing drugs. Top hospitals across the world are implementing AI, intending to streamline and improve care.
Before launching Saveo.in, the founders undertook extensive R&D to pinpoint the ecosystem's pre-existing flaws and used AI as one approach. The last-mile delivery of medicines is one of the most significant problems due to the sheer number of customer endpoints (over 10 lac pharmacies in India). But with the support of AI, this is done through Saveo's in-house AI engine that curates an optimised network of first mile, mid-mile, and last mile routes to deliver medicines within four hours of order placement. Another use case in Saveo.in where AI is utilised, is to enable and optimise JIT inventory of over 50k medicines yet employing minimal working capital (<10 cr).
Hospitals and doctors may streamline operations, engage patients, streamline procurement procedures, and more with the help of digital care ecosystems provided by health tech start-ups. What are your thoughts on it?
An increasing trend in healthcare is the adoption of digital health strategies. The demand for healthcare systems around the world is increasing due to higher life expectancies. Patients now have speedier access to medical services because of digital care platforms, which raises the treatment standard. Through routine symptom monitoring and tracking, digital health technologies assist people in managing their own health issues.
Healthcare startups as well as established stalwarts are enabling easier doctor access and faster diagnoses using technologies like video consultations, digital health records, and AI-assisted diagnosis. Pharmacies are getting easy access to medicines with the help of e-marketplaces and app-based ordering tools that are integrated with their native ERPs, enabling features like auto-replenishment, inventory optimisation, and even returns and expiry management. Finally, Neo-pharma companies like Carin (a Saveo.in initiative) are bridging the gap between medicine and patients by creating technologies like automated reminders, pillbox management, as well as digital assistants for patients that can answer their common questions about their prescription, for e.g.. benefits, use case, dosage, side effects, timing, etc.
Lastly, it can not be denied that the adoption of technology in the healthcare ecosystem has been a catalyst to bring in a much more patient centric industry as it streamlined the supply chain by bringing in more transparency in operations. People are now much more aware of their diagnosis, treatment procedures and routine treatments, which has helped place trust in the industry.
What opportunities and threats do you think Indian start-ups in the healthcare industry face?
The healthcare and pharma market in India is fiercely competitive and can be problematic for early-stage start-ups. The main challenge for any new entrant is to improve upon the existing industry that is overcrowded and labor-intensive. Utilising technology is the only way to optimise this market. Hence, technology becomes both the moat and the requirement for any new entrant. On the other hand, most industry participants and customers are still not accepting of digital healthcare services. Hence, any new entrant will have to focus on creating simple interfaces that ease the transition from physical to digital, and create unique experiences to catalyse this change.
From a funding perspective, while VCs are keenly looking at this space, a young healthcare start-up may face challenges in getting early stage funding if they don't have a clearly defined value proposition and value addition to bring in the market. In the current bearish environment, it is equally critical to create a profitable business.
The other threat is that this industry is required to abide by numerous rules and legislation. Regulations include more than how care is delivered. They also cover things like data privacy and the confidentiality of patient records. Any start-up managing healthcare must adhere to the nation's laws and regulations.
One would believe that the threats facing the healthcare industry will halt the expansion of start-ups. However, nothing could be further from the truth! The opportunities in the healthcare industry certainly surpass the difficulties. Healthcare start-ups' efforts have transformed the industry in many ways. As, when we look at this more deeply we can understand how these threats lower the cost of the services provided by a healthcare app and motivates all healthcare businesses to increase product quality, innovate more, and put more effort into enhancing clinical outcomes for customers' individual health and consulting services.
Startups have been rapidly adapting to technologies that are helping them tap into the opportunities, the industry presents. The present healthcare industry, being highly competitive while being fragmented, has benefited from start-ups working in the voids that have been created. They have been successfully streamlining the supply chain system to maximise last mile delivery while coming up with innovative solutions to make sure that pharmacies continue to have adequate amounts of medicines for the masses.
To get a competitive advantage, start-ups are now becoming more innovative and adopting much larger objectives to increase productivity in order to survive the coming storm. The challenger brands have been actively taking advantage of downturns to differentiate themselves from rivals by investing in strategic growth. This approach is essential in the healthcare industry, where profit pools are quickly shifting—often away from the core markets of the incumbents in the sector. Undoubtedly, innovative approaches must be carefully targeted in order to save costs while still improving the standard of treatment, patient access, and overall satisfaction. Good-research demonstrates that difficult times can present opportunities for a significant increase in productivity. Businesses that act more quickly and rashly during downturns profit better in the long run.
How did this year go for Indian healthcare start-ups? What are their expectations for the future and where do they envision themselves as 2023 draws closer?
In a world where care is data-based and accessible from anywhere at any time due to technological advancements such as Artificial Intelligence (AI), smartphone apps, and telemedicine, it can be said that the future of healthcare has arrived.
We have witnessed an upward trend in the investment made in the health sector in recent times. Previously, the Indian government spent 3 per cent of GDP on the healthcare sector. However, according to the National Health Accounts report, the nation's total health expenditure is anticipated to be Rs 5,96,440 crore, or 3.16 per cent of GDP
Owing to the growth in the industry with the healthtech startups coming into play, we have definitely witnessed a recovery in India's GDP and the trend is expected to continue in 2023. The future of healthcare in India appears to be promising due to driven founders and committed investors. This is the ideal time for any forward-thinking business people looking to jump on the "next great idea" in the medical industry.
What do you think about your organisation's current state and prospects in the digitally driven healthcare ecosystem?
At Saveo, we have created a tech driven supply chain system to penetrate deeply into the pharma supply chain and improve one of the biggest issues plaguing the industry – medicine availability. It is a well-known fact that four out of ten medicine orders, bounce in India. At Saveo, we have created a tech infrastructure that enables us to improve that fill rate from 6/10 to 9/10. Further, we always focused on building for Bharath rather than tier one and metro cities (who are anyway over served), building our logistics network from the ground up in that fashion. Today, we can proudly claim that we deliver life-saving drugs to over 60 districts and hundreds of cities in Karnataka, Andhra Pradesh, Telangana, Tamil Nadu and Maharashtra, within a few hours to a maximum of 1 day.
Saveo runs a vertically integrated, full-stack managed marketplace model with the help of our suppliers that are converted into our dark stores. Through this we can provide access to over 50k medicines, spanning Allopathy, Generics, Ayurveda, Surgicals, OTC, and FMCG products, to pharmacies.
We continually employ cutting edge technologies to improve our assortment, reduce delivery times, and offer the best discounts to our customers. With Artificial Intelligence predicting trends in medicine consumption, stronger supply chain, and predictive analytics based fulfillment, we hope our mission and vision of no prescription going bounced will soon be accomplished!

Follow and connect with us on Facebook, Twitter, LinkedIn, Elets video