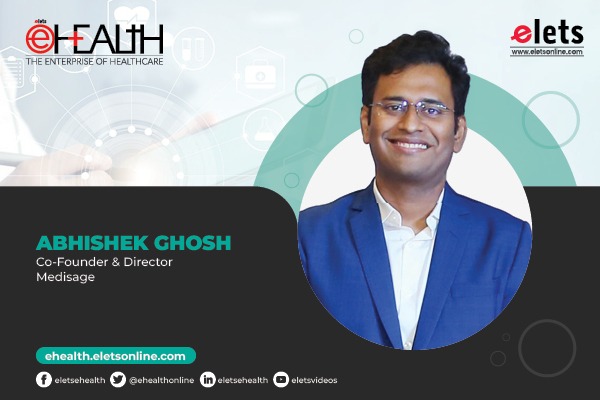 The healthcare startup ecosystem is booming in multiple ways. Start-ups are developing new developments and trends in the healthcare sector, shares Abhishek Ghosh, Co-Founder & Director, Medisage, in an interaction with Kaanchi Chawla of Elets News Network (ENN). Edited excerpts:
What position do you think Indian healthcare start-ups are in right now, and how are they doing?

The healthcare startup ecosystem is booming in multiple ways where each one can solve an important unaddressed problem and where we have seen a series of solutions starting from consumers' wearables providing dynamic health information, apps providing diagnostic information, patient consultant apps, and doctor networking apps, among many others, for a more aware India. These startups will continue to evolve and pivot in many ways in the coming years, leveraging technology such as Artificial Intelligence and Machine Learning to become even more effective at solving difficult challenges of the day such as cancer and diabetes.
Over the past few years, healthcare has seen a dramatic evolution. Start-ups are developing new developments and trends in the healthcare sector. Do you believe the healthcare services offered by start-ups to patients are of high quality?
A founder's intent whenever he sets out to build a product is to ensure high quality. India, being the world's hub of technology and software development, has always built state-of-the-art products to augment and enable consumers, doctors, and paramedics to make the most of the products that they create, so I completely believe that we are striving for great quality.
Do you believe Artificial Intelligence is making a sufficient contribution to the expansion of start-up healthcare companies in India?
Yes, today, building solutions for consumers has become much easier as we deploy AI into most of our software programs, which power our apps. We believe AI will be pivotal in the future for all healthcare solutions that startups today are deploying.
Hospitals and doctors may streamline operations, engage patients, streamline procurement procedures, and more with the help of digital care ecosystems provided by health tech start-ups. What are your thoughts on it?
The modern hospital is moving towards complete digitisation. We saw this starting a few years ago in most urban cities, but we now see more semi-urban hospitals talking about digital solutions to simplify the patient experience, whether it be IPD, OPDs, billing, medical insurance, and many others. Many startups have started working in this ecosystem especially around patient data management through EMR (Electronic Medical Records) which keeps a treatment & diagnostic history of the patients for future reference, & also further enables them to map better treatment management solutions to diseases as a new form of evidence.
What opportunities and threats do you think Indian start-ups in the healthcare industry face?
Opportunities for healthcare startups are ample, with many of the categories growing rapidly where there is a large unmet need for consumers and patients. While we see a larger focus in certain areas such as e-pharmacy, patient consultation apps, and wearable devices, there is a large opportunity in areas such as real world evidence, biotech research, genomics, and knowledge platforms, among many others, that can solve the clinical challenges that the world currently needs to treat patients with cancer, diabetes, and cardiovascular diseases. The absence of a continuous flow of funds from the VC/PE ecosystem and government bodies/banks could be a challenge to startups, as these can definitely impede some path breaking and transformative solutions that have yet to see the light of day.
How did this year go for Indian healthcare start-ups? What are their expectations for the future, and where do they envision themselves as 2023 draws closer?
The year went very well post pandemic, where healthcare now definitely is an important agenda with all stakeholders. This gives a lot of power to new ideas, which will evolve and fructify in the year 2023.
Existing healthcare startups have been able to test their solutions in the pandemic era where digital boomed & now is a part of the life of a common man.
What do you think about the current state and prospects for your organisation in the digitally driven healthcare ecosystem?
MediSage has been growing strongly, building a very strong healthcare ecosystem not only in India but also in the Asia-Pacific markets. We have been able to create this digital ecosystem, which has healthcare practitioners across multiple setups, such as government, private, medical students, hospitals, and rural doctors, all engaging strongly to build a very powerful and democratic community. We believe that as we continue to provide them with better tools to learn and collaborate with each other, it will help drive better patient care and outcomes across the world. MediSage organically grows today as the healthcare community sees it as an oasis of knowledge for them.

Follow and connect with us on Facebook, Twitter, LinkedIn, Elets video