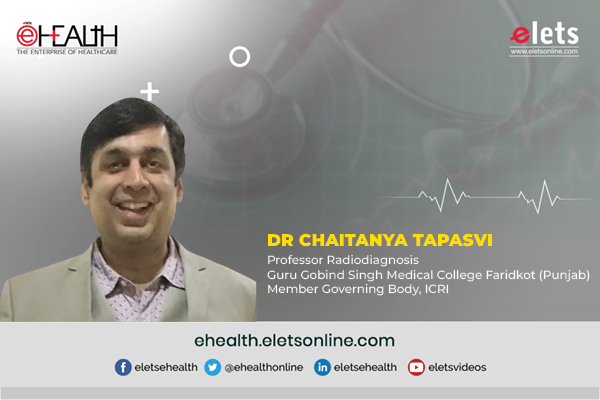 Dr Chaitanya Tapasvi, Professor Radiodiagnosis, Guru Gobind Singh Medical College Faridkot (Punjab), Member Governing Body, ICRI, shares his views on how the digital revolution and increasing focus on research & development are expanding the radiology & imaging segment.
What are the factors fueling the growth of the Radiology & Imaging sector in the country?
Almost every patient who visits a doctor these days needs some radiological investigation, be it X-Rays, Ultrasonography, Color, Doppler, Mammography, Fluoroscopy, Angiography, CT, MRI, PET-CT, or PET-MRI, which have become an essential part of clinical diagnosis and management of various diseases. Interventional radiology is also coming up in a big way with radiologists performing various vascular and non-vascular interventional procedures through percutaneous route under imaging guidance which includes biopsies, drainage procedures, thrombolysis in stroke patients, angioplasty, stenting, and various other procedures. Teleradiology is on an increasing trend with many imaging centers that have come up in smaller towns and cities where radiologists can prepare reports from a distance, However, the radiologists need to be extra cautious in such cases and radiological reports should be issued only after thoroughly evaluating the mentioned clinical history and examination details of the patients as they themselves are not able to examine the patients.
This will lead to fewer errors in reports and in turn better patient diagnosis and management.
How do you see the future outlook for the Radiology & Imaging sector in the country?
The Government is setting up new AIIMS, medical colleges, and diagnostic imaging facilities in various cities and upgrading the existing infrastructure to keep up with the current technological advancements. The private sector is already playing a major role in the radiology and imaging sector infrastructure in the country, with diagnostic centers, Hospitals, and medical colleges trying to have state-of-the-art imaging facilities. The number of radiologists, radiographers, and technicians who are being trained in the country has increased in recent years and we will have no dearth of trained radiology professionals in India in near future. The various professional radiological associations like IRIA, ICRI, and others are also playing their own role in providing the much-needed professional support for the radiology professionals and bridging the training gap between students of prestigious institutes like AIIMS, PGI, CMC (Vellore), and other medical colleges by offering and conducting teaching courses, conferences, CMEs, fellowships, etc. In India also as per the trend abroad, many radiologists have started sub-specialising in a particular imaging modality like MRI, CT, ultrasonography, etc. or a field like neuroradiology, interventional radiology, fetal imaging, etc., and various super specialisation courses (DM) and fellowships are now available in the country.
What are the technological advancements that have enabled the Radiology & Imaging segment to widen its expanse in the country?
Digital revolution with technological advances like artificial intelligence, teleradiology services, faster CT/ MRI scanners offering greater anatomical resolution along with the ability to have physiological/ metabolic and functional information from the scans has greatly expanded the radiology and imaging segment. Similarly, advances in X-ray and ultrasound equipment have been there and we are moving from a film-based system to a film-less system with integrated PACS (Picture Archiving and Communication System), RIS (Radiological Information System), and HIS (Hospital Information System) now installed in various hospitals in the country. Growth in the Global communication, transportation, and networking has played a major role in this regard, as any new radiological or medical equipment launched anywhere in the world is now available in our country at almost the same time and at a similar cost. There is an ever-increasing focus and human need to diagnose various diseases non-invasively as far as achievable and radiology and imaging services are always working to achieve this long-term aim.
The rapid rise of the global medical imaging equipment market is also due to continuous R&D activity carried out in manufacturing techniques of medical imaging equipment. Your thoughts.
Continuing research and development have always played an important role in imaging ever since the discovery of X-rays by W.C. Roentgen in 1895. Since then, various radiological modalities have come up. The focus of research and development in the present scenario is mainly on diagnosing various conditions of the body non-invasively as fast as possible, along with the integration of functional, physiological, and metabolic information along with high-resolution anatomical images.
Radiomics is coming up where we are able to extract even more information from images using various algorithms. Multi-modality integration of images obtained from various imaging modalities is now possible and various interventional procedures are being planned and used for patient benefits using this technology. Advancements in robotic equipment are assisting Interventional Radiologists, other surgeons, and medical professionals these days.
The government and private sector agencies in India have recognised the importance of research and have now increased the funding and made it more readily available for the interested research professionals. The NMC (National Medical Commission) has a basic course in Biomedical Research mandatory for the Postgraduates in all specialties and faculty in the medical colleges. Artificial Intelligence is progressing day by day and is being integrated with imaging for patient diagnosis and treatment. Various professional radiological associations like RSNA (Radiological Society of North America) have recognised the importance of Research and Development in Artificial Intelligence and have recently started a dedicated journal for AI in the field of radiology. Better coordination and communication between the professionals in research, development, and manufacturing fields and the endusers (Health Care Professionals in the Hospitals) is the need of the hour and will make the Research and Development be used in a better way for improving the overall healthcare facilities, patient diagnosis, and treatment.


Follow and connect with us on Facebook, Twitter, LinkedIn, Elets video