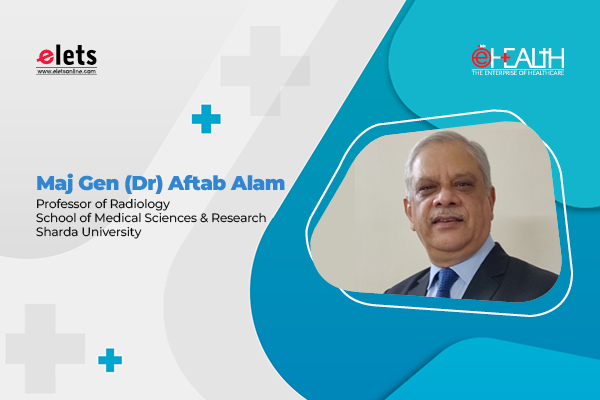 Maj Gen (Dr) Aftab Alam, Professor of Radiology, School of Medical Sciences & Research, Sharda University shares his insights about the future outlook of the radiology & imaging sector.
What are the factors fueling the growth of the Radiology & Imaging sector in the country?
Need for establishing a fast and accurate diagnosis: Healthcare sector has seen a sharp growth and radiology is at the forefront. With emerging technology and trends, there is tremendous scope in imaging and it is increasing in leaps and bounds. There are numerous reasons for this phenomenal growth; the most important being the fact that imaging and correct diagnosis is the first step toward the initiation of a management protocol for a patient.
Increasing demand from patients: Apart from the urgency on the part of the treating clinician, patients are becoming more and more knowledgeable about health care and demand a fast and accurate diagnosis. This has led to a rapid increase in the number of radiological investigations that are carried out today as compared to a decade back.
Growth of technology and industry: the Indian health care industry is continuing to grow at a healthy pace of over 15 per cent per annum and will continue to do so for the next decade or so. This will keep the demand for radiologists quite high. Apart from the increase in volumes, advances in technology have been accelerating, gadgets are becoming faster, more accurate, patient-friendly, and also challenging for radiologists. Besides the evolution of hardware, tremendous advancements have been made in Computer Aided Diagnosis (CAD) as well as in Artificial Intelligence (AI).
The increasing role of teleradiology: There has been an equal improvement in the field of networking and availability of increased bandwidths which has had a huge impact. Data transfer speeds have increased from Kbps to Mbps and, eventually, it will go up to Gbps. This has made teleradiology more available than before. Teleradiology has in turn attracted investments in high-end diagnostic products in smaller towns, as the availability of radiologists is not a major obstacle in establishing a high-end diagnostic centre. While teleradiology within the country has become easily available, its potential for cross-country and cross-continent spread is also being realised on a large scale
How do you see the future outlook of radiology & imaging in the country?
There is tremendous growth potential in the field of medical imaging and by the end of this decade, it is expected to grow by almost 9 per cent. This is largely due to the availability of state-of-the-art technology which has fuelled the best possible equipment in this speciality, namely high-end CT scanners and MRI machines, and not to forget the various ultrasound equipment which offers very highresolution images. Every branch of medicine is highly dependent on imaging for an accurate, reliable, and fast diagnosis; this dependency is ever-increasing and has contributed in a big way to the growth of radiology and imaging.
The Government of India is also focused on improving health care availability and accessibility to every citizen of the country and sincere efforts are being made to open medical colleges/ teaching hospitals in every district. This will certainly lead to a surge in the already accelerated growth of this speciality. With the availability of high-speed internet and wider bandwidth, teleradiology has now become widely available. Many imaging centres have been opened in tier II and tier III cities leading to considerable growth of this speciality.
In a nutshell, the future of radiology and imaging is very bright and encouraging. But there is likely to be an additional burden on the radiologist to live up to the expectations of the clinician as well as the patient. Nevertheless, technology and its rapid evolution, especially Artificial Intelligence and Deep Machine learning will surely be a big support for the radiologist in his endeavor to live up to the rising expectations.
What are the technological advancements that have enabled the Radiology and Imaging segment to widen its expanse in the country?
Rapid growth of technology: The main reason behind the growth of Radiology and Imaging the world over has been numerous technological breakthroughs in the field of medical imaging. With the availability of high-end CT scanners and MRI equipment, imaging has become faster and more comfortable for the patient, and easier & better for the radiologist to interpret the images.
Artificial Intelligence: The availability of Computer-Aided Diagnosis and Artificial Intelligence has contributed in a big way to ensuring faster and more accurate diagnoses. Artificial Intelligence has an important role to play in the future of radiology. AI will become part of radiologists' daily practice, helping them improve efficiency and diagnostic capability. AI has the potential to examine a huge amount of imaging data in seconds thereby assisting radiologists by helping to prioritize work lists and arrive at a fast and accurate diagnosis. As AI develops further, its role in radiology will become more widespread and important.
Molecular imaging and genomics: Molecular imaging and genomics are newer and growing areas in radiology. Imaging genomics, also known as radiogenomics, is a growing field and its application involves multi-scale data fusion whereby macroscopic phenotypes from medical imaging are linked with tumor genetic profile. The aim is to discover imaging biomarkers that can identify the genomics of diseases, especially cancer, without the need for a biopsy. Work in this regard has been done in the evaluation of lung cancer, hepatocellular cancer, and glioblastoma multiforme. These new forms of diagnostics will revolutionize radiology by providing wider healthcare and by allowing doctors to predict and more accurately diagnose diseases

Follow and connect with us on Facebook, Twitter, LinkedIn, Elets video