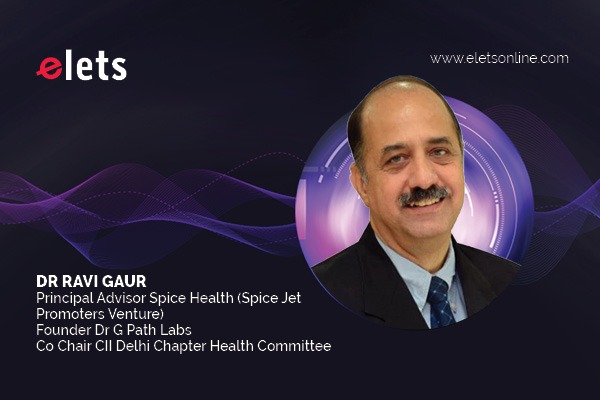 Dr Ravi Gaur, MD Pathology, Principal Advisor Spice health & Founder DRG Path Labs shares his views on the creation of a futuristic diagnostic sector. Edited excerpts:
What is the framework required for the creation of a futuristic Diagnostic Sector?
The COVID-19 pandemic has highlighted the integral value of diagnostics in managing the healthcare system. Diagnostic testing provides critical information at every step of the patient pathway, from prognosis, screening, and diagnosis to monitoring the progression of disease, predicting treatment responses and preventing diseases.
There has been significant under investment in diagnostics (technology, infrastructure, and skill and delivery models) over many years. There is a strong need for a strategy which can deliver a resilient, scalable and holistic diagnostics and augment capability and capacity for testing.
For diagnostics to play its true role in health care, it should be placed at the centre of disease and health management and increase investment in the sector. We must retain the infrastructure built to support COVID-19 testing and continue to accelerate adoption of new diagnostic delivery models for accessible & affordable and innovative diagnostics.
Point-of care approaches can provide results at the point of use and in resource-limited settings. By empowering clinicians and even patients to make decisions at the "point-of-care", we can make a significant impact on healthcare delivery and address challenges. The Indian healthcare system urgently needs disruptive affordable, accessible, and efficient solutions to address the current challenges. As digitally connected point-of-care diagnostics become more data-centric, they can benefit the primary healthcare system and help India achieve universal health coverage. Government must now continue the strong partnership models with the researchers, policy makers, diagnostic providers and manufacturers to build a diagnostics industry of the future.
How has Digitization and IoT accelerated the pace of Innovation in Diagnostics?
Digital and Digitization has become a key word in the diagnosis and healthcare recently. The need of the hour is to digitally empower the lab with state-of-the-art technologies and integrate them with the entire health pathway of an individual for best clinical outcome. Lab information management software is now in essential list of all diagnostic centres and is providing end to end solutions .It covers all steps of sample testing – pre-analytical, analytical and post analytical .Smart reports with better analytical interpretations, advice on reflux tests and tracking are fast becoming a norm.
What is the Scope and Opportunities in Lab Automation Market for enhancing diagnostics Lab Management?
Laboratory automation is no longer optional. From growing demand for faster turnaround time, increasing patient expectations, shortage of skilled staff and safety as a big concern, labs are facing several challenges to deliver quality results. The input cost, which includes – reagents & instruments, manpower, infrastructure, accreditation, IT, logistics, administrative expense, etc – has gone up substantially. There is a strong pressure on the labs to maintain control over the influx of samples, to improve workflow, and deliver for better clinical performance to improve upon profit margins to sustain their operations. As the automation is going to cost substantially, there is some reluctance in Indian Diagnostic labs to adopt these measures. But with increasing fixed costs, labs need to scale up the testing to sustain their operations. With time automation will help not only scaling up the capacity but also in improving margins for sure. Thus labs are left with no option but to adopt automation for survival.
What are your views on the need for Accreditation for ensuring quality testing and outcome?
There are approximately close to 150,000 pathology labs in India. But only about 3000 are accredited by the National Accreditation Board for Testing and Calibration laboratories (NABL).This puts a question mark on diagnosis, quality of reports and clinical outcomes. Some will raise concerns of growing cost of tests and higher investments in infrastructure but as we understand, "Every sample is a life", and thus balance should be struck between cost, quality of reports and clinical outcome. Accreditation drive to create more awareness and get more labs to get accredited, is vital to make accurate, more accessible and affordable diagnosis for all Indians.
What are the factors that will drive the change in the Diagnostics sector in the coming times?
Diagnostic testing provides critical information at every step of the patient pathway, from prognosis, screening, and diagnosis to monitoring the progression of disease, predicting treatment responses and preventing diseases. It has now become an indispensable tool in clinical practice. Today it is playing an increasingly important role in driving personalised and cost-efficient healthcare delivery. Growing life span & awareness towards better health, point of care testing, wearable devices, AI driven analytics, biomarkers of early prediction of diseases and precision medicine will drive the change.
What are your business expansion plans to align yourself to the changing sectoral requirements?
As we move forward, adoption of new automated technologies, digital pathology, genomics, rapid molecular diagnosis, investments in bioinformatics for better data analysis & interpretation and offering customised solutions for an individual for better understanding of disease & clinical outcomes are part of my expansion plan. There is a need to augment the central lab with more advanced technologies, while offering more tests at satellite and primary or remote labs. Also, we will be working on faster accreditation of all labs and integrating them using the IT for rapid clinical decisions and better patient experience.


Follow and connect with us on Facebook, Twitter, LinkedIn, Elets video