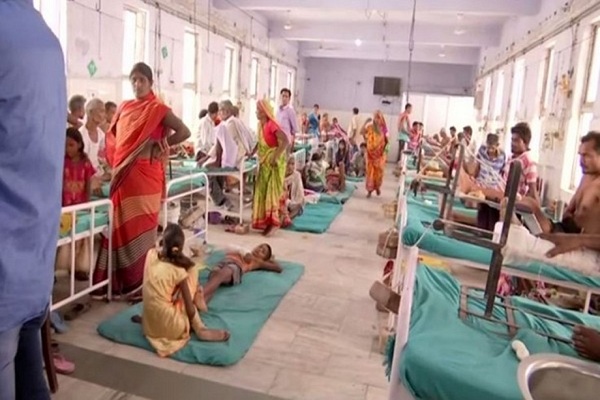 Acute Encephalitis Syndrome (AES) continues to wreak havoc in Bihar's Muzaffarpur, with death toll mounted to 133 in the district.
As per official data, 112 deaths were reported from Sri Krishna Medical College and Hospital (SKMCH while 21 deaths recorded in Kejriwal Hospital.
Other districts are also under the grip of AES, a viral disease which has affected mostly children of less than 10-year old.
As per a report, the disease claimed 20 lives in Vaishali, six in Begusarai, five in Samastipur, two each in Motihari, Patna and Bettiah and one each in Bhagalpur and Gopalganj.
Earlier, the Supreme Court reprimanded both the Centre State Government terming the death of children "a matter of great concern".
The Bihar Government later informed the apex court that State was taking all necessary steps to improve situation.
On Wednesday Prime Minister Narendra Modi also expressed his concern, stating that the Centre was in constant touch with Bihar Government.
"The deaths in Bihar due to acute encephalitis syndrome are unfortunate and a matter of shame for us. We have to take this seriously," he said.
Also read: Encephalitis death in Bihar's Muzaffarpur: What makes litchi lethal for children?
Meanwhile, a fact-finding team of All India Institute of Medical Sciences (AIIMS) has blamed administrative failure and state's apathy for the death of children mostly aged between 1.5- 12 years. The team also said that all the children who died due to outbreak of AES in Muzaffarpur, belonged exclusively to families of lower socio- economic strata.
The State is under the grip of AES, commonly known as brain fever, since the beginning of June. It is a condition marked by inflammation of the young brain, causing it to swell. The child exhibits symptoms like high fevers, bulged soft areas of the head, lethargy and seizures, and needs immediate care.

Follow and connect with us on Facebook, Twitter, LinkedIn, Elets video