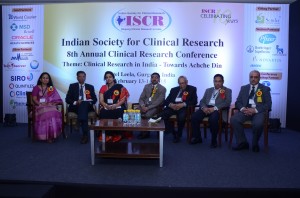 Padma Shri Prof Ranjit Roy Chaudhury in his keynote address at the inauguration of the 8th Annual Clinical Research Conference organised by ISCR at Gurgaon said that India cannot live without doing research in new drug innovation and discovery. He was of the opinion of brining new rules and regulations and take advantage of them and bringing clinical trials back to India.
Clinical research needs to be built on a quality and ethical framework, he stressed while highlighting the need for research investments in antimicrobial resistance, predictive medicine or genomics, traditional systems of medicines and mental health.
Against a background of positive winds of change in the regulatory environment, ISCR has themed its Conference Clinical Research in India " Towards Achche Din where, over two days, multiple stakeholders are deliberating on what constitutes Achche Din for the clinical research fraternity in India and how that can become a reality.
Given the fact that India as a country has the highest disease burden in the world, it seems only logical that we as a country should have a clinical research agenda of our own. On the contrary, in spite of being home to 17% of the population of the world and having a fifth of the worlds disease burden, our contribution to global drug trials is around 1.5% and this has probably dropped even lower over the last couple of years, said Suneela Thatte, President, ISCR, in her inaugural address. Patients are being denied the right to fair and equitable treatmentto clinical trials and newer and more effective medicines that clinical research makes possible.
Elaborating on the need for more investments in clinical research in India to better understand illnesses impacting our population and to ensure that patients in India are not denied the right to participate in clinical trials were two patients who spoke of the challenges they battled with their illnesses for which there were no known cures. Calling us guinea pigs is one of the biggest insults meted out to us, said one of the patients. Endorsing the need for more empowered patients and greater patient advocacy was the unanimous decision at a CEO panel discussion earlier in the day.
It is ironical that while on one side we have success stories such as an indigenously developed and tested rotavirus vaccine which is now part of the national immunization schedule, on the other hand we have lost innovation opportunities due to the challenges we have referred to earlier, added Suneela Thatte. This is a compelling enough reason for us to ensure that over and beyond the regulatory developments, all of us work collectively towards rebuilding confidence and trust in doing clinical research in India so that we can soon have an Achche Din for clinical trials in India. She also highlighted that the clinical research fraternity was not against regulation but needed to ensure that there was a strong regulatory framework rooted in the principles of science and research with quality, ethics, patient safety and confidentiality as its guiding principles.
As we complete a decade of our existence and step into the next one, we are committed to continue our engagement with stakeholders and work towards the creation of a clinical research ecosystem that balances everyones interests, particularly patients, said Suneela Thatte at the conclusion of her inaugural address. I do hope that our deliberations over the next two, days stand a testimony to this intent and we continue our quest for better healthcare for all through innovation, and instill confidence in the clinical research process that stands not only for quality and innovation but also safety and ethics.
The Indian Society for Clinical Research (ISCR) is an association of clinical research professionals that brings together all those who are engaged in clinical research activities in India and provides a forum for exchange of information and learning. ISCR aims to build awareness of clinical research as a specialty in India and to facilitate its growth in the country while helping to evolve the highest standards of quality and ethics.


Follow and connect with us on Facebook, Twitter, LinkedIn, Elets video