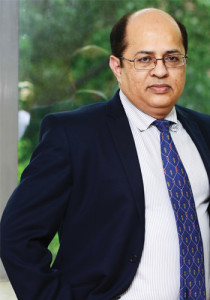 BLK Super Speciality Hospital (BLK SSH) has signed a Memorandum of Understanding (MoU) with The Kisii Teaching & Referral Hospital (KTRH) Management Board and Kisii University, a state corporation of Government of Kenya. Through this, BLK SSH will provide quality healthcare and training for Kissi University through an observership programme in areas of Urosurgery, Orthopedics Surgery, Plastic Surgery and Neurology. The hospital will hold class at the University and referral Hospital to help in the capacity building of the medical staff.
BLK Super Speciality Hospital will organize OPDs at Kisii University for providing diagnosis and treatment of renal conditions, Laparoscopic surgery, general surgery, gynaecology surgery, cardiothoracic surgery, cardiac surgery, endocrinology, pulmonary, IVF, organ transplant, joint replacement, oncology, critical care medicine and telemedicine.
Mr Naresh Kapoor, Director- Finance and Strategy, BLK Super Speciality Hospital, said, This initiative will not only help in providing quality health training under the observership programme, but will also enhance relations between the two countries. It will also give a boost to healthcare tourism between the two nations. The hospital will ensure quality training of the medical staff from KTRH and Kisii University, so that they can practice the same in their country for the benefit of the needy people, added Mr Kapoor.
Specialist doctors from various departments will visit Kisii University to provide campus training to medical staff at the University. BLK SSH will also help KTRH and Kisii University to start the facilities of tele-medicine centers for offering medical services through tele-connectivity in the field of high end territory and quaternary cases, emphasized Mr Kapoor.
Mr HE James Eo Ongwae, Governor of Kisii Country, said, I am very happy to extend all support from our government which BLK Super Speciality Hospital will require at the time of imparting training to the medical staff at the Kisii University and running the observership programme. This is a great initiative between both the countries to help in the exchange of knowledge know-how and cultural diversity.
BLK Super Speciality is well equipped to handle complex cases from across the country. The hospital has been successful in taking the case of joint twins from Nigeria, who got successfully separated at the hospital at their first birthday.

Follow and connect with us on Facebook, Twitter, LinkedIn, Elets video