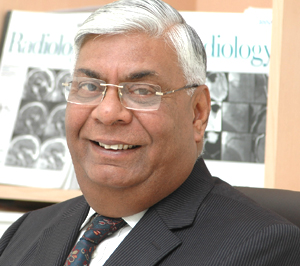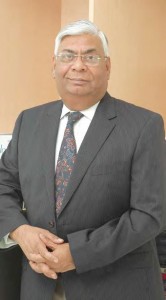 Dr R K Mathur, Medical Director and Chairman, Department of Radiodiagnosis at Saket City Hospital, talks to Shahid Akhter, ENN, about the new advancements in the field of radiology.
Is medical imaging the fastest growing segment of healthcare?
Patient diagnosis and management through the creation of medical images using X ray , Ultrasound, Computed Tomography(CT) and Magnetic Resonance (MR) have immensely changed how we practice medicine over the last three decades, Medical imaging has recorded the fastest growth among all the major specialties of medicine attracting the best talent amongst doctors.
Photographic (Digital) recording of conventional radiographs has come a long way. Once upon a time (during the early days of imaging) it would take no less than ten minutes of exposure time for a head CT. Today CT scan of the whole abdomen can be obtained in a few seconds.
The radiation dose in CT has also reduced to a few Millisieverts (mSv). The black & white films have given way to colorful cross sectional images which provide a wealth of diagnostic information. 3D images help in planning of surgery.
High spatial resolution helps in delineating fine anatomical detail. High contrast resolution helps in differentiating subtle changes in soft tissues.
Today there are a number of opportunities to explore the human body by way of imaging.
---
Technology has outpaced our imagination by providing exquisite images of the human body which help in early and accurate diagnosis
---
With the upsurge in Imaging, has the role and responsibility shifted or changed?
Today the referring physicians and surgeons need greater interaction (clinical interface) with radiology. Radiologists too need to comprehend the clinical problems and finally, it will not be an exaggeration to say that the radiologist is expected to be able to connect at different levels and with almost all the medical specialties. Advances in imaging have created new areas of sub-specialisation and a new specialty Interventional Radiology which utilizes image guidance to perform diagnostic and therapeutic procedures.
Today, with more and more screening options available, there are conflicting opinions on the most appropriate examination protocol?
It is true that a wide choice of investigative options are available to the clinicians, however, the pathway is generally clear in the choice between Ultrasound, CT, MRI etc. keeping cost and safety in mind.
Chest X-Ray still remains the investigation of choice in screening for TB, CT is the investigation of choice for chest abdomen, acute stroke and trauma. MRI is the procedure of choice for uation of Brain and Spine.
What technological advancements has your hospital introduced lately?
We are the first hospital to introduce Philips Ingenia 3 Tesla MRI scanner with 4D Multi-transmit Technology. The wide bore of this magnate reduces claustrophobia and provides a comfortable environment for the patient.
This magnet brings to the patients and clinicians an unmatched quality in total body imaging which can only be achieved at a high field strength. Its capabilities include detailed imaging of the brain with Multivoxel Spectroscopy, Perfusion and non-contrast Peripheral Angiography. It also has special software of whole spine screening, Joints, Abdomen, Pelvis and Breast.
We also have the latest dual energy CT scanner from Philips iCT 128 (256 slice/sec). This state-of- the-art ultrafast CT scanner allows images to be acquired in the shortest scan time with great detail at the lowest possible radiation dose. CT Coronary Angiography for example can be done with prospective ECG gating with a dose of 3 mSv compared to 10 to 12 mSv in older scanners an approximately 75 percent reduction. The reduction in dose can also apply to pulmonology and follow up scans and a software which uses dose modulation automatically selects the lowest possible radiation for a particular body region.
Our team of Radiologists are highly experienced in performing multiple procedures like MRCP (for screening the biliary tree and gall bladder for stones), Prostate imaging, Perfusion imaging and Spectroscopy. We also offer state-of-the-art Bone Densitometry or DEXA for screening and detection of osteoporosis, a common but infrequently recognised problem in middle aged women.
How do you handle Pediatric Imaging? Seems tricky and Challenging. Sedating kids may add to safety concerns?
Kids need to be cajoled, their attention diverted, and at times we have to resort to sedation and anesthesia. Moreover, our state-of-the-art, ultra fast Philips iCT 128 ensures dose modulation especially in children and in follow up scans.
A lot of your time is spent in educating and training the next generation. How do you see the transformation?
It is a highly satisfying and rewarding experience. The best of students opt for radiology and it is the most satisfying career. Once I was a student and now I am training the young Radiologists. The time lapse has transformed the scenario. Three decades ago, it was the era of black and white and we had to struggle a lot with the plain films. Today in the digital era diagnosis is much easier with multi planar images and mind boggling details in 3D. A sea change from the days of plain X-Ray.
Passing on the baton to the next generation and preparing them for new challenges brings a lot of responsibility and professional satisfaction.
Follow and connect with us on