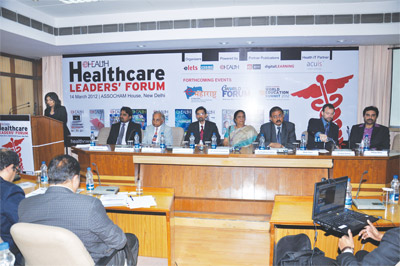 (From L-R)-Dr Ujjwal Rao, Dr Pradeep Mishra, Dr Dinesh Jain, Dr Aruna Srivastava, Dr Pradeep Saxena, Matt Theis and Gunjan Kumar

---
The Healthcare Leaders Forum 2012, organised by eHealth magazine, highlighted myriad strategies that can lead to the development of an efficient healthcare infrastructure in India
By Dhirendra Pratap Singh, Elets News Network (ENN)
eHealth magazine organised the second edition of Healthcare Leaders Forum on March 14, 2012, in New Delhi with the aim of bringing together the entire community of healthcare professionals, practitioners, end-users and decision makers to conduct a vigorous discussion on different aspects of healthcare.
The objective of the Forum was to create a vibrant platform for senior industry leaders and make it possible for them to share business experiences, provide opportunity of mutual learning and showcase existing success stories and best practices in healthcare industry.
The occasion was earmarked by the launch of the eHealth Online Directory. The online directory provides the most up-to-date information on the various product and service providers. Each segment will take you through a wide array of available products and solutions provided by some of the most eminent players in the industry. There is extensive listing of medical technology and healthcare IT solution providers in the directory.
It is a comprehensive guide for buyers, providing details of key products and vendors in the healthcare technology space. Launched in November 2006, eHealth has established itself as a leading monthly magazine on healthcare ICTs, medical technologies and applications in India as well as Asia Pacific.
Session One
Dr Pradeep Mishra
Founder, www.ilaajonline.com

Dr Dinesh Jain
Senior Manager-Medical Informatics,
Max Healthcare Institute Ltd

Gunjan Kumar
Head-IT & Automation,
Sahara Hospit

Dr Annie Stanley Thakore,
Hospital Administrator,
CARE Hospitals
Dr Ujjwal Rao
Clinical Transformation Specialist & Solution Architect – EmerCare- Cloud-Hosted EDIS, OHUM Healthcare Solutions
Dr B B Thukral
Vice Chairman, Indian College of Radiology and Imaging

Indrajit Bhattacharya
Professor (Healthcare " IT), IIHMR
ICT-Enabled Healthcare: eTransformation of Indian Hospitals
The inaugural session of the forum focused on the key growth indicators and governments initiatives that have paved way for a healthier future. As the Indian healthcare sector is undergoing constant evolution, technology penetration is growing by the day.
Elaborating on the role of ICT in the development of the healthcare sector, Dr Pradeep Mishra, Founder, www.ilaajonline.com, stated that each person in a defined population must be a stakeholder in proper functioning of PHC. He said, Public- Private Partnership should be encouraged in developing e-health software for PHC. Curative Healthcare for poor has to be affordable. They are most diseased. 
Gunjan Kumar, Head – IT & Automation, Sahara Hospital, said, Simplicity is the KEY for mass acceptance of technology in Healthcare. Technology in Healthcare increases efficiency, minimises errors and provides consistent data for analysis.
Dr Dinesh Jain, Senior Manager-Medical Informatics, Max Healthcare Institute Ltd. said, Digitisation of Patient Records is a major step at Max Healthcare. Clinicians are taking a lead in digitisation of patient records supported by IT. Effective communication and change management was put in place. Due system and process integration was done appropriately so that transition happens smoothly. Effective implementation of EMR systems is improving the quality of health services.
He added, Due to meaningful use of ICT in Healthcare, there is an improvement in quality, safety and efficiency, decision support for high priority conditions, access to self management tools and improvement in population health outcomes.
However, Dr Annie Stanley Thakore, Hospital Administrator, CARE Hospitals was of the view that healthcare is a very information intensive industry. She said, Indias public healthcare network is six decades old. It is plagued by many problems like absenteeism of doctors, lack of proper facilities and it lacks proper referral services to urban hospitals and specialist centres.
Mobile phone usage in India is soaring. Accredited Social Health Activist (ASHA) program needs sup-port and monitoring. 750,000 ASHAs have been deployed by National Rural Health mission (NHRM) since 2005. Training in diverse techniques is needed to dramatically improve maternal and child health, said Matt Theis, Managing Director, Dimagi Software Innovations.
Dr Ujjwal Rao, Clinical Transformation Specialist & Solution Architect – EmerCare- Cloud-Hosted EDIS, OHUM Healthcare Solutions emphasised upon the two million hospitalisations, 7.7 million injuries and an economic loss of `55,000 crores or nearly 3 percent of GDP every year. 30 percent of emergency patients in India die before they reach a hospital.
Session Two
Defining Trends in Diagnostics and Imaging
In the second session, healthcare industry leaders reflected upon the defining trends in diagnostics and imaging.
Sharing digital imagings role Dr B B Thukral, Vice Chairman, Indian College of Radiology and Imaging said, Digital imaging is a broad term. It is defined as any image acquisition process that produces an electronic image that can be viewed and manipulated on a computer. In radiology, images can be sent via computer networks to a variety of locations.
However, Indrajit Bhattacharya, Professor (Healthcare " IT ), IIHMR was hopeful that Health IT can help in improving organisational effectiveness and in bringing efficiency into clinical, operational and financial performance indicators. He said, Indian healthcare acutely needs to implement enterprise level Health IT solutions to increase access and reach of healthcare. Sonal Pahwa, Associate Director-Healthcare, Technopak, expressed her views on fragmentation of Indian Diagnostic Market.  She said, 10 percent market is organised. Customer is expected to migrate from low quality poor diagnostic services to higher quality services. Small labs have limited geographic reach & narrow service portfolio. It is hard to compete with top players on complex tests and turnaround time. 70-80 percent of medical decisions are taken through diagnostics. Out of 6000 diagnostic labs only 200 are NABH accredited.
Dr RD Lele, Director, Nuclear Medicine Dept, Jaslok  Hospital & Research Centre highlighted the need of health insurance being within the mandate of microfinance institution (MFIs). He said, Deposit-linked life and health insurance collaboration between MFIs and health sector.
Income security and health security are two sides of the same coin, especially for the poor who are at the heart of MFIs. My recommendation to government is upgrade RSBY card to my bronze card and provide micro finance to BPL Indians. The poor do not need charity, they need micro finance support.
Session Three
Indian Medical Technology Industry: Market Challenges & Opportunities
As the Indian healthcare sector is undergoing constant evolution, technology penetration is growing by the day. The experts focused on the role of cutting-edge technologies in all sectors of healthcare and the various issues that plague the Indian medical technology sector.
Said Dr Balram Bhargava, utive Director SIB " India, Professor of Cardiology " AIIMS, Medical Device Innovation – BioDesign programme at AIIMS, In India, 36 percent of deaths are due to communicable diseases, maternal and prenatal disorders and nutritional deficiencies. State healthcare will create more opportunities for indigenous innovations.
Dr Sai Praveen Haranath, Consultant Intensivist and Pulmonologist, Apollo Hospitals, Hyderabad said, The cost of ICU care in a tertiary care centre in India was reported to be `3200 per patient in 1991. Staffing, intravenous fluids, and drugs accounted for 75 percent of the cost of ICU care, whereas 15 percent accounted for laboratory investigations and 6.9 percent for disposables. A mix of the art and science of medicine is an optimal solution.
Dr Damodar Bachani, Director Professor & Head, Department of Community Medicine, Lady Har-dinge Medical College highlighted the role of Technology in Medical Education, services and mentoring.
Session Four
Health Insurance: Enhancing Equity by Bringing Healthcare to the Masses
Health insurance is one of the fastest growing businesses in general insurance. McKinsey forecasts an `25000-30000 crore health insurance market by 2015, at a CAGR of 25-30 percent. This session discussed enhancing equity by bringing healthcare to the masses.
Dr  Nishant Jain, Sr. Technical Specialist (Health Insurance & Health Finance), GIZ – Social Protection, Deutsche Gesellschaft f¼r Internationale Zusammenarbeit (GIZ) GmbH highlighted the role of Rashtriya Swasthya Bima Yojana (RSBY).
Dr Siddharth Agarwal, utive Director, Urban Health Resource Centre said, Healthy body is the primary productive asset for the poor; facilitating increased earning and minimising risk of falling deeper into poverty. A person from poorest quintile of the population, despite more health problems, is 6 times less likely to access hospitalisation than a person from richest quintile. Urban poor face social exclusion, illegality, many overlooked by official enumeration systems, poor access to public services.
Dr Upendra Kaul, utive Director – Academics & Research (Cardiology), Department of Invasive Cardiology, Cardiology, Fortis Escorts Heart Institute said, World Health Organisation (WHO) estimates that 60 percent of the worlds cardiac patients are Indians. India has the highest number of patients with diabetes. India is the diabetes capital of the world. Deaths due to cardio-vascular diseases are decreasing globally. 
Session Five
The Emerging Trends in Healthcare Sector in India " Medical Education and Private Investments
Changing demographics, disease profiles and the shift from chronic to lifestyle diseases in the country has led to increase the role of private investment in healthcare. In order to meet manpower shortages and reach world standards India will require investments of up to $20 billion over the next 5 years. The last session highlighted the emerging trends in healthcare sector in India " medical educa-tion and private investments.
Elaborating on the role of private sector in healthcare spending Rajendra Pratap Gupta, President  & Director, Disease Management Association of India said, When the government is set to double its healthcare spending, does the private sector need to invest more in Healthcare. I believe that the Government is just a catalyst for investments.
Dr Sanjeev Sood, Hospital & Health Systems Administrator, SMC, Air Force Station said said, There is no harm in making some money out of healthcare. Its difficult to replicate the models of Narayan Hruduyalaya, Arvind Eyecare. They are in complex operations. Drivers like healthcare insurance are there to support Healthcare Business. Despite manpower and capital challenges, healthcare business is evergreen.
OP  Manchanda, CEO, Dr Lal Path labs highlighted the bright part of healthcare industry. He said, Healthcare is a Sunrise Industry, but needs patience. We need to have our own innovative technologies/machines suiting our Indian needs.
Prof TK Jena, Director, School of Health Sciences, IGNOU was of the view that the doctor of future is going to be an engineer. 50 years ago, it was Doctor who mattered. Today its the radiologist or other specialists who matter.
Dr Dharminder Nagar, CEO, Paras Hospital said that culturally Healthcare is not seen as a business. Its more of a charitable operation.

Follow and connect with us on Facebook, Twitter, LinkedIn, Elets video