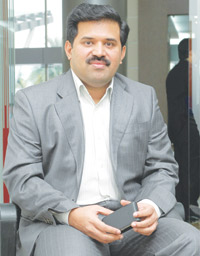 Rajiv Aarogyasri, a government initiated health insurance scheme (working on a public-private partnership model) running in Andhra Pradesh is providing cashless treatment to almost 90 percent of the state population.
Use of ICTs for monitoring the project has been a huge success and the enthusiasm of the government can be observed by its consistently growing financial allocations. In an interaction with eHealth, Babu Ahamed, CEO, Aarogyasri Health Care Trust shared his perspective on this health insurance scheme and threw light upon the role of IT in streamlining its processes. Excerpts:

Could you detail upon the remarkable achievements of Aarogyasri in recent years?

The scheme has screened and provided treatment for common ailments for 42 lakh patients in 25,000 health camps. It has spread health education and awareness among rural and urban masses on preventive care, early detection etc, through vibrant IEC activities monitored and documented online. Nine lakh beneficiaries for major health needs in last 4 years have been treated. The scheme has proved that tailor made policy based on local health needs is the need of the hour. Aarogyasri is financially sustainable and replicable as it is able to provide coverage for Rs 2.00 lakhs at an average premium of Rs 450/- for 938 identified procedures including pre-existing diseases. The scheme has proved that there is no need for standard exclusion of certain conditions such as congenital malformations and HIV associated patients.
Through the scheme, coverage for vulnerable population can be provided by total funding by the Government rather than collecting a small premium from poor as a matter of principle. It has demonstrated the efficiency of IT system in reaching the rural poor in transparent manner. For the first time, Aarogyasri has provided protocols for confirmation of diagnosis, treatment mode and outcome based claim settlement in insurance mode. The scheme's well orchestrated empanelment procedure through robust online system propelled hospitals to upgrade services to the best quality levels. It as infused growth in health industry in the state, increasing number of well equipped hospitals even at district level. With the implementation of this scheme, first time selection guidelines were framed to help hospitals identify proper beneficiary and avoid adverse selection. First time authenticated medical data was also made available, which can be used for various studies including disease trends to help insurance companies assess the risk properly. Moreover, controls such as medical audit, field verification, social audit and in-house vigilance concepts were effectively used and monitored through IT for fool proof out come and quality services. Motivated government hospitals upgraded their infrastructure and work more efficiently to provide quality care even in specialties hitherto not performed. The scheme established the fact that due awareness, penetration and orientation of the scheme among the various stakeholders is as important as that of implementation.
How has the implementation of IT helped in developing and facilitating various processes of the scheme?

Aarogyasri is a unique Insurance scheme launched by Govt. of Andhra Pradesh to provide free treatment to BPL population of the state suffering from identified diseases covering 1.98 crore BPL families of the state spread across 23 districts, providing cashless treatment for 938 identified surgeries/therapies.
The scheme handles socio-economic data and medical data of 1.98 crore BPL families spread across 23 districts of the state. In order to meet various requirements of the scheme, the Trust has developed an online solution capable of handling 1200 pre-authorisations, 20000 transactions, medical records and 1200 claim payments in most transparent and efficient manner, providing a mechanism for minute to minute monitoring.
---
The ICT solution made possible to establish clear identity of the beneficiary through 2.04 crore card data base consisting socio-economic, biometric and digital photo data of 8 crore people
---
ICT plays a very vital role in implementing Rajiv Aarogyasri in Andhra Pradesh. The ICT solution made possible to establish clear identity of the beneficiary through 2.04 crore card data base consisting socio-economic, biometric and digital photo data of 8 crore people, transmission of electronic medical records and multilevel online scrutiny of each patient details before pre-authorisation, monitoring quality of treatment and outcome, claim verification, registration of patient to all the services rendered at camps and hospitals, coordination of various departments, monitoring of overall scheme experience, call centre, grievance redressal solutions etc., ICT is playing crucial role in accomplishing SLAs as per the schedules even in implementing such a massive scheme. It is also helping to gauge the infrastructure in network hospitals through online empanelment and professional expertise available with them.
The ICT solution developed for this unique scheme has absorbed all the complexities of the scheme and made it user friendly thus help implement the scheme in efficient manner involving various end users and stake holders.
Aarogyasri web portal/workflow is repository of information consisting of various components including database of work flows 80 million people and 20 million families with digital photograph, socio-economic data and iris biometrics; general information on the scheme; details of patients reporting and referrals from the PHC/CHC/government hospitals/district hospitals on daily basis; e-Health camps system and daily reporting of health camps; details of patients reporting and getting referred from the health camps; e-Empanelment system; emergency approval system;  patient registration by Aarogyamithra in network hospitals; details of in-patients and out patients in the network hospitals; costing of the tests done in the network hospitals; electronic medical records of all patients screened and treated; real-time reporting, active data warehousing and analysis system; claim settlement; Aarogyasri messaging services; enhancement workflow; and many more.
Who is the vendor?

Trust after due consideration decided to use ICT solution in view of enormity of the scheme both in content and coverage for transparent and efficient implementation. The uniqueness of the scheme and having no parallels demanded the development of vast knowledge base for application of ICT solution. Accordingly, Trust provided the knowledge domain of the solution and the technical and maintenance support is provided by the TATA Consultancy Services Ltd.
Do you think that this Aarogyasri Scheme is able to fulfil the goals of inclusive growth in India?
Yes, definitely. Aarogyasri scheme unlike conventional insurance is based on inclusive principle whether it is coverage in terms of eligible population or disease coverage. Around 82% of state population is now covered under the scheme. In fact to enable more number of families to avail these benefits, government raised the financial limit of the BPL criteria from Rs 20,000 to Rs 65,000 per annum. The concept is that such type of health needs even middle class families require financial assistance. Trust packaged the procedures rather than diseases, thus actually expanding the coverage to more patients as the procedures are approved irrespective of aetiological factors. Even procedures are defined broadly, thus enabling coverage for more number of related procedures for assistance under the coverage. It is first community based scheme to allow pre-existing cases to be allowed to be covered from day one.
The scheme certainly proved that inclusive concept in insurance scheme is viable and replicable with proper control mechanisms. The transaction system and implementation strategy helps to providing health financing to the poor by government keeping cost under control.
How important, from a healthcare insurance point of view, is to have a national health IT policy or standard based IT practices in health insurance?
The robust ICT solution adopted first time by Aarogyasri Trust in running the health financing scheme in efficient and transparent manner and the appreciation received through various agencies for its implementation methodology establishes a clear need for a national health IT policy for health insurance. It has helped in scaling of the scheme in a short span of one and half years to cover 70 million people. It also helps in assessing the disease load and risk pool scientifically based on empirical data and hence it can be only method in which health insurance for universal access to health can be achieved.
What are the plans ahead?
In order to take the scheme to its ultimate goal of universal coverage in terms of disease coverage, Trust is considering extending the coverage for more and more new diseases for the uncovered areas. Trust in consultation with the specialists and on analysis of the scheme and representations received from various quarters identified certain diseases for coverage in areas of Obstetrics, Paediatrics and Paediatric Surgery, General Surgery, Surgical Oncology, Micro Vascular Surgery, Vascular Surgery and Medical specialties. 

Follow and connect with us on Facebook, Twitter, LinkedIn, Elets video