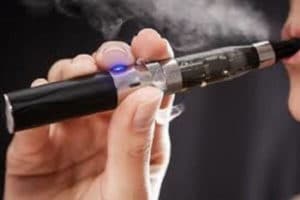 To contain the harmful effect of e-cigarettes and other Electronic Nicotine Delivery Systems (ENDS), the Union Health Ministry has issued an advisory asking all States and Union Territories to not allow the manufacture, sale and advertisement of these products.
"It is evident that the Electronic Nicotine Delivery Systems (ENDS), including e-cigarettes, heat-not-burn devices, vape, e-sheesha, e-nicotine flavoured hookah, and the like devices or products available by whatsoever name, that enable nicotine delivery or its use, are a great health risk to public at large, especially to children, adolescents, pregnant women and women of reproductive age," the advisory said.
ENDS are not approved as NRTs (nicotine-replacement therapies) under the Drugs and Cosmetics Act and rules made thereunder, it said.
The advisory said ENDS aerosol contains nicotine, the addictive component of tobacco products.
"It may contribute to cardiovascular disease to the people who use ENDS. Also, nicotine may function as a 'tumour promoter' and seems to be involved in the biology of malignant diseases. Foetal and adolescent nicotine exposure may have long-term consequences for brain development, potentially leading to learning and anxiety disorders," it said.
ENDS are devices that heat a solution to create an aerosol, which also frequently contains flavours, usually dissolved into propylene glycolor and glycerin.
Electronic cigarettes or e-cigarettes, the most common prototype, are devices that do not burn or use tobacco leaves but instead vaporise a solution, which a user then inhales. The main constituents of the solution, in addition to nicotine, are propylene glycol (with or without glycerol and flavouring agents).
Some States, including Punjab, Chandigarh, Haryana, Kerala, Mizoram, Karnataka, and Jammu and Kashmir have already banned e-cigarettes as an unapproved drug.
Meanwhile, various organisations including Association of Vapers India (AVI) have opposed the move. AVI has asked why the Government is not banning tobacco cigarettes if it is so concerned about nicotine — an ingredient that can lead to addiction.
A news agency quoted Samrat Chowdhery, Director, Association of Vapers India (AVI),  as saying: "This claim is bogus as smoking rates among youth are declining in all countries that have allowed vaping. In fact, after vaping was introduced, overall smoking rates have declined at a historical rate, which clearly points to the tremendous harm-reduction potential of vaping."
Deepak Mukarji, a prime advocate of harm reduction to people and the planet under the banner 'The Alternatives' says, "The Alternatives is disappointed with the central government directives to ban e-cigarettes. This retrograde step denies harm reduction and potentially lifesaving alternatives to smokers by ignoring science and its emerging technologies."
"The UK parliamentary Science and Technology Committee report is a good basis for India to relook at the science and evidence towards implementing legislation that can regulate the product development, manufacture, and distribution of licensed smoke-cessation and harm reduction vaping products."
The UK House of Commons Science and Technology committee says "E-cigarettes, estimated as 95% less harmful than conventional cigarettes, are too often being overlooked as a stop smoking tool by the NHS. Regulations should be relaxed relating to e-cigarettes' licensing, prescribing and advertising of their health benefits. Their level of taxation and use in public places must be reconsidered."

Recommended from all portals